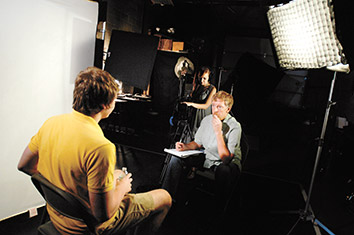 Carolyn Dudley's husband, Indiana State Trooper Gary Dudley, was killed six years ago when he was struck by a freight truck during a charity bike ride in Vermillion County.
A short video about his life, and the event that caused his death, was critical to winning a settlement in a wrongful death case against the trucking company.
"I think it was a huge help to us," Dudley said in an interview. "It brought my husband to life for a few minutes to let potential jurors and attorneys see who he was."
Attorneys representing clients in wrongful death and severe personal injury cases often find that video is the key to reaching a settlement.
For more than two decades, settlement video brochures – short documentaries used to demonstrate and personalize claims for damages – have been a tool to litigate cases where an alleged loss is great.
"I use them quite frequently," said David Craig, a partner with Craig Kelley & Faultless LLC in Indianapolis who represents plaintiffs in trucking and commercial vehicle personal injury and wrongful death lawsuits. "I think there's no better way to show the other side the value of a case than actually showing it to them."
Settlement videos do that, often in powerful ways. A video in a wrongful death case, for instance, might include interviews with event witnesses, police, family members, character witnesses and others. Personal injury videos might include statements from medical experts and "slice of life" evidence regarding how a claimant's life has been changed by the event that's the subject of the suit.
 
In cases where claims for damages could be $1 million or more, Craig said, "I can't imagine not using" a settlement video.
Craig said his firm's in-house staff does some videos, but the work sometimes is farmed out to professionals, usually dictated by the demand for damages.
Roy Tabor of the Tabor Law Firm LLP in Indianapolis won a multimillion-dollar settlement representing Dudley. Tabor said settlement videos are widely used because they are effective and illustrate loss, and they clue defendants to not just the nature of the claim, but also the credibility of potential witnesses.
"In wrongful death cases, or serious burn injury cases, or cases involving brain injury or very, very serious injury, there's not a substitute for spending a day and going through a day in the life of what the injured party goes through and what the survivors are going through," Tabor said.
"It's a very effective way to depict intangible losses – love and affection, enjoyment of life," Tabor said.
"It's what a jury is going to see" if a case proceeds to trial, he said.
Tabor also won a multimillion-dollar settlement representing the estate of fallen Indiana State Trooper Andy Winzenread, who was struck by a truck and killed in 1997 as he helped a motorist pulled off to the side of an interstate.
"The big thing is, when the case is going on, it all seems to be happening so fast," said Cindy Winzenread, widow of Andy Winzenread. "Everything's kind of in a fog. (The video) brings it all back together."
Producing a niche
Dave Fulton is president of Indianapolis-based Image Resources Inc., one of a handful of companies around the country focusing on producing settlement videos. He said the goal with each project is to produce a "60 Minutes"-quality presentation.
"We've built up a clientele pretty much coast to coast," Fulton said. Since the company began in 1994, he estimated it's done 800 to 900 settlement videos for cases in almost every state. His company produced the settlement videos in the Dudley and Winzenread cases.
"One thing we take great pride in is all of our documentaries are authentic," he said, noting that interviews are unrehearsed and people on camera are not coached.
"The words they're saying are sincere, not canned; it's not something that's scripted. I don't think any other medium besides video can capture that," he said.
Fulton followed an early love of video to a TV/radio degree from Ball State University. He later worked in the attorney general's office for a time before finding a niche where he could combine both areas of expertise.
"I decided to start my own company based on the needs of law firms," he said. "I dovetailed that with my experience working with attorneys at the attorney general's office."
The company now employs three full-time and several part-time and contract employees.
Image Resources' clients are typically those in which a potential award for damages is great, Fulton said. The company charges an upfront fee developed from a proposal, and Fulton said the cost for most settlement videos ranges from about $5,000 to $15,000, based on estimated shooting and editing time, complexity, travel and other factors.
A unifying feature of the videos he produces is plaintiffs whose cases are compelling.
"It would be very rare and unusual for us to get a project about a plaintiff whose injuries were not profound and severe," he said. "And likewise, from a liability standpoint, the preponderance of the evidence points to the defendants."
Framing the case
Video producers and attorneys who rely on settlement videos say they help the defense understand the case and can help expedite settlement.
Defense attorney Thomas Farrell said that's true in some cases, but not always.
"A lot of it depends on timing. If you've already spent two years, which is the amount of time you might spend litigating a wrongful death case, often you don't learn that much new from a settlement video," Farrell said. "In my experience, they probably are more helpful at the front end than they are after you've already spent many, many hours working a case over a couple of years."
The disposition of the defense toward possible settlement also likely outweighs the impact of a settlement video, he added.
An attorney at Scopelitis Garvin Light Hanson & Feary P.C. in Indianapolis, Farrell's representation concentrates on defending trucking and commercial driving enterprises, mostly in catastrophic accidents resulting in death or serious injury.
He's seen numerous settlement videos and said the range of quality is broad.
When a settlement video is presented, he said, "I go into it with an open mind, and I think having seen a lot of them, there is some historical reference that some of them are pretty overdone sometimes, but I try not to let that influence how I'm going to look at the one that's just shown up."
Particularly in wrongful death cases, Farrell said, plaintiffs and defendants must be genuine. A settlement video that lacks that, he said, could be counterproductive and raise more questions than it answers.
"They often try to tug pretty hard at the heartstrings. That's not all bad, but that can't be your entire perspective," he said.
Whether or not a video helps lead toward a settlement, Farrell said it may inform the defense about what the potential exposure could ultimately be.
In the case involving her husband's death, Dudley believes the settlement video helped expedite a settlement with Towne Air Freight. "I think it had a huge impact on that," she said. "We did a mock trial and presented evidence and then the video at the end, and all of them said it had a huge effect."
Perhaps an unintended consequence – the videos sometimes stand as a tribute. Winzenread said the video has helped her daughter, who was 1 month old at the time of her father's death, find answers.
Dudley still has a copy of her settlement video, too.
"Parts of it are difficult to watch," she said, "but most of it is good."•
Please enable JavaScript to view this content.