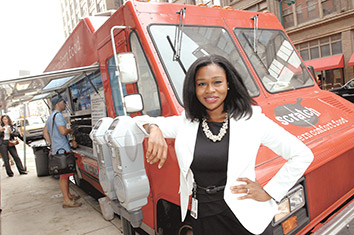 Take a food truck to Chicago and you may be required to attach a GPS tracking device to it. Maneuver afood truck through New York and be prepared to possibly limit drink sizes to 16 ounces.
Park a food truck in Indianapolis and enjoy being able to do business in an environment of few regulations. The labor laws and health codes that govern restaurants apply to food trucks, but owners do not have to worry about extra requirements like tracking systems and operating only in specific zones.
Indeed, the lack of regulations is credited with helping to foster the growth of the industry in Indiana's capital city from essentially one truck in 2010 to 47 trucks and counting today. To sustain the comparatively cart blanche atmosphere, a loose coalition of food truck and some brick-and-mortar restaurant owners are trying to work together to avoid the kinds of disputes that could inspire city hall to cook up a new ordinance.
 
"Restaurateurs are not by nature people who ask for more regulation," said John Livengood, president of the Indiana Restaurant Association.
Crystal Williams, an associate at Barnes & Thornburg LLP, has become familiar with
the differing regulations as part of her work assisting national restaurant chains that are expanding into the food truck sector. She emphasized these established eateries cannot arrive in a city, flip open their truck, and start serving food. Rather they have to adjust their operations to comply with the unique codes of each community.
For example, Chicago does not allow food trucks to cook on board or park within 200 feet of a restaurant. However, Indianapolis permits food trucks to station themselves in any valid parking space and cook on board but prohibits the sale of food on public property between 10 p.m. and 6 a.m.
The patchwork of requirements can be confusing and frustrating, but Williams does not expect a call for national regulations regarding food trucks. Each city, she said, knows what it needs and fashions its ordinances accordingly.
A business is a business
When he sketched out his business plan for his food truck, Matt Kornmeyer, owner of the Scratchtruck, admitted he planned for failure. He thought he would need at least 40 customers at lunch each day to survive, but he now averages between 70 and 100 customers and is three years ahead of his revenue targets.
"I still don't get it," Kornmeyer said of the popularity of food trucks. "I'm right in the middle of it, and sometimes I sit and shake my head and say, 'Look at all the people.'"
That kind of success is spurring the growth of food trucks across the United States and luring chain restaurants like Chick-fil-A, Subway and Taco Bell to put trucks on the street.
"I think it's becoming a new way we are consuming food," Williams said. "I think it is becoming a middle ground between a large, fancy restaurant and fast food."
However, Williams cautioned against the assumption that success in the food truck industry comes easy. Owners have to be aware of not only the regulations specific to mobile vendors but also of the laws and requirements, like local employment laws and intellectual property safeguards, that apply to any business operation.
"It's still a business," she said. "You still have employees, and employees have rights you have to abide by."
Williams recommended that anyone thinking about launching a food truck business should first consult an attorney. This will help avert such situations as entrepreneurs investing in an operation and then discovering later that city ordinances prohibit them from selling the food they want to offer or in the places they want to be.
She emphasized that individuals entering the food truck business must also be knowledgeable about local sanitation regulations. They must be sure that the kitchens used to prepare the food and the kitchen spaces on the vehicles meet the codes.
Matt Frey, who opened Bub's Burgers & Ice Cream with his wife in 2003, is a brick-and-mortar restaurateur branching into food trucks.
Frey echoed Williams by pointing out that the health codes set for food trucks are very similar to a restaurant. As in his establishment, his truck has to have things like a hot water heater, wastewater tank, hand washing sink, and he has to adhere to the same food safety requirements.
The truck has made catering easier since all the equipment to properly store and prepare the menu is on board, he said. Cooking in the vehicle is a more s
anitary and safer way to cater, plus he is able to prepare a burger that customers tell him tastes exactly like those he serves in his restaurant.
"I think it's a real clever idea," Frey said of food trucks.
Wheels v. bricks
Mayor Greg Ballard's administration has so far taken a hands-off approach to regulating mobile food vendors. The administration favors educating food truck operators, code enforcement officials, and others about the rules already on the books rather than implementing special regulations, said Marc Lotter, spokesman for the mayor.
Food trucks are doing a good job in terms of communicating with each other and working off best practices, Lotter said.
Kornmeyer, who launched the Scratchtruck about 13 months ago, believes the city will enact food truck regulations at some point. To provide a blueprint for any future ordinance and to prevent any, in his word, "crazy" regulations like not being allowed to park within a thousand feet of a restaurant, he has organized the Indianapolis Food Truck Alliance, an informal coalition of truck operators who have developed a code of conduct.
One provision in this code bars food trucks from parking within 100 feet of brick-and-mortar restaurants.
The Indiana Restaurant Association occasionally fields complaints from brick-and-mortar establishment owners about food trucks, Livengood said. And usually the issue is a mobile unit parked right outside their doors.
"I hope the food trucks that did this will understand it's not in their interest to pick a fight," he said, noting if a war breaks out between restaurants and mobile vendors, city government will likely side with the restaurants.
Kornmeyer puts his Scratchtruck on the street Tuesday through Saturday and alerts his customers to the location via social media.
He advocates maintaining a cordial relationship with downtown restaurants yet, at the same time, he chafes against their concerns. He said his food establishment offers only food and personality, and if restaurants are worried about him taking away their business, he continued, they should look at their menus instead of trying to hamper the food trucks.
Moreover, he questioned why regulations are penalizing food trucks for changing the game. No one ever prohibited consumers from downloading a book in front of a bookstore, he said, yet restrictions are being written to protect a "dinosaur industry."
Frey's restaurant has locations in Carmel and Bloomington. He agreed with Kornmeyer that brick-and-mortar entrepreneurs have to adjust to changing times, but he does get irked by food trucks' nomad existence, noting restaurants have invested in real estate and pay property taxes as well as utilities.
Also like Kornmeyer, Frey would rather restaurants and food trucks develop the rules of operation themselves. Cooperation between competitors is possible and will stunt any need for government involvement.
"In my book, there's always a solution," Frey said. "You just have to be willing to negotiate and compromise."•
Please enable JavaScript to view this content.