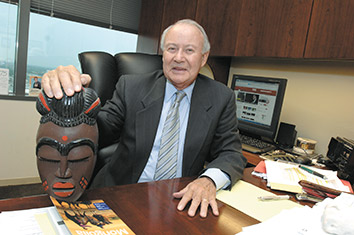 Stationed in South Korea during the mid-1960s, Daniel Byron, then a captain in the U.S. Army, became curious about Mongolia as he listened to the daily weather forecast for that country on AFKN radio.
To his memory of the country reporting extremely cold temperatures, Byron will soon be able to add fresh stories of the weather, the people and the legal system.
The partner at Bingham Greenebaum Doll LLP is preparing to visit Mongolia to help improve the rights of free speech and free press. He will spend all of September in and around the capital city, Ulaanbaatar, assisting and educating defense attorneys, prosecutors, judges, journalists and other advocates about media law.
 
"Everything I've heard tells me Mongolia wants to open up and be more democratic in its attitude and give more attention to free speech and free press," he said. "But, the devil is in the details."
Byron will be going as part of the International Senior Lawyers Project, a nonprofit that partners with clients around the world and dispatches attorneys with extensive legal experience to help with matters regarding the law.
The attorneys are not sent to provide the answers, said Andra Moss, ISLP director of volunteers and communications. Their purpose is to help the clients find a path to a solution.
The ISLP has a very strong commitment to the rule of law, Moss said. It advocates for a judicial system and fairness of process that people can trust. Attorneys volunteer not so much because they want to travel but rather because they want to share the knowledge they have acquired from spending their careers in the legal profession.
Overseas the lawyers are given housing and connected to the organizations with whom they will be working, but the volunteers are responsible for the details of their daily living, like finding meals, Moss said. And that, like many aspects, is a different experience than in the United States. An attorney who has recently returned from Mongolia reported that coffee is not always available, traffic signals are routinely ignored, and the alcoholic drink of choice is fermented camel's milk.
In the 11 years that ISLP has sent lawyers to 63 faraway places, no one has ever returned saying they were disappointed they volunteered, Moss said.
Byron still talks excitedly about his first ISLP trip that sent him to West Africa for two months in 2007. Writing of his experience for the just-published book, "Exporting the Matrix: the Campaign to Reform Media Laws Abroad," Bryon recounted that the nonprofit's request for a senior media attorney not only matched his experience but also filled his desire to make a positive difference in emerging democracies.
His eagerness to volunteer in West Africa came from the strong belief that also drives his desire to work in Mongolia. Specifically, he maintains that the hallmark of a vibrant democracy is giving the citizens the right to say and print the truth without fear of government retaliation.
"The first thing you'll notice over the many years is once you control the press and stop free speech, totalitarian government is easy," Byron said. "The view from the top down is if you can cause a country to have free press and free speech without fear of the government, then you're going to have a robust democracy."
Mongolia is a country struggling with media rights, according to Globe International, a non-governmental organization that requested help from ISLP. Criminal libel cases are common and between 70 and 85 percent of the time, the journalists are found guilty even when the information they distributed was not false or inaccurate. The reporters convicted of criminal libel face the possibility of stiff fines that they have to pay themselves and prison.
Globe International states that defamation charges are being used to harass journalists and encourage self-censorship.
Byron's task includes helping the lawyers who are defending these journalists. He will offer advice, analyze the evidence and explore alternative remedies to the cases . In addition, he will hold a workshop for judges and prosecutors about media law.
Prior to leaving, he is reviewing a case he may help defend that has been brought against a newspaper owner who is, incidentally, also one of the founders of Globe International. It is a tangled financial mess that in the United States would be a simple debt collection, but in Mongolia it has become a criminal case that could land the owner in jail for 15 to 20 years.
From his experience in West Africa, Byron has learned that change can be incremental but change can happen.
During his 2007 trip, Byron worked on a case of a newspaper editor who had been pulled from his desk chair and arrested by armed guards for reprinting a BBC article that was critical of the country's leader. The editor has not been seen or heard from since, leading his family to believe he has been killed.
Byron aided the defense counsel in obtaining a judgment of $100,000 in U.S. dollars for the family and helped successfully petition the United Nations to request the government reveal where the editor is and, if he is still alive, return him to his family.
To date, the family has received neither restitution nor an account of what happened.
However, recently, another reporter was taken into custody for criticizing the government, but he was not tortured and was released unharmed.
"You don't always know what kind of difference you might make," Byron said. "For me, trying is the most important thing. I hope I make some modicum of difference in Mongolia. We'll see."•
Please enable JavaScript to view this content.