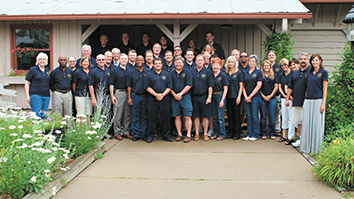 Indiana University Robert H. McKinney School of Law professor George Edwards posed the question, "What would you do if a pirate were to appear as a piracy defendant in your courtroom?" to a group of Indiana judges this summer. Serving as a professor at the Indiana Judges Graduate Program held June 3 – 7 in Nashville, Ind., Edwards led 30 state court judges through a mock trial designed to demonstrate how international law is relevant to Indiana law and practice.
Judges played the roles of prosecutors, defense counsel, witnesses and judges in a mock case involving two young Somali citizens who were charged with engaging in piracy of an Indiana ship attacked while sailing off the coast of East Africa. The hearing focused on whether an Indiana state court could conduct a trial involving the alleged pirates, Somali twins who claimed to be juveniles. Participants argued points of international human rights law, U.S. constitutional law, and Indiana criminal law and procedures.
The Indiana Graduate Program for Judges is sponsored by the Indiana Judicial Center and is part of an effort to promote continuing education for judges.
 
Shown here in the front row (from left) are Senior Judge Betty Barteau, Indiana Justice Robert Rucker, Hamilton Superior Judge Gail Bardach, Vanderburgh Superior Judge Richard D'Amour, Elkhart Superior Judge Stephen Bowers, Edwards, Madison Superior Judge G. George Pancol, Cass Superior Judge Rick Maughmer, Tippecanoe Superior Judge Michael Morrissey, Marion Superior Judge Carol Orbison, Indiana Court of Appeals Judge Elaine Brown, Allen Superior Magistrate Marcia Linsky, Hendricks Superior Judge Stephenie LeMay-Luken, LaPorte Superior Judge Kathleen Lang, LaPorte Circuit Magistrate Greta Friedman, Lake Superior Magistrate Michael Pagano, and Lake Superior Judge Elizabeth Tavitas.
In the back row (from left) are Marion Superior Judge James Osborn, Indiana Court of Appeals Judge John Baker, Dearborn Superior Judge Jonathan Cleary, Indiana Justice Frank Sullivan Jr., Jasper Superior Judge James Ahler, Benton Circuit Judge Rex Kepner, Johnson Superior Judge Kevin Barton, Clark Circuit Judge Jerry Jacobi, LaPorte Superior Judge Richard Stalbrink, Hamilton Circuit Judge Paul Felix, Noble Superior Judge Robert Kirsch, Bartholomew Superior Judge Kathleen Coriden, DeKalb Superior Judge Monte Brown, Marion Superior Magistrate Geoffrey Gaither, and I.U. Maurer School of Law professor Charles Geyh.
Standing on the back porch (from left) are Rt. Hon. Lord Iain Bonomy of Scotland, New York Law School Professor Edward Purcell, Putnam Circuit Judge Matthew Headley, Senior Judge Randall T. Shepard, Monroe Circuit Judge Valeri Haughton, Allen Superior Judge Fran Gull, and Marion Superior Judge Marc Rothenberg.•
Please enable JavaScript to view this content.