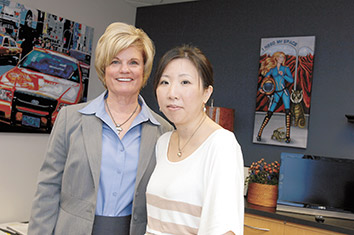 Marion County Prosecutor Terry Curry never expected the prosecution of Chinese immigrant Bei Bei Shuai to become a cause célèbre. It also has become a battleground over prosecutorial discretion and how far a defense attorney can go in representing her client.
"I would honestly say I did not anticipate that it would be a national and international controversy," Curry said regarding the murder and attempted feticide charges brought against Shuai in January 2011 – one of the first major cases Curry's office filed after he was sworn in.
Shuai, 34 at the time, was charged after her newborn daughter, Angel, died days after her delivery by emergency caesarian section at Indiana University Health Methodist Hospital in Indianapolis. Shuai had told friends that she consumed rat poison days earlier in an attempted suicide after the baby's father jilted her when her pregnancy was almost at full term. Her friends persuaded her to seek medical attention.
After she was charged, Shuai spent 435 days in the Marion County Jail before a divided Court of Appeals ruled she should not be denied bail, and she ultimately was freed on $50,000 bond. One appellate court judge dissented, saying the grant of bond wasn't enough and that she would dismiss the charges altogether.
Shuai's trial is set for Dec. 3. Meanwhile, Shuai defense attorney Linda Pence, of Pence Hensel LLC in Indianapolis, is challenging every aspect of the case, including the investigation and the custody of Shuai's medical records and those of Shuai's daughter. She's seeking to limit the admissibility of that and other evidence.
"This case has got every legal, medical, ethical issue you can imagine," Pence said. She said that at the heart of the case, she believes statutes meant to protect pregnant women from violence against them by third parties are being bent in an alarming way to prosecute a despondent woman.
"I never believed the prosecution would actually charge her with murder and felonies," Pence said, noting Shuai's case is unprecedented in Indiana and that suicide isn't a crime.
"Any woman or man who tried to kill themselves by doing what she did – obviously she's a vulnerable woman – and for them to put her in this position is, I believe, cruel," Pence said. "This is a young woman who should have been protected and taken care of instead of prosecuted. … It's nonsense."
But Curry said the language of the murder and attempted feticide statutes is plain, and he had no hesitation about filing charges once facts of the case were known because Shuai's conduct fell within that language. That includes Shuai's suicide note in which she wrote that she was taking the baby with her, he said.
Those looking for larger issues in Shuai's prosecution have blown the case out of proportion, according to Curry.
"I'm not sure it represents anything," he said of the prosecution, other than his department enforcing criminal laws. "Contrary to public debate, it has nothing to do with pro-life, abortion," he said, or representations that his office is "prosecuting suicide" or "criminalizing pregnancy," as advocates for Shuai contend.
"Those statements are clearly over the top," he added. "It's stunning how much misinformation there is about this case."
On the defensive
Pence has been outspoken in her defense of Shuai, including a fundraising email campaign that urged people to donate to a legal defense fund that Pence established for Shuai. The contents of that solicitation prompted Curry to ask Marion Superior Judge Sheila Carlisle to admonish Pence for comments the prosecutor said were made outside the Rules of Professional Conduct and that could taint potential jurors.
In response, Pence accused Curry's office in an Aug. 6 supplemental filing of "pursuing a concerted policy and practice of attacking and attempting to intimidate defense counsel who … were challenging the office's prosecutions."
Curry
Pence alleged that similar "tactics" had been used against defense counsel representing Thomas Hardy, who was convicted of killing Indianapolis Metropolitan Police Officer David Moore, and defense counsel representing David Bisard, the IMPD officer charged with reckless homicide and other counts related to a crash that killed motorcyclist Eric Wells and seriously injured two others. Messages seeking comment from those defense attorneys were not returned.
Pence's filing alleges the prosecutor's office employed "a litigation strategy directed at defense lawyers who are appropriately describing the inappropriate exercise of prosecutorial discretion and the serious deficiencies in criminal cases filed by this office."
Curry scoffed at such suggestions.
"We have no concerns whatsoever if counsel want to raise funds for a defense fund for their client," he said. But his office argued that the solicitation sought to materially prejudice potential jurors by stating, among other things, that Shuai had no prior criminal history, misstating the potential sentence and stating that Shuai cannot effectively fight the charges without financial assistance.
"I don't begrudge anyone having a zealous, aggressive, competent defense. That's not the issue," he said. The request to admonish the defense, Curry said, was a reminder that "all of us need to be careful of what we say in the pending cases."
Carlisle said she will rule on the motion to admonish by Aug. 31.
Those not involved with the case may say what they wish. Curry said he's received thousands of emails from petition sites and other sources urging the charges be dropped. They suggest the specter of prosecutions of women who miscarry or those whose babies were harmed due to the mother's addiction, for instance.
Asked how much the pressure weighs on his decision to proceed with the case, Curry said "none." But he allowed that if new developments or circumstances arise, "we would clearly re-evaluate the appropriateness of the prosecution."
But many in the mental health, women's rights and other fields are concerned about the prosecution. At least 15 parties have filed amicus briefs urging the charges against Shuai be dropped, according to court records.
Pence said Curry is disingenuous in saying the prosecution won't open the door to more women being charged with feticide in cases where the baby doesn't survive and the mother's actions come under scrutiny. "For him to say this case will not affect pregnant women … he's wrong. It will."
The case has played out in the international press as well as in court pleadings. The United Kingdom-based Guardian, which boasts that is has the third-largest global online newspaper audience, published a story about Shuai's case as well as a video interview. Curry subpoenaed the video; Pence said the Marion County court could not enforce such an order in London.
"If a defendant makes statements about the case, that is fair game," Curry said.
Costly case
Pence said that since she took Shuai's case in March 2011, her firm has dedicated $600,000 in pro bono legal work. The legal defense fund has raised more than $7,000.
"It's 50 percent of my time, easy," she said. "It's a big drain, but once you get involved in something like this, you can't walk away from it. I just don't have to file bankruptcy while doing it."
Curry said the prosecutor's office offered a plea deal to Shuai, proposing to drop the murder charge if Shuai agreed to plead guilty to attempted feticide. The deal was rejected, but Curry said it remains on the table for a way both sides can avoid further time and expense.
"I certainly assume at this point it will go to trial," Curry said.•
Please enable JavaScript to view this content.