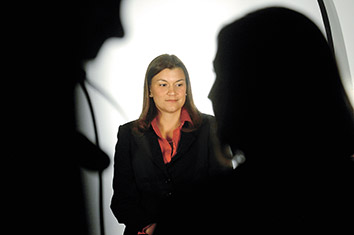 Mauri Miller was at a networking conference this summer when something unusual happened: A recruiter approached him.
"He said, 'Do you have a ViewYou profile,'" said Miller, a 3L at Notre Dame Law School. "He recognized me.
"It just put a face to a name and that's really been helpful," Miller said of his online video interview and profile. "When I first go in to employers, they know who I am."
Miller is among the anxious ranks of law school students and recent graduates for whom getting face time with recruiters might take more than remarkable resumes and relationships. For Miller, the job hunt strategy includes his presence on viewyou.com, an Indianapolis startup that focuses its services on law students nationwide, and his use of social media such as Facebook, LinkedIn and Twitter.
Miller said he uses those networks to post career and academic developments as well as links to articles of interest, and when he makes contacts with potential recruiters, he forwards his ViewYou video profile.
And he hopes for the best.
"I don't think you're going to find a law student in the country that doesn't have a worry or isn't worried about post-graduation employment," said Miller, who hopes to become a corporate transaction attorney and is interning this summer at Faegre Baker Daniels LLP in Indianapolis.
Miller is keenly aware of the tough market: According to the American Bar Association, 62.1 percent of 2011 Notre Dame law grads were employed in full-time, long-term jobs requiring a law degree. That's better than the national average of about 55 percent. The rate for Indiana University Maurer School of Law grads was 63.6 percent, 54 percent at Indiana University Robert H. McKinney School of Law and 41.9 percent at Valparaiso University Law School.
But Miller quoted a statistic that he said motivates him more – that two-thirds of law school grads who get jobs don't get them through their university career development departments. "I've taken that statistic and ran with it," he said, building his network by clerking for an Indianapolis environmental judge and working in a San Diego domestic violence clinic in summers prior to his work at Faegre Baker Daniels.
Those traditional career routes alone might not be all he needs to get his foot in the door, though. He said law students more than ever need to ask themselves, "How will you take control of your career?"
Best face forward
Entrepreneur Jason Randolph and some of his friends shared a similar experience: When they applied for jobs online, they usually got nowhere. When they got interviews, they usually got the job.
A founder of ViewYou, Randolph said the idea of brief student videos that accentuate student resumes and references is ideal for law students, particularly 1Ls and 2Ls, to get their faces in front of potential recruiters.
"You really can pick up a lot about a person's character and their demeanor in a 90-second to 2-minute video," Randolph said. That can be a key factor for firms deciding whom to interview, often for summer programs that can lead to future opportunities. "Competition for those – that is a fierce, fierce scenario."
Randolph said ViewYou gives employers an opportunity to screen potential candidates en masse. "A lot of firms are getting away from on-campus interviews because of the time and expense," he said.
It's unlikely someone will be hired based on the strength of a ViewYou presentation, Randolph said, likening it to a latter-day elevator pitch. "What we do know is it gets (recruiters) to a 'Yes, I'm interested in this candidate,' or it gets them to a 'no,'" he said, "thus saving the firm and the candidate time and anxiety."
Debbie Snyder joined ViewYou in June after serving as manager of recruiting and diversity for Barnes & Thornburg LLP. She said she's been able to translate what firms are looking for to help students tailor their videos.
"The students have been extremely receptive to the concept because they feel like it's a great chance to get their personality across to the employers, and sometimes it's going to be a matter of what's going to be a good fit for the employers," Snyder said. She said the company has built a database of about 1,000 law student profiles.
Working with schools and outside sponsors, the company is often able to offer students professional video profiles for as little as $29.
Miller used his video to highlight, among other things, his international undergraduate studies in Spain and the Dominican Republic. In his video, he uses a flourish of Spanish to demonstrate his command of the language.
Recruiting in tough times
Maggie Gloyeske is in charge of recruiting at Faegre Baker Daniels and said that while the firm hasn't received video resumes, it's likely to become more popular.
"A video clip, particularly if it's short and unrehearsed, can help demonstrate how a candidate thinks on their feet, reacts to unexpected questions, and is able to formulate their thoughts quickly and cohesively," Gloyeske said. "A video clip can also help us get a sense of the presentation skills and style of a candidate."
Rafael Sanchez, a partner at Bingham Greenebaum Doll LLP in charge of recruiting for Indiana offices, said job prospects are such that many people have expressed a willingness to work in summer programs for free. Since recruiters historically have looked for potential associates two to three years out, he said the situation isn't likely to improve anytime soon.
"Much like other firms, we've essentially cut summer programs at least in half," Sanchez said. At its peak, Bingham Greenebaum Doll brought in about 11 summer interns across all the firm's offices, he said. "As a result, competition for the few positions available has become stronger. It is a buyer's market right now."
Candidates also are taking some old-fashioned advice, Sanchez observed. "I am noticing a much more deliberate effort to at least make it look on the cover letter as though that person has really researched and thought about the firm," he said. "That's always pleasing to see, and that's just people putting in more effort because more effort is required."
The firm hasn't used ViewYou yet, Sanchez said, and the value of social networking is still questionable. "Getting face time and interacting with folks and sort of showcasing yourself at any bar function or networking event is critically important," he said.
Still, Sanchez said law firm recruiters will embrace services that can provide a cost benefit. "This ViewYou concept is relatively new, and I don't know I can say it's caught on yet," he said. "But I think it's clearly born out of necessity because clearly the economy is tough. In a competitive job market we're currently in, with fewer positions available, anything anyone can do to separate themselves is going to be useful."
Gloyeske said social media, especially professional networking sites such as LinkedIn, are changing how students market themselves. "Law students are familiar with the upside and downside of social media and most are using it to their advantage."
While methods of getting a recruiter's attention evolve, Gloyeske said a strong resume and cover letter and expressed interest in the firm remain important.
"Although video and social media can enhance a candidate's presence during the recruiting process, experience, intelligence, work ethic, ambition, leadership and various other characteristics which indicate the probability of success at a law firm continue to be the most critical factors in evaluating talent," she said.•
Please enable JavaScript to view this content.