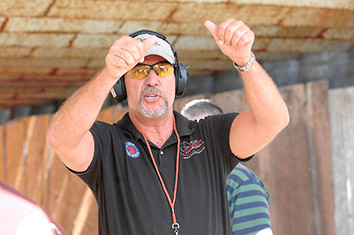 Can you carry a gun to the ballot box? With a few narrow exceptions, the answer appears to be yes.
A lawsuit filed last month in St. Joseph Superior Court could clarify further whether a 2011 law that voids local firearm regulations would make efforts to keep guns out of voting precincts illegal.
Zionsville attorney Guy Relford filed a lawsuit on behalf of Clay Edinger against the St. Joseph County Election Board, commissioners, sheriff's office and local township officials.
The suit alleges that when Edinger walked into a Warren Township fire station in North Liberty with a holstered handgun for the May 8 primary, his rights were violated when election officials and law enforcement officers took him out of the fire station that housed the polling place and told him he couldn't vote if he carried the firearm. He insisted he had broken no law, but he was not allowed to vote.
 
Relford, who also operates Tactical Firearms Training LLC and is a firearms instructor who's built a reputation defending Second Amendment matters, said Indiana Code 35-47-11.1 put an end to nearly all local firearm regulations that exceed the scope of state law.
Edinger's experience, he said, "is really the perfect example of what the Legislature had in mind when it enacted the pre-emption statute."
"If local government (and) police officers can make up the rules as they go, no one can predict where it's legal to carry a gun and where it's not," Relford said.
 
Relford has sued on behalf of a St. Joseph County man who was not allowed to vote in the May primary because he openly carried a holstered gun to the polls.. (IL Photo/ Perry Reichanadter)
Whether a licensed gun owner is permitted under the law to carry a firearm to the polls may hinge on where the precinct is located. If a polling place is in a building that houses courts or is in a school, for instance, the pre-emption law provides exceptions that would restrict firearms. A precinct on private property also may be subject to gun restrictions.
Dale Simmons, co-legal counsel for the Indiana Election Division, said he was made aware of the situation involving Edinger on that primary election day.
Simmons said the pre-emption statute seemed clear, but that statute didn't specifically address polling places. Finding that no other statutes addressed the question, Simmons on primary election day contacted Indiana State Police General Counsel Lt. Mark Carnell.
In an email reply, Carnell advised Simmons, "the authority of local units to regulate firearms, including handguns in public buildings, was sharply restricted when IC 35-47-11.1 became law last year. Local units can still, under certain circumstances, bar firearms if the building contains a courtroom or if certain fairly burdensome procedures are followed," such as in public buildings requiring metal detectors staffed by law enforcement officers.
"We're free to engage in activities unless they're prohibited," Simmons said, while acknowledging that the sight of a voter carrying a gun might raise alarm. "Some people perceive these things differently based upon their sensitivities."
 
Tomes
Indiana Sen. Jim Tomes, R-Evansville, sponsored the pre-emption bill and said he sees no need to further address whether guns are permitted in a polling place. The bill provides a few exemptions where local units of government may forbid firearms, but he said adding further exemptions would muddy the water.
"The purpose of the law was to say no more are cities and towns going to write their own laws, and we're going back to the uniformity of state law," Tomes said.
"Our society has come to a point where so many people are afraid of anything that moves anymore, and their reaction is what we see here," he said. "We are talking about citizens who have applied for these licenses and who have proven themselves to be proper citizens, and they're not to be feared."
Relford said Edinger, who served in Iraq as a Marine and now is in the U.S. Navy's chaplain development program, gave no cause for alarm when poll workers and then law enforcement officers confronted him.
"He was very mild-mannered. He didn't even raise his voice and there's no contention that he did," Relford said.
He said enforcement of existing laws that restrict guns from falling into the wrong hands makes more sense than enacting laws or trying to enforce unwritten policies that would penalize law-abiding citizens.
"There are three kinds of people who shouldn't have guns: kids, criminals and crazy people," Relford said. "What we don't need is a patchwork of local regulation."
James Groves of the South Bend firm Lee Groves & Zalas said he will be representing at least some of the defendants in the case. Groves said he had yet to file a response to the Edinger petition and said it was too soon to offer an analysis of how the case may be defended.
Fighting city hall
Edinger's suit is the third that Relford has filed against units of government that he says are in violation of the pre-emption statute.
He sued Hammond after the city council defeated a council member's proposal to remove local ordinances that didn't comply with the law. The case is Samuel G. Dykstra and Michelle L. Bahus, et al. v. City of Hammond, 45D11-1108-PL-00086. A Lake Superior judge ruled for the city, and the suit is pending before the Court of Appeals.
Hammond City Attorney Kristina Kantar said the city was successful in winning summary judgment at the trial court level because it hadn't infringed on anyone's rights.
"The city's position is that we never actually enforced any ordinance against the person laying claim," Kantar said. The question of whether the city must remove the ordinances from its books is moot, she said, because the state law already does that.
"The city's position is once the ordinance became void, we didn't have to do anything," she said. "It hasn't come up, other than Mr. Relford."
But Relford said as long as Hammond's four local firearm ordinances stay on the books, the city's failure to remove them gives legal standing to anyone to bring action against the city. "People are still subject to those (ordinances) because they simply live on" in the city code, Relford said.
Relford also sued Evansville on behalf of Benjamin Magenheimer. The lawsuit says Magenheimer was removed illegally from the city-owned Mesker Park Zoo & Botanic Garden after a zoo employee saw him carrying a gun and called police. Magenheimer was taken from the zoo after police said he caused a scene.
Bryan Lee Ciyou, an attorney with Ciyou & Dixon P.C. in Indianapolis, is author of "Indiana Firearms Law Reference Manual" and said Indiana is one of 43 states where pre-emption laws govern firearm regulation.
He said the pre-emption law settled the question of whether a licensed owner may carry a gun to the polling place, unless it's in a building such as a courthouse or school that is exempt.
"I don't think there's a legal question about it," he said. "I think it's a moral question."
He said the suits also highlight how poorly local officials, including law enforcement, are educated about gun laws.
"I think the average person carrying openly into a polling station would do it because (the Second Amendment) is the reason they're voting," Ciyou said.•
Please enable JavaScript to view this content.