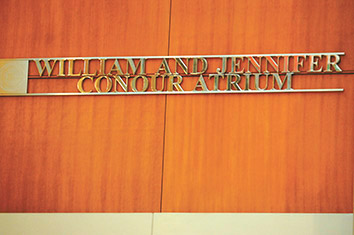 William Conour, until recently, was one of Indiana's most respected and powerful personal injury attorneys, his name prominent enough to grace a law school atrium. Now he faces a federal charge that could send him to prison for much of the rest of his life.
Conour, 65, stole $4.5 million from more than 25 clients whose settlement money was entrusted to him, according to information filed Aug. 14 in U.S. District Court, Southern District of Indiana. The wire fraud charge against Conour carries a possible prison term of 20 years and fines.
"We will be committed to seeking full restitution for the victims," said Richard Cox, a special U.S. attorney from the Central District of Illinois who is prosecuting the case against Conour in Indianapolis. But Cox acknowledges victims might not be made whole.
 
"We hope there are assets out there," Cox said. "What we're essentially alleging is that money does not exist."
People familiar with the case say they believe a guilty plea is imminent. Conour's attorney, Richard Kammen, did not return telephone and email messages seeking comment. Telephone lines at the Conour Law Firm were temporarily disconnected, according to a recorded message.
Since Conour came to the attention of federal authorities, the scope of his alleged crimes has widened. He initially was accused of misappropriating or converting for his own use $2.5 million from client trust funds. Conour resigned from the bar this year after the Indiana Supreme Court Disciplinary Commission filed a verified complaint against him because of the federal charge.
The charge against Conour is partially the result of suspicions brought to light by former colleagues who saw firsthand Conour's behaviors and actions.
"The problem we have here is it takes a person who knows the system to abuse the system," said attorney Timothy Devereux of Ladendorf & Ladendorf in Indianapolis, who compared Conour to disgraced financial titan Bernie Madoff.
"I think because of his reputation in the community, people were hesitant to acknowledge or they didn't want to believe what he was doing," Devereux said.
Devereux worked with Conour for four years until last December. "After I left, I was contacted by law enforcement to ask if I could help them," Devereux said.
When Devereux cut his professional ties with Conour, he said numerous clients followed, but Conour wouldn't release case files. In some cases, Devereux said Hamilton County sheriff's officers had to be called to execute court orders requiring Conour to hand them over.
"At times he could be very generous and gregarious, but he was a perfectionist and very controlling," Devereux said. "He could be great, and at the same time turn around and show great anger within seconds. In hindsight, I look back and it's almost like he did have a split personality. … There were days when the staff would look at each other and say, 'What set him off?'"
One of the clients Devereux represented was Gracelynn Harrison, who was injured in a car crash when she was about 18 months old. When questions arose about her $62,000 settlement trust, Devereux won a court order requiring Conour to appear in Decatur County, and Conour was later arrested and charged with failure to appear.
"I don't believe there's any sufficient funds," Devereux said. "That's my fear … I hope to God I'm wrong, but I'm not holding my breath."
John Daly, a partner at Golitko & Daly P.C., said he alerted the disciplinary commission in July 2008 that Conour wasn't paying a client in a nursing home from a six-figure special-needs trust that was supposed to be set up to compensate for injuries she sustained falling down an elevator shaft.
"To me, the 'A' story is the tremendous delay between the time I made the initial complaint to … this year," said Daly, who stopped working with Conour in February 2008.
"Bill did a lot of mayhem in the meantime," Daly said.
Disciplinary Commission Executive Director G. Michael Witte said the commission's confidentiality rules restrict him from confirming or denying complaints against Conour prior to the filing of the verified complaint against him in May.
But Witte said building a case against Conour took time, as evidenced by the federal court information alleging that Conour's actions date to 1999. It took years for the FBI to make the case, he said, and the commission has far fewer resources.
"This case is one that's frustrating to a lot of lawyers because Mr. Conour was a go-to lawyer for a lot of lawyers around the state," Witte said. "Because he was this go-to person for lots of referrals, he engaged in more deceit and cover-ups to hide things from those other attorneys.
"He had to avoid the suspicion of all the lawyers who sent him work," Witte said.
"The most difficult part about this is that the rules of confidentiality sometimes hamstring us from being able to use outside resources and exchange information," he said. "I can't just pick up the phone and call the FBI and say, 'We've got a case against a lawyer.'
"The only thing we can do is utilize our own investigation resources to pursue our own independent investigation," Witte said. That includes one full-time investigator and 12 staff attorneys who handle about 1,200 complaints per year.
Devereux said Conour betrayed a profession that typically is protective of clients and fights to see their needs are attended to. "To see someone do this to clients is just gut-wrenching," he said.
 
The William and Jennifer Conour Atrium at the I.U. McKinney School of Law in Indianapolis is named after the Conours, who dedicated a gift to the school of $450,000. An IUPUI spokeswoman said it was premature to discuss what will happen with the name before the federal wire fraud charge against William Conour is resolved. (IL Photo/ Perry Reichanadter)
"The tragedy is when people in a position of trust stop thinking that the money entrusted with them doesn't belong to somebody else," Daly said. "They're entrusted with millions of dollars, and they rationalize it.
"There're a lot of sad parts to this," Daly said. "The saddest part is these are widows and orphans and people who are paralyzed. These aren't your fender-bender cases."
Meanwhile, the Indiana University Robert H. McKinney School of Law faces the difficult prospect of deciding what to do about the William and Jennifer Conour Atrium that is the focal point of the Indianapolis school, and what to do about the $450,000 Conour paid to have his name attached to it.
"We are following this very closely and will take action at the appropriate time," said Margie Smith-Simmons, director of news and media at Indiana University-Purdue University Indianapolis. "Until the case is resolved, we're not in a position to discuss details."•
Please enable JavaScript to view this content.