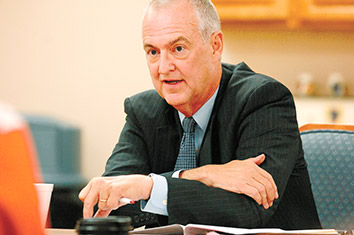 The tile floor is clean, and two couches, one white, the other orange, fill the living room. In a small bedroom down the short hallway, a twin bed is covered with a blue blanket. Half a loaf of bread sits on the kitchen table.
This is the home of a hero.
At one time, the resident of this modest dwelling wore a uniform, served her country and, for doing that, was called a hero. She, along with other military personnel, were thanked and praised countless times for protecting this country's liberties.
Today, she struggles to protect herself from homelessness.
The problem of homeless veterans of the U.S. military is growing and starting to include younger soldiers who fought in the Iraq and Afghanistan wars. Estimates put the number of homeless veterans between 130,000 and 200,000 on any given night, according to a 2009 report by the National Coalition for the Homeless.
In Indianapolis, the Hoosier Veterans Assistance Foundation is helping move these individuals from the streets into permanent housing. The personal baggage many veterans carry includes a substance abuse problem or a mental health issue. As these troubles are brought under control, HVAF begins tackling other barriers like job skills, personal financial management, transportation and benefits from the Department of Veterans Affairs.
The entire effort is not considered successful until the veteran is able to find a permanent place to live.
 
However, one persistent obstacle to achieving this final goal has been solving legal issues. HVAF clients can have a suspended driver's license, owe child support or have an outstanding warrant for a misdemeanor case which is enough to prevent employment, stability and finding a place to live.
A small ensemble of attorneys who support the HVAF is stepping forward to find a way to provide legal assistance. They have issued a "Request for Good Ideas" and are asking their colleagues in the legal community to suggest a model or method for delivering these services to the veterans.
"We really think in the community there are probably some folks who know the best way to do this," said Steve Benz, HVAF board chair and associate general counsel at Eli Lilly & Co.
Holistic approach
After he retired from 20 years of service in the U.S. Army, Charles "Chuck" Haenlein was asked to serve on the HVAF board of directors. His first reaction was to wonder "how can veterans be homeless?"
Former military personnel have access to the VA which offers services and benefits that can care for and sustain them. But many of the veterans arriving on HVAF's doorstep either do not know how to maneuver through the bureaucracy of the VA or have had a bad experience with the government agency.
Attorneys can help with filing VA paperwork, said Trent Sandifur, partner at Taft Stettinius & Hollister LLP and HVAF board member. In some cases, for example, that could then provide a disabled veteran with a $2,000 monthly benefit which could ensure the financial footing needed to stay housed.
Yet, the clients at HVAF have a host of social problems which influence the legal issues, and the effort to remedy the legal entanglement cannot bare fruit until those social concerns are addressed, Sandifur, an Army veteran, said.
Consequently, he and his colleagues envision a holistic approach with the lawyer being part of the treatment team surrounding any particular client. The attorney would get to know the veteran and help clear the path to a permanent home instead of putting out a legal fire and then leaving, Sandifur said.
Every veteran who comes through the foundation has a legal issue to be resolved, Haenlein said. HVAF can give them a place to stay and get them clean and sober but that problem with the law will still be hanging overhead.
The entire story
One recent Thursday morning, a team of volunteers from Lilly were spread around the HVAF facility on North Pennsylvania Street in Indianapolis doing a variety of maintenance and cleaning tasks. HVAF staff members, Cindy Thomas, executive vice president, and Ron Shelley, chief operations officer, walked through the new Manchester apartment building that the foundation opened in November 2011.
They recalled one veteran broke down in tears when she saw her apartment. The night before, that veteran had slept under a bridge.
The numbers of veterans coming to HVAF have been rising. In 2009 and 2010, the foundation provided services to 2,121 and 2,081 veterans, respectively, while in 2011 the number rose to 2,259.
Why military personnel become homeless is not an easy question to answer. Certainly, the down economy plays a role, but the military is a highly regimented life and often accompanied by lots of alcohol consumption which can complicate the transition back to civilian life. Also, Thomas said, the veterans may have had a bad childhood before they enlisted, so they were predisposed to the social problems.
According to Thomas, of the 13 women currently in the HVAF program, more than half have experienced sexual trauma in the military and in their childhoods.
The attorneys helping HVAF would not be expected to be social workers but, Haenlein explained, could provide assistance on those legal issues the therapists cannot resolve.
As these veterans are falling from the system, trouble with the law can grow as bills go unpaid and conflicts arise. Then they can fall prey to unscrupulous landlords, car dealers and tax preparation services that pop up every spring, Haenlein said.
Sometimes a situation can be defused by having an attorney who is representing the veteran write a letter or make a phone call. A simple act can calm the tensions by giving the veteran credibility and highlighting that the veteran has someone who will hold the other party accountable.
Under HVAF's vision, attorneys working with veterans would get to see the whole story. Bill Moreau, partner at Barnes & Thornburg LLP and tireless advocate for the homeless, noted lawyers celebrate victory when they resolve the legal problem. But that is not the end of the story, and success at HVAF is not declared until the client's homelessness ends.
As for the best way to tackle these legal issues, the team of attorneys has not devised any particular solutions yet and, instead, is hoping other lawyers will fill in the details, Moreau said. Rather than sending in résumés, the group wants to get proposals or outlines of potential structures for providing and sustaining the legal assistance program.
Moreau's passion for helping the homeless comes from his father, retired Army veteran Donald Moreau, who served as the executive director of HVAF before Haenlein. It also stems from the work he did with former Indianapolis Mayor Bart Peterson's administration to craft a blueprint for ending homelessness in the city within 10 years.
He is hopeful that homelessness among veterans can be eliminated. Helping former members of the military, Moreau said, is a goal that has broad support and has unified political opponents.
"At least in this country, we can actually make good on a promise to vets," he said.
Making a proposal
The HVAF is now taking proposals for how to provide legal services to veterans. Written responses should be sent electronically to Charles Haenlein, HVAF president and CEO, at [email protected] no later than Oct. 19, 2012. Other questions should be directed to Haenlein.
A copy of the "Request for Good Ideas" is available at www.hvaf.org. Click on RFGI in the news section on the home page.•
Please enable JavaScript to view this content.