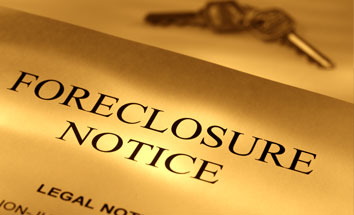 The lull in foreclosures filings is over for the moment. But that doesn't necessarily mean the foreclosure process is moving any faster.
Indiana had one of the sharpest increases in foreclosure filings in July, according to RealtyTrac, which said they rose 83 percent compared with the prior month. RealtyTrac, which defines "foreclosure filings" as default notices, scheduled auctions and bank repossessions, compiles the monthly U.S. Foreclosure Market Report that analyzes data from 2,200 counties.
But July's spike in foreclosures might not be a long-term trend. "One thing I've been following is the 90-day delinquency number. There have been a lot of people speculating that there's a huge bubble about to burst, but the 90-day-plus number has not really grown," said Tom Dinwiddie, a partner with Wooden & McLaughlin LLP in Indianapolis, who represents the Indiana Bankers Association and the Indiana Mortgage Bankers Association.
Dinwiddie pointed to data from the Mortgage Bankers Association that shows the percentage of Indiana home loans 90 days late or in foreclosure fell to 7.6 percent in the second quarter of 2012 compared with a rate of 8.2 percent a year earlier.
"That's a very good sign," he said.
The July rise in the foreclosure filings is due in large part to a lifting of a moratorium on foreclosures that major lenders agreed to prior to a $20 billion settlement in the wake of a "robo-signing" scandal, in which lenders signed contracts with little or no oversight.
"This will be a spike and it's going to level out a bit, but the big problem we have now is most of the bad, predatory loans have been washed out," said Notre Dame Law School professor Judith Fox, who runs the Economic Justice Project at the Notre Dame Legal Aid Clinic.
"The people in foreclosure now are the ones who lost their jobs and it's through no fault of their own," she said. "We're not going to recover from this for a very, very long time."
That's a trend Eric Redman, senior partner at Redman Ludwig P.C. in Indianapolis also is seeing, with homeowners often resorting to bankruptcy due to job loss, reduction in income, medical bills or other factors. It's not like the first foreclosure wave during the financial meltdown, where Redman said credit card debt was a big factor.
"We have seen an increase in people that need Chapter 13 help for mortgages in the last couple of months," Redman said. "A lot of people make the evaluation they need to file Chapter 7 and give up the house – they're so upside down it's not worth continuing to pay."
Processes that have been put in place to safeguard homeowners who fall behind have had mixed success.
Merrillville attorney Andrew Kraemer has represented both borrowers and a local lender in foreclosure matters. He said that since settlement conferences in foreclosure proceedings have become more common, they have produced results.
"It has worked here in Lake County," Kraemer said. "It seems to be a very nice means for getting the sides together and talking, at least. … We can have disagreements, but I've found them to be fairly civil.
"I think at the end of the day the reason settlement hearings work is not solely because they get the parties together," he said. "As long as it's economically feasible for both sides, it's going to work."
Dinwiddie said the bankers' organizations were key to legislation that created settlement conferences and efforts to improve counseling.
"From the lenders' standpoint, they didn't need the foreclosure counseling to want to resolve cases," he said. "The problem we had was borrowers would not talk to the lenders. They were either afraid or embarrassed or resisted the loss-mitigation efforts the lenders had."
Redman said clients he saw didn't gain much from initial efforts. "Most people that were trying to do loan modifications were extremely frustrated with the process. They'd submit paperwork and many times it'd get lost, or they'd get sued anyway."
Urging greater use of settlement conferences was among the best practices recommended to the state's judges by the Indiana Supreme Court Mortgage Task Force on which Fox served. "There's been a little more cooperation," she said. "There's just such a backlog."
Information on the inventory of foreclosed properties that banks hold is difficult to find, Fox said. Forbes reported in June that the "shadow inventory" of property repossessed by banks nationally stands at 1.5 million homes worth about $246 billion.
Dinwiddie said inventory is declining in Indiana, and filings should eventually decline because the 90-day delinquency figure hasn't increased. "I would say it will get cleared up in Indiana as soon as the unemployment numbers improve," he said.
Meanwhile, the amount of time foreclosures are taking to process remains long, particularly in states such as Indiana where a judicial process is involved.
The average foreclosure in Indiana took 443 days in the fourth quarter of 2011, according to RealtyTrac. That compares with an average of all states of 348 days. New York and Florida led the nation with average process periods of 964 days and 806 days, respectively. Texas was quickest at 90 days, RealtyTrac reported.
The clinic Fox runs at Notre Dame assists as many as 100 low- to moderate-income homeowners facing foreclosure a year, she said, noting it's just a fraction of the need. Many attorneys are reluctant to offer pro bono service in such a complex area of law, Fox explained. "The law seems to change every day."
Anecdotally, Fox said she sees signs that lenders are in no rush to take back more property.
"Can I prove it? Probably not, but depending on where the client's home is, and the neighborhood, (lenders are) not moving at all," she said. "That's the shadow of 'the shadow.'"
Fox said some clients stay in their home long after a sheriff's sale simply because no one knows they didn't leave. In one case, she said a client lived in a home for six years before being evicted.
On the other hand, she's also seen some lenders forgo foreclosure actions and instead file a collection action against the buyer. "Just giving a house back doesn't always end people's obligation. People don't understand they still owe the money," Fox said.
Some Hoosiers have received relief from the $20 billion settlement agreed to by five of the nation's top mortgage lenders, those associated with Bank of America, Chase, Citi, GMAC and Wells Fargo.
According a report from the Office of Mortgage Settlement Oversight, 990 homeowners in Indiana to date have received mortgage relief under the settlement totaling $34.2 million, with an average of $34,932 per consumer.•
Please enable JavaScript to view this content.