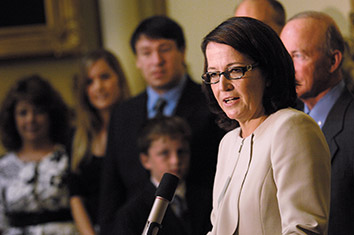 As a Purdue University undergrad in the 1970s, Loretta Hogan took off a semester to backpack around Europe with friends. She returned home and completed her studies on time.
Now appointed to serve on the Indiana Supreme Court, Tippecanoe Superior Judge Loretta Hogan Rush takes such feats in her life in stride. She said Purdue "used to let you take 21 (credit) hours. I used to take 18 to 21 hours and work."
 
Rush's colleagues in the Lafayette legal community say that kind of no-nonsense approach is a hallmark of a judge who handles some of the toughest cases in Tippecanoe County – those involving juvenile justice, children in need of services and other matters of family law. They say Rush melds a tireless work ethic, exacting legal judgment, compassion for children and an engaging demeanor.
"She was able to sit in the lobby at the Cary Quad and she could talk to anybody, no matter who they were," Lisa V. Schrader recalled of their days at Purdue. Now a private practice attorney in Lafayette, Schrader was a sorority sister with Hogan and introduced the future judge to her future husband, James Rush.
"I think she was an excellent choice," Schrader said. "She's always worked hard and given 100 percent and always done the right thing in cases she's had before her."
Rush will be only the second woman to serve on Indiana's Supreme Court. Myra Selby served from 1995-1999, and Gov. Mitch Daniels had been pressured to appoint a woman. Until this appointment, Indiana was among just three states, along with Idaho and Iowa, that had no female justices.
Tippecanoe County Bar Association President Patricia Truitt said there was a buzz early on that Rush might be the one selected.
"We knew a lot of women had thrown their hats in the ring," Truitt said. "Certainly the hope was that they pick Loretta rather than, 'We hope they pick a woman.'"
Earlier this month, the Tippecanoe Bar hosted an event called "Hail to Our Chiefs" that honored Indiana Chief Justice Brent Dickson and Court of Appeals Chief Judge Margret Robb, both of whom have deep roots in Lafayette.
Truitt said that Rush, who then was among three finalists for the Supreme Court vacancy, received a standing ovation when she rose to introduce Robb. The appeals court chief's address focused on inroads that women have made in the legal profession in the last 35 years.
"I think people went out sort of thinking, 'You know, the time is ripe for a woman and an outstanding woman,'" Truitt said. "I think it was a very good choice, and time will tell if it was truly a brilliant choice."
Urged on
Rush might not have tossed her hat into the ring without a nudge – or several.
"She had to be persuaded to apply," said Mike Stapleton, a partner at Ball Eggleston PC in Lafayette who has known Rush for about 25 of the 40 years he's practiced. Stapleton and others lobbied her.
"It was only after a fair amount of prodding by lawyers and judges that she agreed to do it," he said.
He said Rush took advantage of mentors, including Dickson, who was a partner at Dickson, Reiling, Teder and Withered when Rush was hired there in 1983. She worked at the firm until 1997, had a private practice for a time, and became a judge in 1998.
"She inherited a financially challenged courtroom situation – it was a couple million dollars in debt. She cleaned up that courtroom and she was clearly the leader and the consensus-maker among the local judges," Stapleton said. "She has a reputation of being a very tough judge and on top of it being a very nice person, and that's a really hard thing to do."
Rush acknowledges her hefty caseload in Tippecanoe Superior Court 3 and said unwinding her obligations means that she probably will join the Supreme Court sometime around the first of November.
"I want to leave my court strong," she said. "I just want to leave it in good shape."
Dickson said Rush had indicated as much. "I know she's very enthusiastic both in doing a sound job to complete the job she's engaged in but in joining us as well."
Justice Steven David said he knows Rush well from having worked together on juvenile justice issues. David was a Boone County judge before becoming a justice.
"She was a great trial judge and she'll be a great addition to this Supreme Court," David said. "She's one of those individuals that went to work every day, and every day was a new opportunity to make lives better for families and children."
The court's most recent appointee, Justice Mark Massa, said he's gotten to know Rush during the selection process and since. He noted her work with juvenile justice programs and court technology in particular.
"You look at her résumé and her commitment to the administration of our judicial system across the board, and she's much more than a case processor. She's been involved in a lot of things that make the judiciary work," Massa said. "She will love the job."
Tough cases
In her application to the Indiana Judicial Nominating Commission, Rush wrote about a case in which she had served as a guardian ad litem in 1986 for a 14-year-old boy, J.S., who had been a ward of the state in a variety of placements since age 2. In 1998, a month before Rush took the bench, John Jesse Swaynie burst into Rush's home and attempted to kill Rush's husband.
Rush had to hide the children and get help. She and her husband were injured, and Swaynie, with whom Rush had kept in intermittent telephone contact over the years, later was convicted of attempted murder and burglary.
Rush said it wouldn't have made sense to leave out such a prominent event. "I think when I had to put the five most significant legal matters I've had, it's hard not to put that," she said. "It's not my favorite thing to write."
But what she wrote about that experience gave insight into the mindset she took to the bench.
"I look at the children that find themselves in our court system and understand the long-standing toll such things as child abuse, neglect and untreated mental health can have on their adult lives," Rush wrote.
Teri Flory, who runs a private practice in Lafayette that deals primarily with family law, said Rush and her court are highly organized.
"I enjoy practicing in her court because I know she truly cares about the children," Flory said. "During hearings it's very evident she remembers the children and remembers their situations."
She said Rush hears cases that range from minor juvenile delinquency to children in tragic and heartbreaking circumstances. "To continue to hear that day after day, I can't imagine the kind of outlet she would have to have," Flory said.
For Rush, it's family.
"I have a great husband; that helps," Rush said. "My kids give me a lot of balance and a lot of perspective. Having a great family, great friends, that gives you the balance you need."
Truitt said Rush will be missed in the Tippecanoe County Courthouse and for the time she gave to the community. But she also said Rush leaves a remarkable example.
"It's not unusual for modern women to try to do it all," Truitt said. "And you can't do it all. But the way you balance priorities tells a lot about a person, I think."•
Please enable JavaScript to view this content.