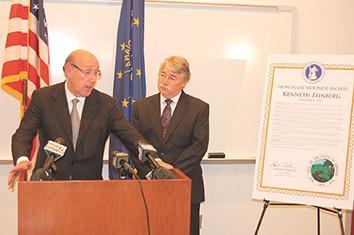 Editor's note: This story has been corrected.
Within weeks of the Indiana State Fair stage collapse last year that killed seven and injured dozens, a process developed that the state and victims' attorneys credit with aiding victims as quickly as possible and in almost all cases avoiding litigation.
But such programs also operate in ways that raise legal and public policy questions, said Kenneth Feinberg, the foremost authority on victim compensation funds.
 
Feinberg spoke at Indiana University Robert H. McKinney School of Law on Sept. 11. He reflected on the benefits and challenges that arose from handling the compensation fund for victims of the terrorist attacks in 2001 and from advising Indiana officials as they began the task of delivering aid for those killed or injured by the stage collapse.
"We avoided any discussion of the moral worth of human beings," Feinberg said of the initial phase of State Fair victims' compensation. That's contrary to tort law, in which such things as future earnings would result in different judgments for different claimants, he said, based on such factors as loss of potential earnings.
"You can't come up with a compensation program that promotes divisiveness among the very people you're trying to help," he said.
Along with Feinberg, Indiana Attorney General Greg Zoeller and other lawyers involved in the compensation of victims of the stage collapse spoke at the law school. Feinberg shared his experience with the 9/11 and State Fair funds and in administering compensation for victims of the BP Gulf oil spill and the Virginia Tech campus shootings, among others.
Zoeller described officials "staring into the abyss" in the wake of the State Fair tragedy, with little experience to navigate disaster compensation. He praised Feinberg for volunteering to help guide the process when contacted.
"Ken said, 'I wouldn't wish this on anyone, what you're going through,'" Zoeller recalled.
Feinberg said special funds should be considered only in the rare events in which there is a groundswell of public support to get aid to victims of tragedies or calamities.
In such cases, Feinberg said, funds are created on a consensus that, "We ought to be thinking outside of the box when it comes to victims' compensation. … It is rare, indeed, when you think outside of the box."
Feinberg raised questions about the advisability of such funds and said they lead to public policy questions about equitable justice. "Bad things happen to good people every day, and you don't have access to an accelerated legal system," he said.
"Be very careful about replicating these funds. Be careful about setting up programs where you're going to require people to waive their right to sue. There are all sorts of challenges to the legitimacy of these programs," he explained.
Feinberg assisted Zoeller and other officials in devising a plan to distribute funds up to the state's tort claim cap of $5 million. The plan laid out specific and equal compensation for classes of victims. According to the AG's office, the estates of those who died received at least $300,000. A victim who suffered paralysis received at least $500,000, and other injured victims would have up to 65 percent of their medical bills compensated. The initial fund was distributed to 62 claimants last December.
"We would probably still have the money locked up today if (litigation) was the process," said Tony Patterson, partner with Parr Richey Obremskey Frandsen & Patterson LLP in Lebanon, who represented victims of the stage collapse. Patterson joined Feinberg and Zoeller in a panel discussion at I.U. McKinney School of Law that retraced the early steps of compensating victims.
Panelist Paul Mullin, a partner with Lewis & Wilkins LLP, said plaintiff attorneys had mixed reactions to initial overtures from the AG's office to approach the $5 million tort cap in a conciliatory, settlement fashion. Mullin represented the state as a special deputy attorney general for purposes of settling the tort claims in 2011 and arbitrating the supplemental fund claims.
Responses ranged from, "'This is genius' to 'this is the worst idea I ever heard,'" he recalled. But when Feinberg came aboard, so did nearly everyone else.
"It's a very therapeutic process" for victims, Patterson said. "It's much better to have a process that involves settlement."
But there soon also was a reckoning that the $5 million cap on state liability would be insufficient to address the mounting claims. Mullin said that months after the collapse, it was clear that victims' medical bills to date had surpassed $4.5 million, and that didn't account for those who would need long-term care. "It's safe to say that number has doubled or quadrupled or somewhere in between," he said.
The Legislature passed an additional one-time appropriation of $6 million for victims. That raised the compensation to a total of $700,000 for estates of individuals who died and paid 100 percent of medical bills not covered by insurance for non-paralyzed victims.
An arbitration panel calculates payments for victims who were permanently injured and paralyzed and decides other claims, according to Zoeller's office.
The AG's office said 57 of 62 claimants have agreed to the settlement terms for the $6 million pool, and the state hopes to pay those claims by November, ahead of the January deadline imposed by the Legislature. The remaining five claimants still may sue the state, and any of the 62 claimants may sue private parties after two major defendants withdrew their multimillion-dollar settlement offer in August.•
Please enable JavaScript to view this content.