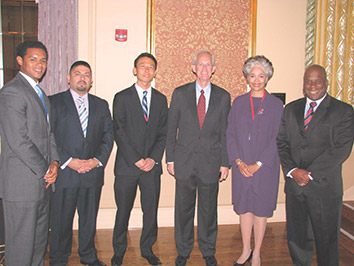 Although the legal community has stepped up efforts during the past decade to bring more minorities into the profession, the level of diversity remains abysmally low.
The percentage of all attorneys who were of either African, Asian or Latino descent was just 11.1 percent in 2011, according to data complied by the Center for Legal Inclusiveness. Compare that to medical scientists who topped the list with a diversity percentage of 42.9 percent.
In 2010, the legal profession was slightly higher with diversity reaching 11.6 percent.
Paul Singleton and Victoria Wolf, attorneys in South Bend, are co-chairs of the St. Joseph County Bar Association Diversity Committee. They recently organized a Diversity and Inclusion Summit to, Singleton said, shed light on the issue and bounce around ideas about attracting more minorities, women, and gays and lesbians to the practice of law.
Wolf
Retired Indiana Justice Frank Sullivan gave the keynote address, then led the discussion among a five-member panel that included four practicing attorneys and one law school student in an examination of diversity in the legal community.
Wolf, who practices at Leone Halpin LLP, had a career in business before she went to law school and has found the legal profession is slow to undertake efforts to become more diversified. In her opinion, law firms have been resistant to adding attorneys of different races and gender just as these firms have been resistant to adopting many new trends in technology or business practices.
She, herself, has experienced some outdated attitudes, recalling one incident when an older lawyer asked her if she was a paralegal. After she told him she was an attorney, he asked if she was sure.
"I see an intrinsic need for a diverse community," Wolf said. "I just want to do whatever I can to make it so."
Two hurdles
Sullivan pointed to two hurdles to getting more minority lawyers into law firms. One is education. Working with students in college and high school and getting them involved in programs like teen court, mock trial competition and Indiana's CLEO program can help plant the seed of becoming a lawyer.
Singleton
Singleton, an associate at Faegre Baker Daniels LLP, agreed. Growing up he was always one of just a handful of African-Americans in his school, a situation that did not change when he attended law school at Arizona State University.
He attributes his academic success to being "blessed and privileged" because his parents put a high priority on education. Other people he has encountered are just as smart, he said, but in their homes, doing well in school was not important so they did not become lawyers or doctors even though they had talent and ability.
The result has been the number of African-American attorneys is not proportional to the overall minority community. Same with the Hispanic community where he found the number of Hispanic attorneys to be "shockingly low" in Phoenix.
Being one of a few brings an additional pressure, Singleton said, since sometimes he feels as if he is representing an entire race. Yet, he hopes through hard work and doing his job well, clients and colleagues will see him as an attorney and not as a black attorney.
The second hurdle to attracting more minorities to the legal profession is having law firms be more welcoming and provide a place where minority lawyers can succeed, Sullivan said.
That point was echoed by two panelists, South Bend native Daryl "Sandy" Chamblee, partner at Steptoe & Johnson LLP in Washington, D.C., and Jimmie McMillian, partner at Barnes & Thornburg LLP in Indianapolis.
More than simply hiring lawyers of diverse backgrounds, firms must also be inclusive, Chamblee said. Law firms must ensure that all attorneys get to do substantial work and have the ability to progress in their careers.
McMillian continued Chamblee's point, noting the number one reason attorneys have for leaving a law firm is lack of hours. If minorities are at the bottom of the list of billable hours and not being given engaging work, that, he noted, is an indication that the firm has no structure to help people do well professionally.
"Nobody wants to be in a system where they are failing and nobody can tell them why," he said.
 
Vogel
McMillian credits his tenure and success at Barnes & Thornburg to senior partners taking an interest in him and helping and encouraging him. Mentorship is key to making a person feel part of a firm and enabling him or her to do quality work, he said. Indeed, that level of personal investment is something his friends working in law firms in bigger cities like Atlanta and Chicago did not receive.
'Gravitational bias'
Chamblee's and McMillian's observations led Nelson Vogel to the conclusion his firm needs to do more. Vogel, partner at the Barnes & Thornburg South Bend office, noted all the firm's offices do many things to improve diversity, but, in the competition to hire more minorities and women lawyers, the South Bend office has a difficult time attracting candidates and an even more difficult time getting them to stay beyond three or four years.
Hosting networking and social events, recruiting law school students and sponsoring a variety of events are among ways Barnes & Thornburg reaches out to diverse communities. The South Bend office also hosts a reception for law students at the Notre Dame Law School and interviews candidates during minority job fairs.
Former Notre Dame football player and current Notre Dame law student Chris Stewart (left) talks to St. Joseph Probate Judge candidate Andre Gammage at the diversity summit.(Photos courtesy St. Joseph County Bar Association)
Vogel touted South Bend as a great community and said associates at his office gain the advantage over larger firms on the East and West coasts by having sophisticated legal work to do, getting more contact with clients, and having a better chance of making partner.
However, the panelists explained the problem of attracting minorities often originates in the lack of diversity at many firms and in many communities. Young lawyers want to work in large metropolitan areas, in part, because they will find more people who look like them.
Chamblee described herself as a "kid in a candy store" when she arrived in Washington, D.C., as a freshman at Georgetown University. No longer would she be the only African-American in class as she had been at her Catholic high school in South Bend. Moreover, as a young adult in the 1970s, she decided to settle and practice law there because she saw African-Americans succeeding in professional careers and she was not sure, as a minority, if she could achieve the same level of success in her hometown.
Sullivan said becoming more diverse requires that everyone overcome their "gravitational bias toward sameness." People tend to associate with those who are like them, whether the same race, religion, socio-economic status, or sexual orientation, but, he said, everyone must reach outside their communities to not only include those who are different but also go into new places where they will be different.
"We learn so much more when we associate with people of different backgrounds and experiences than our own," Sullivan said. "It is worth the effort to diversify."•
Please enable JavaScript to view this content.