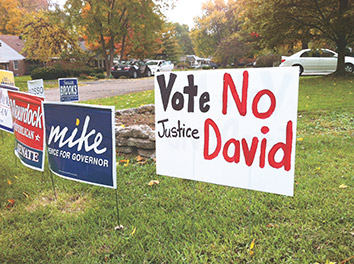 "We hold that there is no right to reasonably resist unlawful entry by police officers."
Those words written by Justice Steven David in the 3-2 majority opinion in Richard L. Barnes v. State of Indiana last year created a groundswell of opposition and protests at the Statehouse. For some, the bitterness has lingered as an outspoken, albeit unorganized, effort to remove David in a retention vote on Nov. 6.
Printed signs opposing the retention of Indiana Supreme Court Justice Steven David are connected with a website maintained by the Indianapolis Tea Party (top), while some angered by his opinion in Barnes v. State of Indiana have made their own signs to express displeasure. (Photos submitted)
David said in an interview that the Barnes decision had been mischaracterized, that the court had revisited its decision, and that coupled with a subsequent state law that said a right to reasonably resist unlawful arrest does exist, the original decision was "not relevant anymore."
"It's important to look at a person's body of work rather than one decision," said David, who noted taking part in more than 150 Indiana Supreme Court decisions since his appointment in October 2010, more than 30 of which he wrote.
"If somebody feels strongly that they don't like the decision, I would defend until my death their right to have that opinion," he said. "As painful as that may be personally, that is who we are" as a country.
Opposition to David's retention has raised the profile of judicial retention questions this election season. David recently took the unusual step of setting up a website, justicestevendavid.com, after the Judicial Qualification Commission authorized it. Appellate judges typically may not campaign unless they face active, organized opposition.
Despite the opposition, history is on David's side. Since Indiana adopted a merit system for appellate judges in 1970, none has lost a retention question. In recent years, votes in favor of retention typically have exceeded 70 percent.
Those against David's retention include tea party and libertarian activists. There are Facebook pages against retention. Pamphlets urging "no" votes have circulated at gun shows. Printed yard signs with the slogan "This is My House" urge a vote against retention and advertise a website that redirects to a site for the Indianapolis Tea Party, where the Barnes decision is discussed at length. Emails to the contacts provided on that site were returned as undeliverable.
James Bratten of Evansville is Indiana coordinator for Tea Party Patriots, an affiliation of about 3,500 groups nationwide. "We stand on the Fourth
Amendment," he said. "We would have to make a decision to come down on the side of the Constitution and not on the side of the judge.
David
"There are lines you do not cross and there are places you don't go," he said. "People don't like judicial activism."
Indianapolis blogger Roberta X describes her politics as "libertarian verging on anarcho-capitalist," and wrote that David's Barnes ruling "spits in the face of the Fourth Amendment," and the ruling merits his removal.
But Valparaiso University School of Law Professor Bruce Berner, who has written extensively on Fourth Amendment issues, said efforts to remove David as a result of the Barnes decision overreact. He said the case isn't really a Fourth Amendment case, but rather one that tested a person's right to "self-help" when an agent of the state conducts an unlawful search.
Barnes, he said, put Indiana in line with roughly 40 other states that follow the Model Penal Code, and that someone who is subject to unlawful search and seizure has redress in court, including award of attorney fees.
"These are highly charged situations," he said of resisting searches. At least one party, and often both parties, are armed. "The citizen very often does not have access to the information the police officer has access to."
Meanwhile, a former Valpo student of Berner's, Justice Robert Rucker, the lone Democratic appointee on the court, also is on the retention ballot and coincidentally wrote the dissent in the original Barnes case in which Justice Brent Dickson concurred. Rucker wrote, "It is breathtaking that the majority deems it appropriate or even necessary to erode this constitutional protection."
Rucker's choice
For several months, Rucker, the second-most-senior justice, deliberated whether he would stand for retention. As the deadline neared in July, he said he even changed his mind on the day he formally decided he would seek reappointment to a term that would run close to the mandatory retirement age of 75.
"I guess I'm what one might call an old-school traditionalist. I've always been of the notion that when you turn 65, you retire," Rucker said in an interview. Turns out he wasn't ready for that and wasn't quite sure how he'd fill his days.
"There's really nothing I like doing better than what I do right now for five days a week," he said. "I couldn't figure out a good reason not to serve."
Also in Rucker's consideration was the transition on the court. Had he retired, four of five justices would have had less than two-and-a-half years experience on the high court. He was concerned about a potential shortage of institutional knowledge.
"Things like that are pretty important," he said.
Appeal to voters
While appellate judges typically can't mount campaigns for retention, Court of Appeals judges have found ways to get their work known.
Judge Nancy Vaidik is the only judge on the court whose name will appear on the retention ballot statewide. She said she's made an effort to hear more cases on the road through the Appeals on Wheels program.
"We do feel it's very important for people to make informed decisions regarding their votes," Vaidik said. "The few things we can do, we try to do."
Vaidik said she also visits with editorial boards of newspapers that have broad reach.
Judge John Baker, on the ballot in the COA First District, said the Appeals on Wheels program gives judges an opportunity to hear cases in their districts.
"We let those standing for retention raise their hand first for those only if it's in the district where they're running," Baker said.
The experience of other states where big money has influenced judicial elections should make Hoosiers grateful the judiciary remains independent through a merit and retention system, he added.
"Do we want (judges) to be politicians in robes? I think not," Baker said. "People vote yes unless they have a reason not to."
Judge Paul Mathias agreed Appeals on Wheels is among the best ways for COA judges to show people in person the work of the court. "During a retention year, I try especially hard to organize my schedule so that I can satisfy oral argument requests from the Third District."
Baker, Mathias and Vaidik also pointed to the Indiana state court administration retention website, which provides information on appellate judges, and their opinions.
"Sometimes citizens judge a judge on the basis of a single opinion as it is reported by the media, but the full body of a judge's work is far more important," Mathias said.
Court of Appeals Judge Michael Barnes is also on the ballot in the Third District.•
Please enable JavaScript to view this content.