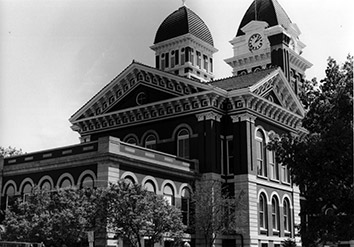 While traveling to Steuben County to deliver a file to her former boss, Deborah Agard snapped a picture of the county courthouse.
It was a beautiful building that, to Agard, was more than a place of government activity; it told the story of the local community. The experience ignited in her a desire to see all the courthouses in Indiana and so, in 2000, she began a project that consumed every Memorial Day weekend for the next eight or nine years.
The Indianapolis-based family law attorney, who has been taking black-and-white photos since the early 1980s, has finished capturing each courthouse on film. Of those that have been developed, printed and matted, several are hanging on her office walls.
Every person who comes to her office comments on the courthouse pictures, she said. Sometimes, "they'll indulge me and let me take them around, show them the photos and tell the story."
 
Agard's project is one of two ongoing efforts meant to preserve the art and architecture of Hoosier courthouses. The second is the art program of the Indiana State Bar Association, launched in 2009 by then-association president Doug Church. This effort is soliciting original paintings and works of art from local bar associations around the state of their courthouses.
 
Photos of courthouses in Lake, Rush and Morgan counties were taken by attorney Deborah Agard. She spent nearly nine years capturing all of Indiana's 92 courthouses on film. (Photos submitted)
Church calls the structures "architectural gems" that are often just as beautiful inside – with intricate tile work and murals – as they are outside. They are all different in appearance and have individual features that make them unique to their county. For example, the stonemasons who built the Fulton County courthouse took the extra limestone and carved lions which now guard the entrances. As an additional feature, the masons substituted the traditional lion's face with likenesses of the local elected officials at that time.
More than art, Church said, courthouses are "monuments to the rule of law" created by huge investments from the taxpayers. The buildings are a testament to frontier America realizing the importance of allowing laws to resolve disputes, he said. People left their guns and knives at home to let a judge and jury decide.
Church's sentiment reflects Agard's own feelings about courthouses.
"I look at a courthouse as part of the community," she said. "They tell a lot about that community, what that community considers critical and central to their idea of law."
In her darkroom, she unfolds a map of the state with the county seats circled in black ballpoint pen and she points to a cluster of finger-sized rolls of film that are the courthouse photos yet to be developed and printed.
Using a Hasselblad 500 C/M camera and a light meter, Agard photographed the courthouses in either the early morning or the hours before dusk (the "sweet light hours") because these times yield much more dramatic photos.
She began by walking all the way around the courthouse and then shot four to six rolls of film, 12 exposures each, of the building overall as well as of the ornamental details. Everything on her camera is manual, no auto focus or auto settings of any kind. She makes every decision and neatly writes the shutter speed, length of exposure, and light conditions in a small notebook so that when she enters the darkroom, what emerges in the developing tray is the "truest image."
Agard
Agard does not use her darkroom to manipulate her photos, no altering them to emphasize a particular element or emotion. For the same reason she shoots in only black and white, she goes into the darkroom to create the picture exactly as it appeared to her at the time it was taken.
"Photos tell a story," she explained. "To capture that story, you have to go back to the moment."
She first got captivated by photography in the early 1980s. Still in the U.S. Army, Agard took a photo of The Awakening, the striking statue that used to reside at East Potomac Park in Washington, D.C. When she saw how the picture turned out, she wanted to take more.
The camera has from then on always been tossed into her luggage whenever and wherever she travels. Photos of the pastoral countryside mark the time she spent in England one summer studying for her master's degree, and a photo of the Twin Towers was taken in 2000 when she fled to New York City after taking the bar exam.
Around 2008, she enrolled in a class at the Indianapolis Art Center to learn how to develop film herself. It was, she said, the best $240 she ever spent. An upstairs bedroom was partly partitioned off to create a darkroom in her house, and Agard spends a couple of evenings a week and at least one entire Friday a month inside developing pictures.
Fort Wayne attorney Roger Hultquist painted this rendering of the Allen County Courthouse. (Photo submitted)
Crowded next to the darkroom sits Agard's work space that is overwhelmed with stacks, rows and books of her photos. Photography has crossed over from being a hobby into an endeavor that she describes as "soul saving."
"Being able to create something positive and lasting, something that gives other people pleasure, that's awesome," Agard said. "It's truly a gift."
ISBA project
To date, the ISBA has received about 39 paintings for its courthouse art project and has another three coming, bringing the effort close to the halfway point of getting pictures from all 92 counties.
Among the professional and amateur artists who have provided paintings, Roger Hultquist is possibly the only attorney to contribute a work so far. Like Agard and Church, he has a special admiration for courthouses, using words like "grand" and "marvelous" to describe the courthouse in his home of Allen County.
"Honored, very honored," Hultquist said of being asked to contribute the painting. "I am humbled by it. It was received in a very nice and enthusiastic way."
He started painting about 40 years ago when, as a new father, he took many photos of his son and became impatient waiting for the pictures to be developed. So he picked up a pen and paper then eventually evolved into painting.
Mostly he sticks to representational art, painting buildings, still life and landscapes. Some have hung in galleries and others have found places in corporate offices around Fort Wayne. Getting an award for one of his paintings, he said, is as exciting as winning a jury trial.
Hultquist originally did the portrait of the courthouse for the preservation trust, selling prints to help raise funds for the $10 million renovation of the building. When the Allen County Bar Association asked him for a painting to donate to the ISBA, he handed over that original.
He began the painting by taking a bunch of photos of the courthouse then used those for reference when he returned to his studio. Typically, he said, he starts a work, gets the basics on the canvas, then rejects it before starting again. For several more days, he will peck at it until the painting is finished.
Although he is never satisfied and is critical of the tightness he sees in his work, he does not intend to put down his brush and quit.
"If you have a creative side," Hultquist said, "it needs to be expressed."•
Please enable JavaScript to view this content.