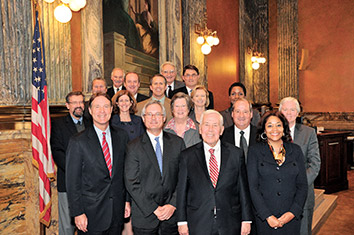 Judges and judicial officers from the U.S. District Court for Southern District of Indiana came together recently to honor Sen. Richard Lugar and former Sen. Evan Bayh for their service to the federal judiciary.
The pair was recognized during a special luncheon Oct. 18 in the William E. Steckler Ceremonial Courtroom at the Birch Bayh Federal Building and U.S. Courthouse. Chief Judge Richard Young called the event historic because, for the first time, all the current Article III judges from the Southern District, as well as the bankruptcy and magistrate judges and 7th Circuit Judge John Daniel Tinder were present with the two senators.
"We wanted to bring them to the courthouse to thank them for their support of the Southern District and the judiciary over the years," Young said.
Lugar, a Republican, has served in the U.S. Senate since 1976 and will leave the Senate at the end this term. Bayh, a Democrat, retired in 2011 after two terms.
The judiciary thanked the senators for their effort to work together to nominate Article III judges in the Southern District. During the years between 1999 and 2011 when their terms overlapped, Lugar and Bayh always consulted with each other on the judicial nominations, even though they were not obligated to do so, before submitting any names to the president for consideration.
They had a "pretty special relationship together when it came to nominating federal judges," Young said.
These two men reached across party lines to uphold their responsibility and ensure the citizens had a full court, Young said. Their actions also helped make the confirmation process smoother since the collaboration of two senators from opposite sides of the aisle sent a message to other U.S. senators.
Consequently, vacancies on the federal benches in Indiana were filled quickly, which enabled the court to function without judges having to crowd their schedules with the cases spilling over from the vacant court and without Hoosiers having to wait longer for their cases to be heard.  
At the luncheon, Lugar and Bayh were each presented with a copy of the book, "Federal Justice in Indiana: The History of the United States District Court for the Southern District of Indiana," by George Geib and Don Kite. Then the two senators made informal remarks.
The luncheon was "very special and one that will be hard to forget," Young said.
Please enable JavaScript to view this content.