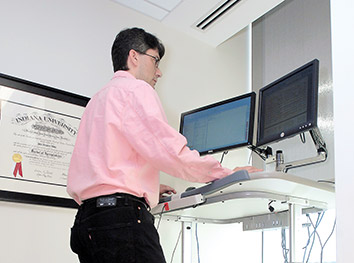 Sharon McGoff made a confession at the annual conference of the Indiana State Bar Association. "I have made every health and fitness sin imaginable," she told her audience.
As a law student in the 1980s, she mixed stress with convenience: She smoked three packs a day, and fast food was her friend with a steady diet of McDonald's and Taco Bell. "That's how I survived," she said.
Her conversion came later in law school when she resolved to run a mini-marathon. The first time she trained on campus, "I ran a quarter of a mile and thought I was going to die," she said. She quipped that at least she was near the hospitals and someone might pick her up.
 
She committed to improve her health, completed the race, got a boost of confidence, a well of energy, and is still reaping the benefits. The self-described "reformed litigator" is now the personal trainer behind Fit 4 Life Coaching in Indianapolis, whose clients include law firms.
"We have a responsibility to be well," she said during a panel discussion in which the ISBA's "Workplace Survival Guide" debuted.
The guide is the product of the bar's Young Lawyers Section in conjunction with the Indiana Judges and Lawyers Assistance Program. "Communication is a
key to this effort," said Bloomington attorney Holly Harvey, an associate with Bunger & Robertson.
Unhealthy bunch
"Lawyers are generally not healthy," Harvey said. The work is stressful and often requires sitting all day. She said statistics show attorneys are likelier to suffer from depression and are more prone to substance abuse than the population at large. She estimated that based on statistical averages, 300 to 400 Indiana lawyers likely have addiction issues.
She pointed to a study that found 32 percent of law school students suffer from depression by spring of their first year. "That's not good," she said.
Harvey acknowledged a common concern among panelists that proponents of attorney wellness frequently are preaching to the choir: Those most likely to receive the message are those who already are taking steps to be healthy.
But that's not always so. Bose McKinney & Evans LLP attorney Daniel McInerny got the message and began to spread it after a doctor's warning a few years back that he needed to stop smoking or look forward to relying on oxygen tanks.
"Lawyers spend so much of their time trying to help other people they sometimes don't take care of themselves," McInerny said.
He became active in the ISBA Wellness Committee after making several lifestyle changes, starting with eating breakfast and building up an exercise regimen. "My wife and kids were members of the Y, and I kind of shook my head and said, 'I don't have time for that,'" McInerny said.
"I realized you need to make time," he added. "It's a simple matter of blocking off time and doing it."
But McGoff acknowledged that concern over billable hours leaves some attorneys reluctant. Devoting time to work out or even time to meditate or relax can cut into the bottom line. But even at work, she said, there are opportunities to improve health in the office.
Stretching and exercising in place can have physical and mental benefits, McGoff said. "Just get some movement into your day," she said, suggesting the simple act of standing is a step toward better health.
Krieg DeVault LLP patent attorney J. Stephen Wills took McGoff's advice a few steps further. Working with her through the firm, he had a treadmill desk installed in his office. It took convincing firm managers, he said, because they were concerned about potential noise and vibration. "You can't just set up any treadmill and attach it to the desk," he said.
Wills bought a setup on Amazon.com that cost about $1,500 and is tailored for offices. The treadmill is cushioned so that no vibrations transfer to the attached desk, and the pace is restricted to about 4 mph. "You can't even hear the thing," he said. "It's so far from an issue, it isn't even close."
Wills said he spends about five hours a day on the treadmill, which works out to walking six to seven miles. Unless he's got multiple technical drawings to spread out before him, there's little he can't get done either standing up or walking on the treadmill.
He hasn't lost what he calls his "sedentary desk weight" yet, but he has realized other health benefits.
"My blood pressure came down quite a bit in a month or two," Wills said. "My energy levels are a lot better, especially in the afternoon."
Guide to handling stress
In addition to sections on wellness and good health, the Workplace Survival Guide includes chapters entitled, "Becoming and Being a Professional" and "Noticing and Responding to Red Flags." It offers detailed guidance on everything from healthy food choices to spotting signs of chemical dependency.
Panelist Terry Harrell, executive director of JLAP, said the guide offers important outreach for the state agency, which is confidential and accepts referrals on a preventive basis as well as intervening when an attorney gets into trouble.
"The most common problems we see are depression and substance abuse, and the growing one is cognitive impairment in older lawyers" among voluntary referrals, Harrell said.
Watching for warning signs is important, she said, "because we're all pretty good at covering up."
Stress is part of being an attorney, Harrell said, and that's why she included in the guide sections on resiliency and "stress-hardiness." Research shows that in extremely stressful situations, about a third of people thrive and adapt, and the attributes of those people can be cultivated. She harkened back to motherly advice that she said still holds true: "You need to eat your broccoli, and you need to change your attitude."
But Hoosier attorneys also are victims of their environment, as the guide points out Indiana is near the top in the nation in smoking and obesity rates.
"The (Indiana attorney) label carries a double-whammy of wellness burdens," the guide says.
Mentoring and wellness
Along with offering tips for healthier living, the Workplace Survival Guide takes a more holistic look at attorney wellness, broaching such subjects as mentoring as a way to improve self-esteem while helping younger colleagues. Attorneys who serve as mentors not only pass on important experience, but the process helps them reflect on their own careers and can lead them to refresh their perspective on the practice.
Magistrate Judge Tim Baker of the U.S. District Court for the Southern District of Indiana said the ISBA Mentor Match program in which he participates aligns people who want to serve as mentors with young attorneys who are looking for professional insight. The program is free and gives new lawyers and their mentors CLE credit. Forms for the program are available on the ISBA's website.
"It's amazing how easy they make it to be a mentor," Baker said.
Katie Boren, a law clerk to Court of Appeals Judge Ezra Friedlander, was the beneficiary of Baker's experience. She said she learned plenty in law school, but not where the courthouse was or the procedure for filing an appearance. She also didn't know the players, and it was stressful trying to navigate the legal profession without guidance.
"It can feel a little daunting to become a part of this community" Boren said. "It's nice to have someone help bridge that gap for you."•
Please enable JavaScript to view this content.