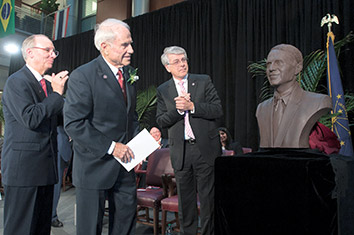 Law School Briefs highlights news from law schools in Indiana. While Indiana Lawyer has always covered law school news and continues to keep up with law school websites and press releases for updates, we gladly accept submissions for this section from law students, professors, alumni, and others who want to share law school-related news. If you'd like to submit news or a photo from an event, please email it to Marilyn Odendahl at [email protected], along with contact information for any follow-up questions at least two weeks prior to the issue date.
Record number of schools participate in IU Law Day
Indiana University Bloomington welcomed about 575 students to the annual Law Day on Oct. 24. The event gives I.U. students and alumni the opportunity to meet with recruiters from law schools around the country and learn about admission requirements.
A record 126 law schools participated in the Law Day, up from 121 schools in 2011. Hosted by the I.U. Health Professions and Prelaw Center in partnership with the Midwest Association of Prelaw Advisors, the fair was held from 11 a.m. to 3 p.m. in the Indiana Memorial Union Tree Suites.
The day began with a panel discussion and question-and-answer session with law school assistant deans, including Frank Motley, assistant dean of admission, Indiana University Maurer School of Law.
The Law School Admission Council estimates about 4,000 prelaw students are enrolled at I.U. Bloomington, representing more than 53 majors.
Robert McKinney honored during special celebration
Indiana University Robert H. McKinney School of Law honored its namesake at a special celebration on Oct. 19.
 
Robert H. McKinney was recognized at the Law School Naming Ceremony for his generous gift of $24 million. McKinney Dean Gary Roberts, I.U. President Michael A. McRobbie, I.U. Foundation President Emeritus Eugene R. Tempel and IUPUI Chancellor Charles R. Bantz were among the university officials at the event.
During the ceremony a bust of McKinney, created by sculptor James Beck of the IUPUI Office of Visual Media, was unveiled.
McKinney began law school in Indianapolis, but finished at I.U. Bloomington in 1951 before being recalled to active duty by the U.S. Navy. Returning to Indianapolis in 1953, he began working for McHale Cook & Welch. Ten years later, he joined Cook Bose Buchanan & Evans which was renamed Bose Buchanan McKinney & Evans.
IU McKinney offers health law certificate
Students at the Indiana University Robert H. McKinney School of Law now have the opportunity to specialize in the expanding field of health law. The new Graduate Certificate in Health Law will equip students with particular knowledge, experience and skills in various aspects of health care law and policy.
The curriculum includes advanced offerings in public health law, health quality and safety, bioethics, food and drug law, and health information technology. Students who want to earn the certificate must maintain a required grade-point average in health law courses and complete a research or experiential capstone course.•
Please enable JavaScript to view this content.