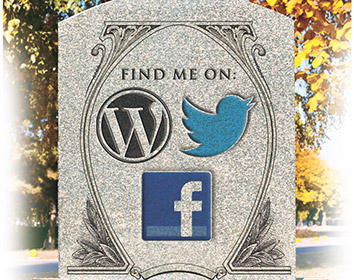 Will your Facebook account, online presence and virtual world live on after you?
The rise of social media and proliferation of online accounts are posing such real-life questions for lawyers who concentrate in estate planning. But it remains an evolving question how wills, trusts and power of attorney grants will address these and other staples of the Internet age.
"Technology is kind of outpacing the law," said Lance Like of the Like Law Group in Bloomington. Like said about 80 percent of his practice involves estate planning of some kind. Internet "property" and the content of online domains hasn't yet been much of an issue, he said, but it will be.
"I think we need to ask (clients) to address it, and if they say, 'Well, I don't want to,' we can at least reflect that we talked to them about it," said Indianapolis attorney Richard Mann of Richard A. Mann P.C.
Indiana is one of just five states that has adopted some form of a "digital estate" law. I.C. 29-1-13-1.1 enacted in 2007 provides for the handling of electronically stored documents of the deceased. Connecticut, Idaho, Oklahoma and Rhode Island also have passed some form of digital estate law, according to www.digitalestateresource.com.
Indiana's statute defines a "custodian" of electronically stored documents as "any person who electronically stores the documents or information of another person." The statute also requires custodians to provide documents to the representative of an estate upon the representative's request and upon receipt of a death certificate.
 
Kenan Farrell is a solo practitioner in Indianapolis whose firm concentrates in areas of intellectual property and technology. "It will become common practice for estate attorneys to inquire about and include valuable online property among the testator's estate," he said in an email.
"If there's valuable intellectual property (images, documents, songs) stored anywhere on their computer or in the cloud, this should be specifically addressed or it could be lost," he said. "In the absence of proper instructions from the testator, the risk is that much of the online information will simply go unnoticed and forgotten."
Like
Indiana's statute should be interpreted to include personal account contents of developing cloud computing technologies, Mann and others said. Mann also reads the statute to say that websites are obligated to preserve data for a time after a person's death.
The law "arguably says Facebook can't close your account for two years" after notification of a user's death, Mann said.
Facebook – the largest online social network – has addressed in its own way what happens to users' accounts.
"Our standard procedure when we receive a report that a user is deceased is to memorialize the account, which restricts profile and search privacy to friends only, but leaves the profile up so that friends and family can leave posts in remembrance," Facebook spokeswoman Carolyn Thomas said in an email. The site requires proof of death to memorialize an account.
"Also, we do honor requests from close family members to deactivate the account, which removes the profile and associated information from the site," Thomas said.
But Facebook and most other online accounts require passwords that can be tricky to pass on. Like said he's come up with a way to handle that.
Along with the documentation given to estate representatives, he said he provides an optional form where online account information, passwords and logins can be committed to paper if a represented party so chooses. "I think the better practice is to have some type of secure digital locker for all those passwords and information," Like said.
Ryznar
Indiana University Robert H. McKinney School of Law professor Margaret Ryznar teaches and researches in the area of trusts and estates and said such a practice is advisable given current law and practice.
"The best way to address it is to leave instructions to the executor," Ryznar said. That would include account passwords and logins as well as the wishes of the estate for those websites.
Farrell said people may wish to store their passwords in a safe electronic document such as a password-protected Excel spreadsheet. "In addition to sharing passwords, you can provide instructions on what you'd like done with the account, such as closing it down, giving the login info to somebody else to maintain the account, or perhaps post a 'Final Goodbye' statement," he said. 
What's it worth to you?
Experts said the practice is clearer where tangible online assets are involved. If someone has a PayPal account with a cash balance or a revenue-generating enterprise, for example, those assets should be accounted for in a will or estate plan. When the issue is more on the lines of who has access to someone's personal photos on a cloud server, most experts believe the 2007 Indiana statute would grant that authority to an estate's personal representative.
"If you've got a blog or something, I could see where that's an issue" for consideration in a will or trust, Mann said.
Ryznar said there is movement on digital estate law around the country. "Other states may be prompted to enact similar legislation upon the results of a study committee recently approved by the Uniform Law Commission to consider the questions of fiduciary powers and authority to access digital information," she said.
"As a practical matter, however, the most direct way for people to ensure their final wishes are met regarding online and social media accounts is to instruct their executors, in written form to be included with other estate planning documents, what should be done with online accounts and to list any such accounts, their web addresses, and their passwords," Ryznar said.
Like has been in practice since 1993 – coincidentally, the year that President Bill Clinton and Vice President Al Gore received email addresses. There were about 1 million Internet addresses on the World Wide Web then; there are almost 1,000 times that many now.
Not quite 20 years later, Like said he's surprised at the level of Internet adoption by all ages.
"Most of my clients are folks that are 60 on up, but even in that category, there are more than a few that really have everything online," he said. "Some really surprise me – almost all their bills they're paying online."
Even that can be a consideration when it comes to estate planning. He advises clients with online bank accounts or online bill paying to provide account information to their children or estate representatives. That way, at the time an executor takes control of an estate, the accounts can be converted to generate paper bills that can be paid through a trust.
"As this becomes more common and the population ages, it's going to be an issue for more and more people," Like said.•
Please enable JavaScript to view this content.