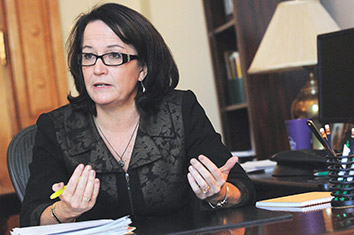 Years before the Department of Child Services came under scrutiny for high-profile failings of its statewide child abuse hotline, the judiciary was exploring ways to improve the entire system of juvenile justice, Indiana Justice Loretta Rush said.
Rush is a member of the DCS interim study commission and has been designated to serve on a proposed commission on improving the status of children. In an interview the day after the study panel wrapped up its work, she said its recommendation to create a commission on children represents an opportunity for stakeholders to speak with one voice.
"Even before the DCS study committee came about, we were thinking about working on something at the state level," Rush said. "We need an organization that's going to meet regularly with individuals with authority at the table so it can be productive."
Scrutiny of DCS's handling of hotline calls in the wake of child deaths spurred the study commission. But Rush said DCS reform efforts began in 2008 when she was among judges and court administration staff tapped by then-Chief Justice Randall Shepard to find ways to improve collaboration on juvenile issues among the executive, legislative and judicial branches.
Part of the result was a National Center for State Courts analysis and strategic plan completed in March. It noted that more than 30 entities, committees or groups focus on child services in the state. "The existing committees and entities tend to focus on certain specific projects or on an
immediate need/crisis, but there are no overall strategic planning efforts," the NCSC report said.
The NCSC recommended creation of a statewide commission on children that would bring together stakeholders. Draft legislation approved by the study commission would do just that. A separate proposed commission would have direct oversight of DCS.
Morgan Superior Judge Christopher Burnham served with Rush on the interim study committee and also was among trial court judges that Shepard tasked to study reforms in 2008. Burnham is optimistic proposed reforms will have momentum in the 2013 General Assembly.
"I think with the ideas that were put forth and the unanimity that came out of the committee as far as the legislators participating, I think there's going to be some movement in the next session," Burnham said.
In addition to the proposed commissions, the DCS study panel also recommended legislation and policy reforms that would:
• Route calls to the statewide child abuse hotline back to local DCS offices, where determinations will be made on necessary investigation and follow up;
• Reduce the number of hotline calls "screened out" and not referred for investigation;
• Restore the authority of prosecutors to file Child in Need of Services petitions;
• Require disclosure of DCS investigations and CHINS designations in petitions to modify visitation, custody or guardianship; and
• Localize decision-making regarding child fatality review teams.
Acting DCS Director John Ryan said in an email that the agency "will continue to work to be a resource for the legislature and the new administration as we explore the feasibility of the proposals during the 2013 General Assembly."
Christy Denault, a spokeswoman for the transition team of Gov.-elect Mike Pence, said there would be no comment on the study commission's proposals.
The proposed commissions on DCS oversight and improving the status of children can be successful, said interim study committee co-chair Sen. Travis Holdman, R-Markle.
"There's no reason why they shouldn't be," Holdman said. "We have the right people on those committees. There's been a whole new spirit of cooperation and communication (from DCS), and it's been invaluable," he said.
Holdman
Study committee co-chair Rep. Kevin Mahan, R-Hartford City, said the theme of proposed revisions is shifting power back to local DCS offices and case workers.
"I think the public perception was this study committee was going to just be a big partisan fight," Mahan said. "I was very pleased to see Democrats, Republicans and lay people sit on a committee where we talked about what we can do to take a system that has been improved and truly make it better."
Holdman said Rush had been an early advocate for establishing a commission on improving the status of children in addition to a panel that would oversee DCS.
Innovative approaches to the persistent problems of child abuse and juvenile crime are likelier to happen when stakeholders from DCS, the judiciary, the Legislature, education, health care, mental health service providers and the public are involved, Rush said. The proposed 12-member commission on children would have such membership.
The commission would have a broad mandate, according to the draft legislation. It would evaluate DCS policies and practices and propose legislation on services and funding. The commission also would annually review key state rankings on a host of measures of children's well-being. Those markers include academic success, early childhood education, childhood poverty and hunger, health, child abuse and neglect, detention rates and infant mortality.
That kind of data collection hasn't been an emphasis in the past, Rush said.
Rush presided over a Tippecanoe Superior Court that handled juvenile and family court matters before she joined the Supreme Court in November. She made a point of making the Tippecanoe County court as open as possible. "The response is just tremendous," she said.
People respond when they learn of the traumas children are going through in their communities, Rush said. She noted examples from her experience including a child removed from a home that contained a meth lab, and a 10-year-old who appeared in her court who was pregnant.
In Tippecanoe County, Rush said youth mentoring programs and after-school programs had made a difference, as had a community program to supply young people in need with backpacks full of food when they left school each Friday. Alternatives had reduced the population of juveniles in detention by 50 percent without increasing arrests.
"The government can't do it alone," she said. "It has to be communitywide and statewide."
Rush said she doesn't expect to actively lobby for passage of the measures that emerged from the study committee. She said her role is different.
"For me, it's to keep shining the spotlight on youth," she said, "and don't accept the status quo."•
——————————
Kids commissions
Draft legislation emerged from the interim study commission examining issues surrounding the Indiana Department of Child Services. Below are links to two pieces of proposed legislation that would:
Create a DCS oversight committee.
http://www.in.gov/legislative/interim/committee/prelim/CSIC03.pdf
Create a commission on improving the status of children.
http://www.in.gov/legislative/interim/committee/prelim/CSIC02.pdf
Other recommendations and minutes of the study commission can be viewed at:
http://www.in.gov/legislative/interim/committee/csic.html
Please enable JavaScript to view this content.