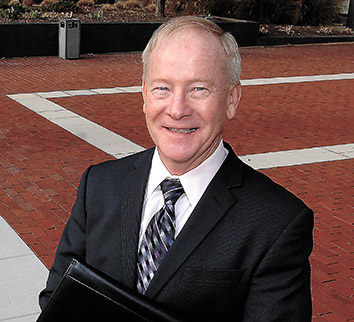 Jerry Huelat brings more than 30 years of legal experience to the presidency of the Defense Trial Counsel of Indiana, the role he assumes in 2013. He hopes to broaden the organization's membership and reinforce the importance of capable counsel statewide.
Read what Huelat had to say on that topic – as well as where to go for a good meal – in a recent Q&A with the Indiana Lawyer.
IL: Tell us about your plans as DTCI president in 2013.
JH: During the past 12 years, a large number of defense firms throughout the state have turned away from insurance defense litigation, because many insurance companies have gone "in-house" for a majority of suits filed. This has resulted in a significant decline in the number of defense firms north and south of Indianapolis. I am fearful that, if the insurance industry does not take steps to address this decline, it will have a difficult time finding competent and experienced defense lawyers outside of the Indianapolis area. My goal is to sit down with representatives of the industry to discuss this issue and offer solutions for this potential problem.
Why do you encourage defense attorneys who aren't DTCI members to join?
The DTCI's membership is approximately 550 strong, and our members are involved in all aspects of defense litigation. The organization assists its members with expert witness research, and if a member would like to see a brief written on a particular subject, that material is promptly supplied. The substantive law sections include insurance coverage, health law litigation, products liability, worker's compensation, employment law, construction law, defense trial tactics, business litigation and paralegals. In short, the organization provides virtually everything a civil defense lawyer could need.
How has being part of DTCI improved your skills in practice or in running your firm?
I have been on the board of directors of DTCI since 2001, and I have had the privilege of working with some of the finest lawyers in the state. Any time I have a question about a particular practice skill or issue concerning my law firm, all I have to do is ask members of the organization, and I generally receive an answer within a day or two.
You spent some time growing up in LaPorte County contemporaneously with a young John G. Roberts, who went on to become chief justice of the United States. You were a year apart and went to different schools, but do you remember ever crossing paths with him?
I attended high school in Crown Point, Ind., but my parents had a summer cottage in a small community southeast of LaPorte. I never met Judge Roberts until earlier this year when my daughter, Jaime M. Oss, and I were admitted before the United States Supreme Court. When Chief Justice Roberts heard that my daughter and I were from Michigan City, he came to the conference room where our group had assembled and asked how everything was going in the county. Despite the fact that I only spoke with Chief Justice Roberts for approximately five minutes, I came away with the impression that he was genuinely interested in the people of LaPorte County and had fond memories of his childhood here.
We're going to ask you for some broad generalizations, realizing that our question may reflect some Hoosier-centric cultural assumptions on our part. Representing a statewide organization, have you sensed any differences between attorneys from "The Region" and those from, say, Indianapolis, Evansville, Bloomington, or elsewhere in Indiana? We set our clocks differently, but are there other differences, besides our various accents?
My general litigation practice has taken me to virtually every court in Northern Indiana. I have also had the privilege of handling cases in Fort Wayne, Lafayette, and about every county between here and Indianapolis, and I can tell you that there is very little difference between attorneys from one region to another. I should also add that I am always amazed at how bright and confident Indiana lawyers are. When lawyers from different states come into our courts, we generally do quite well, because our approach to litigation is reflective of our common sense attitude.
What are some of the things you most enjoy doing in your spare time that have nothing to do with the practice?
I play a lot of golf and run 30 to 40 miles a week.
Tell us about someone or something that inspired you to want to become an attorney.
Abraham Lincoln.
There's a lot being said and written about the value of a law school education relative to a legal job market that seems to be contracting. What would be your advice for undergraduates who are considering a legal career but might be anxious about the prospects?
It is my view that the legal profession will always need excellent lawyers. My advice to any undergraduate considering a legal career is to pursue the career only if you are willing to work hard and you want to make a difference in the lives of the people you will represent.
What are some of the things DTCI does to mentor and encourage young lawyers?
DTCI puts on a rookie seminar for young lawyers, and members of the organization work very hard to promote the importance of experience. I can say without question that senior members of defense firms spend a great deal of time working with young lawyers to help each of them develop skills that will serve them in the future. I have seen hundreds of young lawyers from our organization grow and develop into skillful litigators, and that is due to the training and experience offered to them by the lawyers they work with.
What's your favorite restaurant in Indiana?
This is easy, St. Elmo's.
Back to Michigan City … and we confess this is a bit off topic. Can you share any advice on how we might get comped at the Blue Chip Hotel and Casino? Is there a codeword or something?
No, other than signing up for its rewards card, but if you can provide that information to me, I would certainly appreciate it!
Let's turn to civility. Do you believe attorneys generally are being more civil these days?
I do believe that attorneys are starting to realize the importance of civility both inside and outside the courtroom. Older, more experienced attorneys, as well as our courts, have played a prominent role in addressing this particular issue, but there is still work to be done.
Do you anticipate some continuation of the joint presentations on civility that began last year between DTCI and the Indiana Trial Lawyers Association?
Yes, and I am hopeful that the two organizations will schedule another program sometime next year.
You must choose: Chicago Bears or Indianapolis Colts?
I was born and raised on the south side of Chicago until I moved to Crown Point, Ind., when I was 12 years old. I love the Bears, but when the Colts are not playing the Bears, I cheer for the Colts, as well.•
 
Please enable JavaScript to view this content.