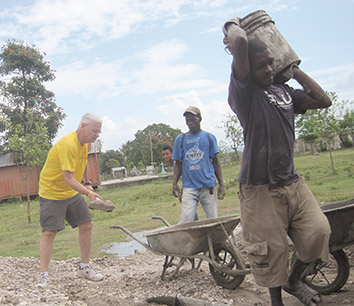 One is a tax attorney and the other is a litigator. One works for a large national firm and the other is in solo practice.
 
Nelson Vogel, partner at Barnes & Thornburg LLP in South Bend, and Scott Weathers, attorney in Indianapolis, have never met, never crossed paths in a courtroom. Yet, both lawyers readily give their time and attention to youngsters who live in impoverished countries and mostly want just to talk and play with someone.
One is teaching baseball to orphans in Haiti, the other shoots hoops with orphans in Romania. Both return home enriched.
Manual labor
Twice a year, Vogel finds himself stuffed into a van with nine other people and their luggage rumbling over the roads to the southern peninsula of Haiti. The trip begins with an hour and a half flight from Fort Lauderdale, Fla., to Port-au-Prince then progresses to the five-hour van ride.
At the end of the journey, he and the other volunteers arrive at Pwoje Espwa, an orphanage housing hundreds of children in Les Cayes. When Vogel steps from the van, he is known as "Mr. Nellie," and he is put to work doing anything from painting to building a new kitchen.
"What I enjoy the most is going down there, spending a couple of weeks and doing some manual labor," Vogel said.
The focus of his trip and the underlying reason for his service are the children. He likes being around kids and he has long harbored a desire to help youngsters in third-world countries. Although he has difficulty articulating what draws him to do such work, he traces it back to the values his parents instilled in him and to his realization of how fortunate people in the United States are.
Vogel searched for several years to find a way to help before a colleague directed him to Pwoje Espwa and its sister charity in the U.S., Free The Kids. The orphanage was founded in 1998 by the Rev. Marc Boisvert. It began as a small house for "street boys" but has since grown into a campus that includes housing for the children, schools, an agricultural center and a small medical clinic.
Some of the orphans are true orphans – their parents are either dead or missing; others are economic orphans – their families could not afford to care for them.
"The kids are happy kids," he said, noting they are fed three times a day, they sleep in a warm bed, and they are being taught skills so they will be able to make a living as adults. "And they're loved which is the most important thing."
For the 10 days Vogel is there, his daily routine begins early (the morning may include Mass at 6 a.m.) and winds down about 5 p.m. when he and the other volunteers congregate around the kitchen before dinner.
Among the jobs he has been assigned was helping to build a new girls' dormitory. Everything was done from scratch and by hand. Instead of cutting open bags of cement, the crew made the concrete by mixing dirt and sand.
Punctuating the days are the children who, Vogel said, just glob onto the volunteers. He and another volunteer from California have taken on the task of converting the youngsters from soccer enthusiasts to baseball players.
The kids all love to take a turn at bat, but when a ball lands in the outfield, it quickly becomes a pseudo soccer ball and the kicking begins.
In addition to the baseball equipment, Vogel also once lugged a couple of Creole-to-English dictionaries for the students at the orphanage to use.
From trip to trip, the children remember him, and as he packs to leave they want to know when he will be back.
 "The smiles on their faces," Vogel said, "it's just really rewarding."
Spending time
For at least a month after Weathers returns from one of his mission trips to Romania, he has a difficult time getting angry enough to quarrel with another attorney. Leaving the U.S., breathing the air of the different place, and meeting new people have become the antidote to his hectic profession.
Attorney Scott Weathers (in van), is pictured with (from left) Jack and Karen Ellett, Romanian Pastor Iosef Pop and his wife Alida Pop and Diana Fultz on a mission trip to Romania. (Submitted Photo)
Weathers has taken two 10-day trips with Zionsville Presbyterian Church. He was inspired to become more involved and take a mission trip after reading the book, "Radical."
The church has an active outreach program and offered him the option of going to South America, Egypt or Romania. He chose the Eastern European destination because that trip was focused on relationship building, which is much of what he does in his practice.
Weathers first went in 2011 and signed up again for the 2012 trip.
"The reason I like going, it's like our job as lawyers can sometimes bring out the best in us and sometimes, at least for me, bring out the very mediocre in me," Weathers said. "Getting out of the obsession of the law and seeing the world helps me have a better perspective so my mediocre side comes out less often."
Joining a small group from the church, he visited seven to eight sites. The stops included an orphanage and a gypsy camp.
He had a private room in the orphanage and remembers watching the youngsters go to school each day. Because the country has few teachers and classrooms, the children went in shifts with the elementary students in school from 8 a.m. to noon followed by the high school students from 1 to 5 p.m.
When school was out, Weathers played basketball with them, sometimes took them shopping, and even had a pizza party.
"You want to take some kids back with you," he said.
At a youth camp he visited, the teenagers peppered him with questions about what life is like for American teenagers. They also played ball and sometimes brought out a guitar to accompany a sing-along.
The orphanages are no longer the squalid places they were under the former Communist regime. However, the conditions in the gypsy village were deplorable. Cardboard houses and unclothed toddlers with flies covering their bodies are the images Weathers remembers.
His group provided food and clothes, and encouraged the children, particularly the girls, to go to school. Gypsy girls as young as 13 are getting married, and it is not unusual for some to become grandmothers by their late 20s.
Planning for the October 2012 trip began in February. On his calendar, Weathers just blocked out the time as if the trip were a trial, and in the weeks leading up to the departure he crammed more work into his daily routine.
Yet, he admitted, when he returns his desk is full and he briefly wonders why he ever left. Then he looks around with a new perspective and finds little to get angry about.
"The kids just want you to come," Weathers said. "They want to see hope. They appreciate the different organizations in the United States giving support, but they just want to spend time with you."•
Please enable JavaScript to view this content.