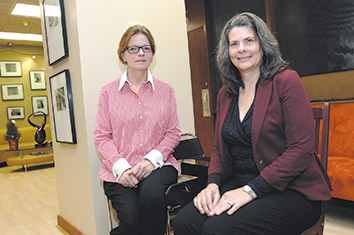 Ten to 15 years ago, a school yard fight usually led to after-school detention or a couple of Saturdays spent in the classroom. But as zero tolerance policies have grown and as children are treated more and more as adults, the reaction to normal young peoples' behavior has become harsher and, in many instances, is paving the way to prison.
 A number of federal and state agencies along with nonprofit organizations are working to help regain the youths' footing after they stumble into trouble. Now, a new nonprofit has been formed with a focus on preventing children and teenagers from entering the juvenile justice system.
The Children's Policy and Law Initiative is bringing together lawyers, social workers and child advocates from around the state to work on changing the policies and laws that some feel are too punitive and criminalizing children. Leaders of the new group want to put a variety of stakeholders at the same table to do the research and determine the best practices and then push schools and the Indiana Legislature toward reform.
 JauNae Hanger, civil rights attorney in Indianapolis, is one of the founders of CPLI and is currently serving as chair of the board of directors. She explained the organization does not want to prevent all kids from going into the juvenile justice system because some deserve to be there. However, CPLI believes too many young people are entering the system and more are at risk of entering.
 "We're not trying to change the world," she said. "We're realistic, but over time, you can make a big impact."
 Members of CPLI worked for the better part of a year to get their new nonprofit in place and ready to introduce itself. The organization held a reception in mid-December which attracted an estimated 70 individuals, and Hanger has plans to contact and meet other groups to forge alliances and work on common goals.
 In addition, CPLI is also looking for funding sources to make itself sustainable and, eventually, to be able to hire administrative staff.
A pipeline to jail
One main entrance to the juvenile justice system is school. Suspensions and expulsions have replaced detention, and offenses on school grounds are often leading to arrests of children and incarceration. Minority and special needs students are impacted disproportionally by school discipline policies in Indiana and throughout the country.
 As an example of the punishment overreaching the infraction, Carole Craig, Greater Indianapolis NAACP education co-chair and CPLI board member, pointed to a recent incident involving four minority youths.
 During the summer, an Indianapolis high school was undergoing some renovation and the four teenagers wandered inside through an unlocked door and played basketball in the gym. School officials subsequently charged the four with trespassing and suspended one for the entire fall semester and the other three for nine weeks. Craig and her colleagues at the NAACP intervened and were able to get all the youngsters reinstated.
The belief that such harsh treatment creates a better climate in the schools is, in fact, a myth, Craig said. Having more than 30 years of tenure as a middle school science teacher and school principal, she maintains children, regardless of their ethnicity, socioeconomic standing and even their home life, are all capable of learning and meeting high expectations.
 Instead, schools are relying on suspensions and expulsions for mostly minor offenses which puts students either home alone or wandering the streets and disengages them from education. Multiple suspensions have been shown to increase the likelihood of contact with the juvenile justice system, creating the school-to-prison pipeline.
 "We have lost our perspective on this issue," Hanger said. "We wouldn't go around arresting adults for innocent acts. Why are we arresting our children?"
 The issue of the school-to-prison pipeline stepped into the national spotlight in December when the U.S. Senate Judiciary Committee's Subcommittee on the Constitution, Civil Rights and Human Rights held the first-ever congressional hearing on the topic. No one from CPLI testified, but the organization is focusing on the pipeline problem because this is how many juveniles are entering the jails.
CPLI members emphasize many agencies, including the Indiana Department of Correction, and other nonprofits are working with teens and building programs to help the youngsters in the justice system get on the right path to being a productive adult. Yet, CPLI sees a gap in the effort in that no single statewide organization is focused on changing policy.
 "We're not sitting here saying the system is broken," said Indianapolis attorney and vice chair of the CPLI board Deborah Agard. "There are a lot of positive changes, but the momentum needs to pick up and make things happen sooner."
 Policy changes difficult
The CPLI wants to be an independent voice that takes a step back to look at the entire picture then builds consensus and makes recommendations to the General Assembly for changes in laws and polices.
 "When we talk about reforming the juvenile justice system, we've got to be realistic," Hanger said. "It's going to take awhile. We can't force reform on people. We've got to bring people along."
 While innovative programs are being implemented in certain parts of the state, there are few comprehensive statewide policies and efforts to prevent the criminalization of children. This, in turn, creates a system of justice by geographical jurisdiction which can become at risk if the people committed to such changes are replaced or retire.
 A key to making statewide change is follow-through. CPLI emphasizes it must evaluate any laws passed to ensure they are yielding the intended results. And, as the history of House Enrolled Act 1193 illustrates, evaluation must be done to ensure the new laws are being implemented and keep all interested parties aware of any progress or setbacks.
This particular bill created a work group charged with making recommendations concerning law enforcement, school policing and youth.
 The Indiana State Bar Association had been heavily involved in HEA 1193 and many were elated when it passed and was signed into law. However, the group never met and, Hanger said, the law was repealed during the 2012 session.
 As required by the law, the Indiana Supreme Court made its appointments to the work group as did the Indiana attorney general and the Legislature, but the governor did not. Gov. Mitch Daniels never appointed the chair and so, the group never convened and no recommendations came forth.
 "Is the lesson we can't do it in this state?" Hanger asked. "No, but I think the lesson is we have to be a little bit more organized."•
Please enable JavaScript to view this content.