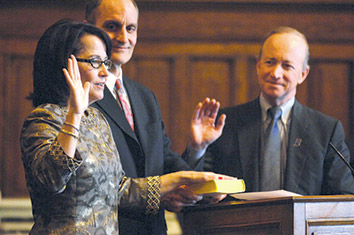 Justice Loretta Rush formally was robed the 108th justice of the Indiana Supreme Court on Dec. 28, the third member of the five-member court appointed by Gov. Mitch Daniels.
Rush, formerly a Tippecanoe Superior judge who oversaw juvenile court in Lafayette, thanked her family, friends and Daniels, who appointed her the second woman to serve on the court.
"You have left an indelible mark on the state Supreme Court," Rush remarked to Daniels, noting the qualities she had recognized since joining the court in November in his prior choices, justices Steven David and Mark Massa. "The jury's still out on me," Rush quipped.
Rush's four children, Jacob, Mary, Sarah and Luke, took part in her robing ceremony before about 200 people in the Indiana Supreme Court courtroom. Another 100 people watched the ceremony on a video feed inside the Indiana Senate chamber.
"This would be a very good day to rob a bank in Lafayette," Daniels joked. "Nobody's home."
But the governor said few decisions are taken as seriously as the appointment of a justice whose mark will be left on the laws of the state for years to come. "No decision I've had to make in this category was easier," Daniels said.
"I'm just so proud to be associated with this particular nomination," he said.
"I owe a debt of gratitude to our entire community," Rush said. "You hoisted me on your shoulders and brought me here."
Daniels had felt pressure to select a woman during each of the three vacancies that occurred with the departures of Justice Ted Boehm, Chief Justice Randall Shepard and Justice Frank Sullivan. Indiana had been one of only three states whose supreme courts lacked a female justice.
"I look forward to the day a woman's appointment to the court is unremarkable," Rush said.
Chief Justice Brent Dickson, who worked in private practice in Lafayette prior to his appointment to the bench, said Rush's appointment "marks the completion of a massive transformation of the Indiana Supreme Court." He praised Rush for her intellect, determination and respect for judicial precedent and restraint.
Rush also paid tribute to her family, noting that when she was asked during the vetting process about her greatest accomplishment, she responded, "raising kind children. You are kind children."•
 
Please enable JavaScript to view this content.