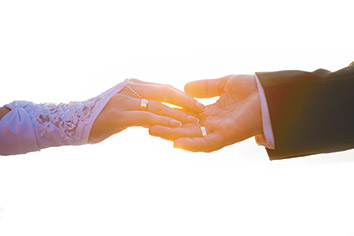 Prenuptial agreements are not written to be fair. Nor should they be, according to some Indiana attorneys who draft them.
"It's unfair no matter how you look at it," said Marvin H. Mitchell, a partner with Mitchell Dick Hurst & McNelis LLC in Indianapolis, who recently shared with attorneys his advice for drafting effective premarriage agreements.
"They're not intended to be fair. Someone is getting the benefit," explained Bingham Greenebaum Doll LLP partner James A. Reed, who joined Mitchell in an Indianapolis Bar Association panel discussion recently.
"Fifty percent of premarital agreements will be closely scrutinized in a judicial setting," Mitchell estimated. Reed suggested that figure could be higher, because people with prenup agreements typically are in second marriages, which experience a higher rate of breakups than first marriages.
"You have to presume that this agreement will be challenged and your file will be reviewed," Reed said.
Mitchell and Reed discussed one of the largest Indiana court cases in which a prenuptial agreement was involved, DeHaan v. DeHaan, 572 N.E.2d 1315, 1320, decided by the Court of Appeals in 1991. Jon and Christel DeHaan battled over the fortune they had created in RCI, a timeshare marketing company. Mitchell quipped that the amount at stake was enough to fund the deficit of a Central American nation.
Though the DeHaans had a prenup in which Christel DeHaan would have been entitled to 20 percent ownership in the company in the event of divorce, the trial court ruled that she was entitled to 50 percent of the company's value – $67 million – because of the partnership nature of the business. The appeals court affirmed the ruling but reduced the award by $20 million for tax purposes.
Those types of premarriage agreements, in which wealth preservation is the key factor, remain the most common. Mitchell and Reed suggested that if parties entering a long-term relationship aren't able to discuss assets and expectations before marriage, problems are likely.
Clarity is paramount, Mitchell said. "At the very least, have consistency about what is protected property" throughout the document. "Try to anticipate problems so the client won't be moody. … We want the judge to see this is plain, obvious and clean."
A 2010 survey by the American Academy of Matrimonial Lawyers found 73 percent of divorce attorneys reported increases in prenup agreements in the prior five years, and more than half said more women were initiating the requests. A 2012 AAML survey found a similar increase in postnuptial agreements.
Mitchell and Reed offered premarriage agreements and forms that can serve as models to create prenups that comply with the Uniform Premarital Agreement Act adopted by the Legislature in 1995.
Indiana is one of the few states that does not require financial disclosure in premarriage agreements, but Mitchell and Reed counseled that it was good practice to do so, and the attorneys they questioned agreed. Of about 30 in attendance, none said they had drafted a prenup that didn't include financial disclosures.
Prenups can be attacked on bases such as the agreement was not voluntary, is unconscionable or ambiguous, or will result in hardship. Mitchell advised attorneys to include clauses in prenup agreements for the wealthier spouse to pay attorney fees in the event the agreement is challenged by the other party; some attorneys said they insist on such language.
Mitchell also warned against language that, for instance, would strictly limit a spouse's entitlement to 10 percent of an estate. Such terms are "inviting the judge to find a problem with the agreement."
Reed said it's important for heirs to be involved in the discussions. He said the entire family – wealth originators, adult children and their heirs should sit down and talk frankly.
"It's a tough conversation to have," Reed said. But he said when adult children or heirs learn about trusts or assets they were unaware of, "that may change the way they look at their life."
While the agreements are often unfair to one of the parties, Mitchell and Reed said those that strive for some degree of fairness are less likely to be challenged. Reed said prenups are also useful planning tools, especially for someone's long-term needs.
"What's the incentive for the much younger spouse" to provide care for an older spouse, for instance, Reed asked. Using tools such as escalating percentages of asset distribution over time can provide those incentives and give the older spouse peace of mind.
"It sounds very mercenary, but that's real life," Reed said.
In his practice, Reed said he's experienced a new trend among those seeking prenups: younger professionals whose attitudes are, "I'm not into this whole 'till death do us part' crap."
These type of prenups include entrepreneurs or young professionals who are entering their first marriage and are doing so on a strictly trial basis, he said. They often each have high net-worth or the expectation of wealth that they wish to protect.
But prenups also can serve those whose estates aren't upwards of seven figures.
Attorneys Tara Rabiola and Jaimie Cairns of Ruppert & Schaefer P.C. in Indianapolis took some pointers from the discussion. They said their practice typically includes writing prenups for clients with estates that usually involve a principal homestead and more modest assets.
"We do a lot of agreements for second marriages," Rabiola said.
But Cairns said the agreements can be useful in many situations. She said a recent prenup that she worked on involved a couple who was getting remarried.
In that instance, the spouse with greater assets had to come to the table with assurances in writing that were sufficient to persuade the other that the arrangement would be worthwhile, at least financially.
"I call it a reverse prenup," Cairns said.•
Please enable JavaScript to view this content.