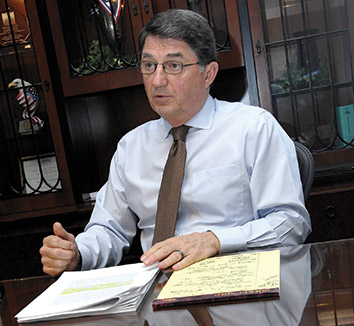 Federal courts that have squeezed staff as budgets shrank could be forced to furlough employees if Congress fails to avoid mandatory budget cuts that now are slated to take effect in March.
Chief Judge James K. Coachys of the U.S. Bankruptcy Court for the Southern District of Indiana said that court staff could be furloughed without pay for one day of each 10-day pay period if sequestration cuts occur. Under sequestration, non-exempt non-defense discretionary spending would be reduced by 8.2 percent.
 
"We've got a plan in place," Coachys said, noting funds would be available to meet payroll for one to two pay periods after the potential cuts begin in early March. "At the end of March, we'd be starting some kind of furlough program."
The same is likely true for the District Court for the Southern District, said Chief Judge Richard Young.
"We've been preparing for sequestration in the event that it does occur. We would more than likely have to furlough employees in the clerk's office and probation staff, and also maybe furlough from chamber staff as well," he said.
Young said furloughs could be one or two days per pay period. "We would try to allocate furloughs as evenly as
we can so that one court function is not unduly affected.
"We have no intention of closing the court" a day a week, he said. "That has been discussed in some other districts."
Coachys and Young each sent letters to the Indiana State Bar Association requesting the organization's assistance before the most recent run up to the fiscal cliff that was averted with an eleventh-hour deal on Jan. 1. That deal forestalled mandated cuts for two months.
After ISBA President Daniel Vinovich presented those letters to the bar, the Board of Governors in November instructed him to write a letter to the Indiana congressional delegation supporting full funding of federal courts.
"Our message was basically concerned about the impact sequestration would have on the federal system, and ensure such funding be in place despite the pending sequestration," said Vinovich, a partner at the Hilbrich Law Firm in Highland. He said no such requests had been made from judges in the courts of the Northern District of Indiana, though the across-the-board cuts under sequestration would apply equally to all districts.
Chris DeToro, clerk of the Bankruptcy Court for the Northern District of Indiana in South Bend, said no decision had been made about furloughs or what might happen if cuts are mandated in March. "I think that's really difficult to assess unless and until we actually see the impact," he said. "We may have an impact on the level of services we can provide."
Despite a tough economy, bankruptcy caseloads have declined in recent years. Final numbers aren't in, but DeToro said the tally for 2012 should be just less than 13,000 filings, compared with 15,370 in 2011. That's a decrease of 15 percent in the Northern District.
In the Southern District, about 21,000 cases were filed in 2012, compared with 22,000 the prior year and a 10-year average of 27,000 cases. This trend has been seen in other Bankruptcy courts across the country, Coachys said.
"Ours was a double-whammy of a new formula (for court funding) and a drop in case filings," Southern District Bankruptcy Court Clerk Kevin Dempsey said.
The option of furloughs makes sense if fiscal-cliff cuts are mandated because they would be expected to be temporary, Coachys said.
He noted that federal court budgets consume only about 0.2 percent of federal discretionary spending. "For us it means across-the-board cuts that would happen with sequestration are much more devastating. We don't have discretionary programs," Coachys said.
As a result, the cuts would reduce funds available for basic functions. "At some point with sequestration, you're going to run out of money to pay jurors," Coachys said. "That's a real impact on people.
"There could be delays in getting discharges out, delays in getting hearing dates set," he added.
Sequestration would be in addition to cuts imposed on the courts as budgets have declined in recent years. For the Southern District Bankruptcy Court, they are in addition to expected cuts to come. Coachys said that since the end of fiscal year 2011, court staff has been cut from 73 to 58.
Further, Coachys said he expects the Southern District Bankruptcy Court's $5.5 million budget for the current fiscal year to decline by as much as 10 percent next year.
The prospect of fiscal-cliff cuts has been stressful for court staff. "It means they're very insecure about their positions," he said. "It's certainly not very different from what people in the private sector are going through.
"There's a perception that government jobs may be cush jobs but very secure jobs" with stable pay and benefits, Coachys said, noting that he bristles at such views based on the work done by his court staff in Indianapolis, Evansville, New Albany and Terre Haute. "It's simply not the case anymore, if it ever was."
Dempsey said the clerks hope the furloughs, if they come to pass, won't affect service, but the impact would be difficult to predict before the cuts take place.
"Federal employees generally haven't seen pay raises for several years," he said. "It does definitely make it more challenging for morale, and I don't think court employees are unique."
Coachys said judges speculate the reason for the decline in bankruptcy filings may be due to unemployed people deemed judgment-proof as well as fewer people able to afford filing fees, which rose in December.
"We're expecting filings to go up in 2013 for a number of reasons," he said. Unemployment is expected to fall, possibly prompting more filings. The eight-year prohibition on refiling contained in the Bankruptcy Abuse Prevention and Consumer Protection Act of 2005 also will expire, which could create a surge of filings.
The federal courts have already tightened their budgets under cost-containment programs. As examples, attorneys now are responsible for serving notice to parties in their cases, Coachys explained, and court staffs are being shared more between the District and Bankruptcy courts.
Young said the Southern District Court has cut back on travel and arranged video conferencing more often. A hiring freeze has been in place for years, and items such as furniture and office equipments are "replaced only when absolutely necessary."
The District Court for the Southern District hasn't been hit as hard as the Bankruptcy Court because its caseload numbers haven't declined. "Attrition has been able to shield us from layoffs," Young said.•
Please enable JavaScript to view this content.