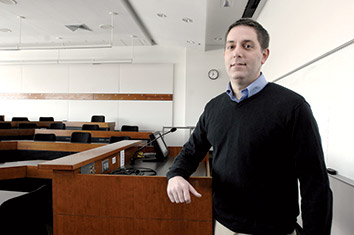 Harold Tice was trying to get his conviction overturned on the grounds that his attorney was not properly prepared for his trial. But as the Dearborn County resident began pleading his case pro se before the Indiana Court of Appeals in September 2011, he fumbled and ended his attempt with "I can't, I just, I'm just not, just not prepared today."
Reading the court record later, Indianapolis attorney Joel Schumm found a key issue as to why Tice was not ready to present his argument – the time he had to prepare was too short. Less than three weeks after Tice filed his petition for post-conviction relief, the post-conviction court scheduled the hearing.
The court's denial of Tice's motion to stay, Schumm reasoned, conflicted with an earlier ruling where the court stated continuances and withdrawals should be liberally granted.
The Tice case soon joined the list of pro bono efforts Schumm has undertaken. Sitting down at his laptop and tapping out a petition to transfer, he composed an opening statement that is a mix of fact and poetry: "Although we generally applaud speedy justice, sometimes the wheels of justice move so quickly that they can crush a litigant."
Recalling the case recently, Schumm emphasized he was one shy. The Indiana Supreme Court denied transfer by a 2-3 vote. Just one vote, he whispered.
Having convictions reversed on appeal or getting transfers to the Supreme Court are not typical events in Schumm's day. Yet, whatever heartbreak, frustration or disappointment the court decisions may bring, he continues to file appeals and petitions for transfer.
Schumm knows 85 percent of all convictions are affirmed on appeal and never forgets his mother telling him that life is not fair. Still he wants to make it a little fairer. "You can't fix everything, but fixing some things is better than not doing anything."
Affable and easy-going, Schumm carries his commitment to fairness into the classroom. He is a clinical professor of law and director of the judicial externship program at the Indiana University Robert H. McKinney School of Law. In 2008 he created the Appellate Clinic at the school, and each semester he and a handful of second- and third-year students try to convince the courts to right what they see as a wrong.
His work in courts as well as in the law school has earned him one of the highest honors Indiana University can bestow on a faculty member. Schumm is the 2013 recipient of the W. George Pinnell Award. Given to one faculty member from among the 4,000 who work at I.U.'s eight campuses, the award recognizes outstanding service to the university.
"It's humbling, it's an honor," Schumm said. "To me, it's a reflection of what I do and the remarkable people I have been able to work with on a variety of different projects."
In a letter supporting Schumm's nomination, attorney Jonathan Bont highlighted his former professor's ability to bring out the best in his students through measured critique, advice and encouragement.
"I met Joel as a first year law student who did not know a tort from a crime," Bont wrote. "From day one he was always willing to meet with me outside of class to provide advice and reassurance. Over the next three years, he helped me achieve every goal that I set for myself."
Norman Reimer, executive director of the National Association of Criminal Defense Lawyers, pointed in his letter to Schumm's service to the public. He praised Schumm as a "uniquely dependable, motivated and highly effective leader" whose ability to distill complex ideas and forge consensus is invaluable when addressing complex systemic problems.
Night school
Growing up in Ohio, Schumm knew at an early age he wanted to be a lawyer. His practical side drove him to study accounting as an undergraduate so he could be sure of finding employment once he got his degree.
He came to Indianapolis for an accounting job and has called the Circle City home ever since.
Shortly before he began night classes at I.U. McKinney School of Law, he took a job time stamping filings in the Marion County clerk's office. A few months later, he was hired as a bailiff by then Marion Superior Judge Gary Miller. Miller's court was for major felonies and held about 20 jury trials annually.
Being in the courtroom was, Schumm said, a fascinating way to learn the law. More eye-opening were the conversations Miller would have with the jurors after the trial ended. As they talked about the attorneys and the process, Schumm learned how lay people view the legal system.
At the start of a new semester's Appellate Clinic, Schumm invokes the lay-person's impression by telling his students not to start with research. He wants them to read through the record and ask what seems wrong. Knowing the precedent cases and court decision can lead to the students talking themselves out of taking the case. Schumm admits his knowledge of rulings sometimes prevents him from answering the simple questions of what is wrong.
In December, Schumm and one of his clinic students joined Ruth Johnson from the Marion County Public Defender Agency and successfully got an operating while suspended conviction reversed in Israel Cruz v. State of Indiana, 49A02-1204-CR-301. The court agreed that since the Indiana Bureau of Motor Vehicles mailed the suspension notice to the wrong address, there was not sufficient evidence that Israel Cruz knew he was suspended.
"Before someone is convicted of a crime, the state should work to do everything right," Schumm said, discussing the case afterward. "Some people think that's a technicality. To me, that's following the law, following the Constitution."
In his first case before the Indiana Supreme Court, Schumm returned to the theme of fairness. He argued that courts are required to give supporting reasons when imposing a sentence in a felony case to ensure both fairness and meaningful appellate review. The Supreme Court agreed, and Anglemyer v. State of Indiana, 868 N.E.2d 482 (Ind. 2007), has been cited by courts more than 1,800 times.
A card from prison
In 2012 the law professor found himself in the spotlight, sometimes for controversial reasons.
Schumm was a semi-finalist for a vacancy on the Indiana Court of Appeals. The position was appealing because it combined two activities he loves: writing and mentoring young attorneys.
However, his writing raised a few eyebrows in the legal community shortly before the November election. Schumm penned an op-ed piece, which appeared in The Indianapolis Star, advocating the retention of all six judges appearing on the ballot. The bulk of the piece was focused on Justice Steven David who was the subject of public ire because of his Barnes decision.
One attorney described the piece as "pandering" while other attorneys questioned whether lawyers who practice before these judges should make such public statements.
Schumm explained the Indiana State Bar Association approached him and he offered to help in any way he could. He ended up writing the editorial to impress upon voters that a justice should not be labeled by one ruling.
Among the writing he most treasures is a card he received from a client in prison. Schumm had lost the case, but the man wrote that Schumm cared more about his case than anyone in his family.
"I think that's an important part of doing this kind of work," Schumm said. "It's not just making the law better for everyone else but at least giving that person the sense that you're fighting for them, that something has been done wrong to them, that they have rights and that you're standing up for those rights."•
 
Please enable JavaScript to view this content.