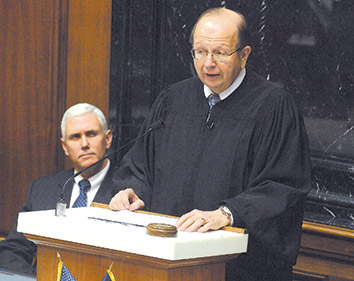 Indiana Chief Justice Brent Dickson's first State of the Judiciary address after 27 years on the bench produced a few collegial chuckles as he offered examples of checks and balances and noted lawmakers had rewritten laws in response to at least three Supreme Court opinions in the last year.
"You determine public policy and make the laws, and we follow and apply them, whether we like them or not," Dickson told a joint session of the Indiana General Assembly on Jan. 23. "And if you disagree with the way we interpret a statute you've written, you amend it as you wish. That's the Indiana way."
 
Dickson later made a plea for greater funding to expand the Odyssey case management system, asking the help of lawmakers who in 2011 rejected a request to increase a $7 case filing fee to $10. The Legislature responded by reducing the fee to less than $5.
Procuring money to expand Odyssey is "one of our most urgent priorities," Dickson said. "The court intends to do everything we can to bring our Odyssey system as soon as possible to every county that wants it. But this requires more resources. The court really needs help from the General Assembly this session to upgrade the necessary filing fee revenue stream."
 
Long
Senate President Pro Tem David Long, R-Fort Wayne, paid tribute to Dickson as "an outstanding jurist" in a news conference a day later, but he was doubtful about more money for Odyssey.
"The issue is the cost of it has grown astronomically from what we were originally told," Long said. Mounting case-filing fees for a variety of purposes "are making it very difficult for us to justify more fees when it's crushing certain people," especially those of modest means, he said.
Raising court filing fees is "a little harder sell in the Senate than it used to be," Long said.
Massa
Nevertheless, Justice Mark Massa said he will press for adoption of House Bill 1393, which would raise the automated record-keeping fee from $5 to $10 in most cases. "There are a lot of competing interests for finite state resources," he said. "Sen. Long and the legislative leadership have got challenges every year in deciding how to allocate those finite resources.
"This project continues to be important to the judiciary," as a whole, Massa said. Without an increase in Odyssey funding, he added, "our deployment efforts would grind to a halt pretty quickly."
Massa said the fee increase would generate about an extra $4 million annually for Odyssey expansion. "It would certainly allow us to deploy it in all 23 counties that are on the waiting list right now," he said. The system is in use in 146 courts in 45 counties, according to Mary DePrez, director and counsel for trial court technology for the Judicial Technology and Automation Committee at the Division of State Court Administration. About 40 percent of Indiana's caseload is managed by Odyssey.
Sullivan
Massa is the court's liaison to JTAC, succeeding retired Justice Frank Sullivan, who said he was pleased that Dickson made the case for expanding Odyssey and devoted a fair amount of his address to talking about how it can share information with numerous agencies from local police and state agencies.
"I'm a strong believer in the importance of equipping all Indiana courts with 21st century case management systems and then connecting them to each other," Sullivan said. "I thought Chief Justice Dickson made the case for that very well. … how many counties are standing in line waiting for Odyssey, and the commitment of the Supreme Court to provide Odyssey to every court that wants it; there was no sense of a kind of top-down mandate."
Sullivan, who departed the bench this past summer and is a professor at the Indiana University Robert H. McKinney School of Law in Indianapolis, said the tone of Dickson's speech was "exactly right."
"He's been just a superb member of the Supreme Court for some time. It was nice to see him have this moment in the sunshine," Sullivan said. He noted a difference in speeches he heard from Shepard over the years compared with Dickson's address.
Shepard "would spend a whole lot of time on generally three or four topics. Chief Justice Dickson chose to paint a somewhat broader picture of the landscape of what the Indiana judiciary is doing," Sullivan said.
"A point he made very effectively is there is both an adjudicative and a non-adjudicative role the judiciary plays," he said. "And the Legislature has a role in that to provide the resources to do that."
Dickson noted in his address the "massive change" for the court recently, in which he succeeded retired Chief Justice Randall Shepard, and the appointments of justices Steven David, Massa and Loretta Rush in the past several years."We intend that the 'new' court will be a continuance, and even an enhancement, of the things admired in the 'old' one," Dickson said.
But he also acknowledged the massive changes in the judiciary in the time he's served as a justice. "When I was appointed to the Indiana Supreme Court in 1986, it was a very different place than it is now," he said, noting criminal cases comprised 93 percent of the caseload, and the court heard very few civil appeals.
"The access of everyday Hoosiers to their Supreme Court for such a wide assortment of cases would have been impossible 25 years ago," he said.
He also looked ahead at some of the key initiatives being undertaken in courts around the state. Juvenile justice reform is a priority for the court, particularly the Juvenile Detention Alternatives Initiative that has rolled out in eight counties and serves 34 percent of the state's at-risk youth.
"This is a proven model that really works to improve community safety, to get more kids on the right track, to reduce school dropout rates, to reduce juvenile detention and to lower incarceration rates," Dickson said.
Dickson also made a plea for attorneys to serve Hoosiers of limited means. "We want to encourage and empower Indiana lawyers to more fully realize the vision of their oaths and the Code of Professional Responsibility which requires that they serve 'the cause of the defenseless, the oppressed, or those who cannot afford adequate legal assistance.'"•
Please enable JavaScript to view this content.