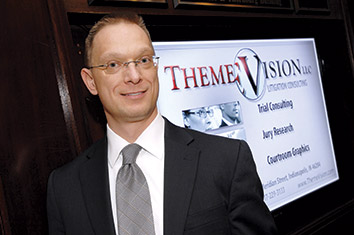 Dennis Stolle is a partner at Barnes & Thornburg LLP, but his skills as a doctor of social psychology are more important in his niche as a jury consultant.
"It might be 60 to 70 percent psychology and a healthy dose of legal strategy as well," said Stolle, who is president of the B&T subsidiary ThemeVision LLC in Indianapolis. The company is one of a handful in Indiana that specializes in jury consulting.
"We approach this very much from a psychological perspective in terms of biases potential jurors may be bringing to the table," Stolle said. "Our goal is to go much deeper than simple demographics … what are the particular life experiences, attitudes, life opinions that might filter the evidence in a particular case, and how are we going to learn during voir dire who has those life experiences?"
Stolle said reams of peer-reviewed literature provide baseline background information about the biases among particular groups of people that may be predictors of a juror's decision-making. A Yale University study published this month, for instance, noted a male bias against overweight female check-fraud defendants in a mock case.
Nevertheless, Stolle said, "Nothing about being male or female is going to cause you to decide a certain way. … It's going to be the life experiences and these deeply held views."
Consultants say that as civil trials become scarcer, those likelier to go to trial are the "close" cases and high-stakes litigation in which consultants may play a role in researching and advising on jury selection. But consultants also can be helpful to determine whether a case should go to trial.
"Picking a jury is probably one of the more limited things a jury consultant does nowadays," said Scott Weathers, an attorney who has handled both sides of insurance litigation and is president of trial consulting firm First Jury Inc. in Indianapolis. Weathers noted the decline in cases proceeding to trial but said consultants still have plenty of work conducting mock trials and preparing witnesses as significant cases progress toward settlement.
Jury consultants customarily will conduct mock trials using the jury pool in the jurisdiction where litigation has been filed. The expense varies. Weathers, for instance, said First Jury's typical fee is in the range of $20,000 to $75,000 depending on such factors as locale, travel and complexity of the case.
Weathers said his company has conducted mock trials in 20 to 30 states for plaintiffs and defendants in civil matters. Market research firms are used in the target jurisdiction to select 10 men and 10 women who qualify as potential jurors where the case is filed. Mock jurors are paid for their participation and are provided meals as an actual jury would be.
The mock jurors answer jury questionnaires and hear both sides of the case as the consultants believe it would play out in court. Each juror provides an individual verdict along with rendering verdicts as a jury.
"When jurors start deliberating, it is a fascinating thing to watch," Weathers said, noting the deliberations typically take place where jurors can be viewed through a two-way mirror. That's where biases tend to emerge, and where consultants can gain a measure of the kind of life experiences that may shape a potential juror's view of a case.
"It tells you what kind of people want to ring you up, so to speak, and what kind of people are more sympathetic to your case," Weathers said.
Amy Pardieck is a trial consultant and president and founder of Bloomington-based Perceptual Litigation LLC. An expert in witness preparation, focus groups, mock trials and jury selection, she has worked as a consultant around the Midwest on environmental, product liability, medical malpractice, contract, patent and other litigation.
Pardieck said she puts little stock in demographic data as a predictor. "If it worked that way, it would make our jobs easier," she said. "Human brains are far more complicated than that."
With a background in clinical psychology, Pardieck said her training provides insight that some attorneys may lack.
"I can identify how people process information," she said. For instance, some people's information processing is procedure-based; others' processing is rule-based. Some make snap judgments and some are contrarians. Among the things Pardieck looks for in potential jurors: "Which of those ways of processing information would be most advantageous for coming to a favorable result for our side?"
Attorney Mike Casati with Campbell Kyle Proffitt LLP in Carmel recently was part of a team representing a third-party defendant in a weeklong trial that involved home construction issues. Stolle served as a consultant.
"Dennis came in and was involved in doing the prep work on that jury selection, and I though he was a tremendous asset," Casati said. "Not only
is he analyzing the jury questionnaires and pulling together some information with respect to the potential panel, but he also comes into the case with fresh eyes."
Stolle noted a paradox exists during jury selection: Potential jurors think the process tends to drag on. "For trial counsel," he said, "it seems like it's happening very, very fast." Multiple assessments are being made based on potential juror response.
"We also assess the demeanor of potential jurors during the questioning that occurs, and that's probably the most revealing factor of all," Stolle said.
Such observations may provide clues about who may be selected jury foreman or become thought leaders among the group, he said. Those people tend to have a willingness to speak, aren't reticent, clearly articulate responses and are confident. Another important factor: They must be pleasant, Stolle said.
"You can predict with a good degree of certainty that the manner in which they respond to a question will determine whether they end up taking a leadership role," he said.
As the number of jury trials declines, Weathers said jury consultants will continue to have importance for plaintiffs and defendants, particularly in mock trial situations.
Consultants can help make cases for settlement, and Weathers said he strives to play moderator when conducting mock jury trials. "The last thing I want to have happen is for them to think it's put on by one side or the other," Weathers said. Rather, he tells mock jurors, "People are trying to find out without going down to the courthouse what the case is worth, so please help us determine that."
Mock trials also can be of benefit for clients who may think their case is worth more than it really is. If a client insists a case is worth millions, for instance, a mock trial verdict of a few hundred thousand dollars may be a reality check. "That recalcitrant client becomes a little more amenable to settling in the range they should settle," Weathers said.•
Please enable JavaScript to view this content.