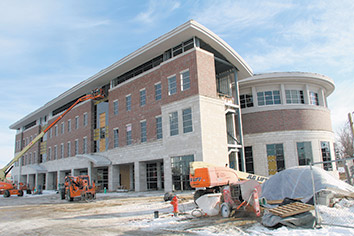 On recent cold, snowy morning, Peter Alexander was preparing for a trip to South Bend to make his pitch to potential students as to why his law school – which is not built, not opened and not accredited – is better than the established law schools.
The dean of Indiana Tech Law School was headed to the University of Notre Dame where he planned to meet privately with pre-law students one-on-one. He would show them a PowerPoint presentation, answer questions and tell the prospects how Indiana Tech's approach will be different from convention.
What those students heard may not be that much different from what established law schools are telling them.
Alexander is touting his curriculum as providing more real-world experience along with the traditional theory. Law clinics, classroom lectures by practicing attorneys and judges to explain how centuries-old legal precedent applies to the 21st century, and assigning a mentor to every law student are part of Indiana Tech's integrated curriculum.
Even while law schools are looking to add more practical training for its students, critics are unimpressed with Alexander's ideas. Peter Campos, law professor at the University of Colorado Law School, blogged that Indiana Tech was a "legal diploma mill in a hyper-saturated market" and dismissed Alexander's assertions the school will be distinguished by its emphasis on ethics and professionalism.
The Indiana Tech dean said his school is instituting the recommendations made in the 1992 "Legal Education and Professional Development: An Educational Continuum," known as the MacCrate Report. Law schools created task forces after this report was published to determine how they could provide the education the report called for but, Alexander said, those schools have spent the past decades "naval gazing."
As for Campos' sharp comments, Alexander said the Colorado law professor feels threatened because at Indiana Tech "we don't do the same cookie-cutter legal education like he's doing."
Construction on the new Indiana Tech Law School building on the Fort Wayne campus is currently two months ahead of schedule and under budget. In early December, the school announced it had received a collection of law books for its library from an anonymous donor.
To date, it has hired 10 faculty including the most recent addition of Judith Klaswick Fitzgerald, judge of the U.S. Bankruptcy Court for the Western District of Pennsylvania. Alexander said the school is looking to add one more faculty member.
Indiana Tech is still planning to open in August 2013 and an early indication of the school's success will be its ability to attract students. The school has set the goal of 100 for the inaugural class and, although only 10 students have been admitted, Alexander remains optimistic the first class will reach the ambitious benchmark.
Students will not only have to buy Alexander's pitch but also be willing to pay $29,500 for tuition with another $830 in fees.
Preparing for his trip to Notre Dame, Alexander was not worried.
"I really do believe our students will get a better value for their dollar," he said.•
 
Please enable JavaScript to view this content.