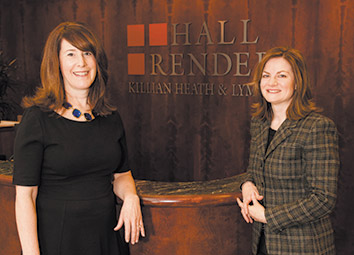 A central Indiana institutional pharmacy recently had a dilemma. At the height of flu season, it had a surplus of vaccine while other providers in the region were running out.
The pharmacy wanted to do the right thing but didn't know where to start because of the multiple federal regulations and inventory control issues that would arise.
"It turned out fine," said Jennifer F. Skeels, an attorney at Hall Render Killian Heath & Lyman P.C., who got the call and helped facilitate the transfer of vaccine. "The pharmacy board was very, very receptive to the call."
The board is frequently receptive, she said, because the firm has developed collaborative relationships among its practitioners who are familiar with pharmacy law and the regulatory framework. Pharmacy service providers frequently call, Skeels explained, and tell attorneys, "We need an answer within an hour or two."
A group of about 10 attorneys, including Skeels, work in Hall Render's new pharmacy practice section. The Indianapolis-based health law firm announced the creation of the group in January, and the firm believes it is the first in Indiana with a designated section devoted to pharmacy law.
"I would say it was very organic because we have worked on pharmacy issues for years," said Hall Render shareholder Susan Bizzell, who leads the practice group. The firm's client list includes retail and mail-order pharmacies, hospitals and long-term care facilities.
Bizzell said Hall Render plans to bring aboard an attorney with pharmacy credentials, but the practice group has several attorneys with a variety of medical and clinical backgrounds who know the regulatory and administrative terrain.
"There's definitely an increasing enforcement environment in health care," Bizzell said. "Pharmacies are feeling it as much as other providers."
Hall Render helps pharmacies and providers navigate the U.S. Food and Drug Administration, Drug Enforcement Agency and
other federal and state regulations under which they operate, Bizzell said. She advises practitioners that regulators in the current environment are "basically looking for problems."
"Our goal is to work proactively with clients and make sure good compliance programs are in place," she said.
Larry Sage, executive vice president of the Indiana Pharmacists Alliance, said his members also need the assistance of attorneys who can help in transactional matters. "Most of the time it turns out to be a general business sort of thing – people buying or selling a pharmacy," he said.
The IPA has used Hall Render in the past, and Sage said its development of a pharmacy practice area is a sign of the times. "There's business out there, and it's a very complex, regulated profession and something that's not going to get any simpler."
Professor G. Thomas Wilson has taught pharmacy law for most of the past 35 years at the Purdue University College of Pharmacy. For 25 years or so, he's compiled study guides for pharmacy students for the federal pharmacy law exam that each must pass.
While pharmacists must have knowledge of state and federal law, Wilson said they can't be expected to keep on top of the myriad regulations that are anything but static. It is no surprise, he said, that firms are developing specialized practices.
"Pharmacists have been sort of invisible in the past in terms of litigation and the like, and we are seeing an increase in that, and it is a specialized business," Wilson said.
Along with the North American Pharmacist Licensure Exam, nearly all state pharmacy boards require prospective pharmacists to pass the Multistate Pharmacy Jurisprudence Exam that tests a candidate's knowledge of pharmacy law, according to Butler University pharmacy law professor Erin Albert.
"Pharmacy, overall, is one of the most highly regulated industries out there," Albert said. Along with federal laws governing the control and dispensation of prescription medication, "there are a lot of bodies of law relative to the state of Indiana for pharmacy practice."
People who practice pharmacy law also must have a good basis in administrative law to represent clients before the Indiana Board of Pharmacy. "We're starting to see a lot of trends of pharmacists being disciplined," Albert said. Pharmacy attorneys said substance abuse and diversion of medication are frequent factors in licensure and discipline cases.
As an active attorney and pharmacy professor, Wilson frequently fields inquiries from pharmacists who are stumped about what they can and cannot do professionally. "I don't mind answering a few federal law questions," the Purdue professor said, "but I never pretend to hold myself out as an expert."
He offered an example that illuminates how complex pharmacy regulation can be.
"Someone asked me by email if they could mail narcotics containing a controlled substance," Wilson said. "I didn't know the answer.
"As it turns out, it's something that was never in pharmacy law," he continued, "it existed only in the Domestic Mail Manual." The answer: Such prescriptions may be mailed, but laws through the 1970s didn't allow it.
Wilson quipped that his services for such advice, without retainer, "should be billed out at anywhere from $300 to $500."
Winders
Kate Winders practices pharmacy law as a partner at the Indianapolis law firm Plews Shadley Racher & Braun LLP, where she is part of the firm's health care and life sciences group. She began that experience representing pharmacists with professional licensing issues before the pharmacy board, but the practice has evolved to include challenges such as helping pharmacies introduce cutting-edge automated systems for dispensing medication and maintaining electronic health records.
Winders said she's had the opportunity to make presentations of such systems before the pharmacy board.
"Indiana is well-situated to adapt to innovations that improve pharmaceutical care," she said of the state's pharmacy regulation. Compared with other states' pharmacy boards that lack rule-making authority, "Indiana is a much more favorable environment," she said, because the pharmacy board is made up of mostly pharmacists who are committed to advances in the profession. "There have been some exciting innovations here."
Among the innovations are dispensing systems and software programs for nursing and long-term care facilities. "Instead of a common 30-day supply, we send a much shorter supply of seven days or less," said Rick Rondinelli, president of In Touch Pharmaceuticals Inc. in Valparaiso.
"So, one, we have a shorter supply, and two, we have an order of date and time of administration" that helps nurses more efficiently deliver medication, Rondinelli said.
Winders represents In Touch, which provides medication and pharmacy supplies to facilities in Indiana and Michigan.
Along with paving the way for approval of new ways of dispensing and managing prescriptions, Rondinelli said Winders' representation was crucial in getting the pharmacy board to interpret a regulation aimed at retail pharmacies that was being applied inappropriately to institutional pharmacies. "We had a very favorable outcome," he said. "It was again through Kate's ability and knowing the right people on the board that got our situation to the point where we could plead our case."•
 
Please enable JavaScript to view this content.