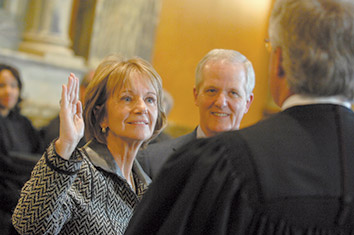 Robyn Moberly may be beginning her last act, but it's also a first.
Moberly is Indiana's first woman appointed to a federal bankruptcy judgeship. She joins the Southern District bankruptcy bench as one of two new judges appointed since October.
"I was ready for a change. I'd been a state trial judge for 15 years, and I felt like I had one more chapter," said Moberly, 59. "I have every expectation that I will retire from this court," she said, then paused. "Not anytime soon."
Moberly began a 14-year term on the bankruptcy court in November, replacing Chief Judge Anthony Metz III, who retired. In addition to her time as a Marion Superior judge, she also was a finalist in 2010 for a seat on the Indiana Supreme Court.
Moberly's formal investiture was March 8. She came to the court two months before former Faegre Baker Daniels LLP partner James M. Carr, who joined the court in January.
Moberly said she looks forward to a time when the selection of a female judge won't be remarkable. She noted it had been about a dozen years since a judge
had been appointed to the Southern District Bankruptcy Court, and in that time, women including Jane Magnus-Stinson and Tonya Walton Pratt had been appointed to the District Court bench.
"I think there came a time when there was a realization that having just Sarah Evans Barker on the bench wasn't enough," Moberly said.
There are now six women jurists in the Southern District, counting magistrates. They get together once a week for lunch in what Moberly described as one of many hallmarks of a collegial court.
Moberly said the judges and staff of the Bankruptcy and District courts nurture a welcoming and helpful environment. "They are extraordinary people, and they're wonderful to work with," she said. "There's a real atmosphere in all the work of the Southern District about doing your best all the time."
"There is a big pool of talent I've drawn from," she said.
Pat Marshall has served as a law clerk for four bankruptcy judges, including Moberly and her predecessor. Marshall was acquainted with Moberly before her appointment. "I know she would never see this as a distinguishing characteristic, but I'm thrilled that she is the first woman on the bankruptcy court in Indiana," Marshall said.
"It was very nice to see that the 7th Circuit first of all chose the best person for the job, but it was also very nice that the best person for the job happened to be female."
Addressing attendees at the ceremony on behalf of Southern District Bankruptcy Chief Judge James Coachys, Judge Basil Lorch III spoke about the historical significance of Moberly's investiture which, coincidentally, occurred on International Women's Day. The 7th Circuit selection committee, he said, shattered the proverbial glass ceiling and did so by selecting the best candidate.
Moberly said the biggest adjustment she's had to make since moving from the Indianapolis City-County Building to the federal courthouse a few blocks away has been dealing with sophisticated technology and a paperless court.
Moberly's husband, Michael J. Hebenstreit, also works with the court as a Chapter 7 panel trustee who oversees the administration of bankruptcies.
Coachys said Moberly and Carr have gotten up to speed quickly.
"It's a big change with two new people. We're a small court – we were four, there's now five of us" with Frank J. Otte taking senior judge status, Coachys said. "Even though (Moberly and Carr) come from really diverse backgrounds, they're getting along quite well.
"I think there's a learning curve no matter what side of the fence you come from," said Coachys, who, like Moberly, came to the bankruptcy bench after serving as a trial court judge.
Carr
Carr, who worked more than 35 years as a bankruptcy litigator, was appointed upon the retirement of Otte.
Carr brings a bankruptcy practice perspective to the bench, as did Lorch. Lorch had been managing partner of a law firm in New Albany before his appointment to the bench almost 20 years ago.
"You can view candidates coming into this job sort of in two ways," Carr said. "They're either experienced or have expertise in bankruptcy, and hopefully they'll learn to become judges, or you can have a judge and hope they learn about bankruptcy.
"Both work, both have been used around the country, and having judges of both backgrounds is a strength for us," he said.
Carr said Otte has made himself available to help Carr get acclimated. But Carr had familiarity with the bench due to a long association with Lorch. For seven years, the two have instructed a class on Chapter 11 business reorganization at the Indiana University Maurer School of Law in Bloomington. Carr also serves on the law school's board of visitors.
In his practice, Carr handled complex Chapter 11 bankruptcy filings typically for large clients. The caseload he now presides over has a far different complexion. He estimated personal bankruptcies account for more than 80 percent of the court's work.
"It's a very human caseload where individuals who develop financial difficulties are trying to get themselves together financially and move forward," he said. "I'm happy to do what I can to help out with that."
Carr had expected a rather steep learning curve. "With the help of folks here who are very capable, professional and experienced in what they do, it's not been a real difficulty," he said. "There's a lot of collegiality, a lot of interaction."
Carr's investiture is scheduled for 3 p.m. May 14 at the federal courthouse in Indianapolis.•
Please enable JavaScript to view this content.