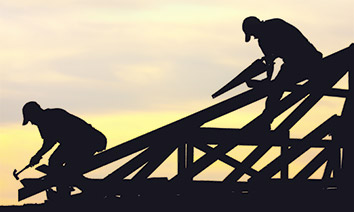 Most stakeholders agree Indiana needs to provide better benefits to workers injured on the job. But a bill that would do just that also would reduce and cap the amount hospitals receive to treat people covered by workers' compensation insurance.
Hospitals say they're being squeezed, but insurance and industry officials say a proposal to pay health care facilities 125 percent above Medicare reimbursement rates on workers' comp claims is more than generous and years overdue.
"There's still going to be a lot of heavy lifting in the Senate on that issue," said Rep. Matt Lehman, R-Berne, whose House Bill 1320 passed the House after its hospital reimbursement provision was increased in committee. As introduced, the bill would have paid hospitals 75 percent more than Medicare pays.
"The initial discussion during the summer study committee was, should we be using some sort of commercial rate, or do we use a Medicare-plus system," said Lehman, a partner in his hometown firm of Bixler Insurance Inc., and chairman of the House Insurance Committee.
More than two-thirds of states have adopted a workers' compensation hospital reimbursement schedule based on Medicare rates, plus a defined percentage. In Indiana, hospitals currently bill workers' compensation their chargemaster rates – the amount paid by uninsured people and not subject to disclosure – unless the employer or insurer is large enough to negotiate rates independently.
"When it comes to reimbursement, our hands are tied," Lehman said. "We don't have any cost containment built into our system."
Indiana Worker's Compensation Board Chairman Linda Hamilton said it's up to the Legislature to decide an appropriate level of hospital reimbursement, but it's clear a cap is needed. She has been pushing for caps for about seven years as the costs of reimbursement steadily climbed.
"When you compare Indiana to others states, the cost of providing medical care to injured workers is very high," she said. "We're one of the top four or five states in the nation for that."
Ed Roberts, a lobbyist and vice president of the Indiana Manufacturers Association, said industry has sought for decades to rein in workers' comp care costs. He said previously about a third of a workers' compensation premium paid for health care costs. Now, that figure is more than 80 percent. That leaves very little to provide direct benefits to workers.
"They are preposterous to say the least," Roberts said of hospitals' workers' comp reimbursement rates. He acknowledged HB 1320 would cut reimbursement hospitals receive under workers' comp, but said the proposed level of pay "is so high as to make it unworkable.
"It's several times more than what is appropriate or fair," Roberts said. Hospitals use workers' comp reimbursement, he explained, to shift costs and cover unpaid care.
Employers walk a fine line, he said. They want to ensure
workers receive the best care possible and that hospitals are paid adequately for their service so they don't opt out of providing workers' comp service. "That doesn't require us to provide (hospitals) leather couches, parking garages, marble lobbies and original paintings on the walls," he added.
But Tim Kennedy, a partner at Hall Render Killian Heath & Lyman P.C., said critics aren't in a position to determine the level of reimbursement hospitals need to treat those covered by workers' compensation policies. Kennedy represents about 130 member health care facilities as a lobbyist for the Indiana Hospital Association.
"We think the public policy of Indiana should be that hospitals be reimbursed under workers' compensation at the rates paid in the commercial market," Kennedy said. "Hospitals should not reap a windfall on workers' compensation reimbursement; they also should not have to take a loss."
Kennedy said a working group of hospitals that provide a large volume of workers' compensation service concluded that the level of 125 percent above the Medicare rate the House passed "is not sufficient to get hospitals to commercial rates.
"We have some figures in mind, but we're going to be working with the Senate on what that might be," he said, declining to divulge a figure.
Marty Wood, president of the Insurance Institute of Indiana, said studies have shown that efficiently managed hospitals can break even or run with a slight profit on Medicare reimbursements. The institute supported HB 1320 as it was introduced with reimbursement at 75 percent above Medicare rates, but he said paying hospitals 125 percent over Medicare would make Indiana an outlier among states that have adopted such models.
Other states typically assure hospitals reimbursement at a rate of 35 to 75 percent above Medicare, Wood said. Among neighboring states, only Illinois reimburses at a rate higher than proposed in HB 1320. Other next-door states provide far less – 34 percent to 44 percent above Medicare.
Wood said the question for lawmakers is how much statutory profit they decide to write into the law for hospitals taking workers' comp insurance.
"There is no middle ground," he said. "Either the hospitals are going to lose, or the payor side is going to lose, and we both have known that all along. For years, we've been trying to come up with a solution that would be a middle ground."
The legislation also would establish a $2 fee on every workers' compensation insurance policy to help pay the board's costs in administering disputes over health provider reimbursement.
Meanwhile, workers' nonmedical benefits would receive a boost for the first time in several years if HB 1320 becomes law.
The maximum benefit capped at $325,000 in 2009 would increase $15,000 annually beginning in 2014, maxing out at $400,000 in 2018.
Likewise, the proposal includes an escalator for the average weekly wage used to determine nonmedical temporary total or partial disability, as well as total permanent disability.
Since 2009, the average weekly wage basis was $975. HB 1320 proposes to raise that by $45 annually beginning in 2014 until the average weekly wage rises to $1,200 in 2018.
Lehman said the study committee determined that caps on hospitals should be accompanied by increases in the amount of nonmedical benefits injured workers were entitled to under formulas the state uses to compensate workers' comp payments.
"I think it was the right time" to raise workers' benefits, Lehman said. "We were in the 40s (of the 50 states) when it came to reimbursement levels.
"This brings it up to where we're in the middle of the pack, so to speak," he said.•
Please enable JavaScript to view this content.