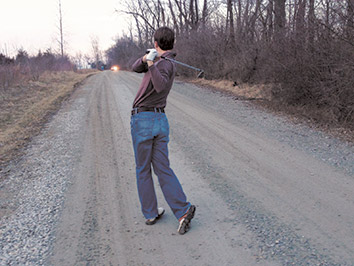 While some people dream about it, Luke Bielawski will actually be spending his entire summer swinging a golf club.
The student at the Indiana University Robert H. McKinney School of Law plans to hit a golf ball for 10 hours a day from roughly Monterey, Calif., to Charleston, S.C., to raise money for Providence Cristo Rey High School in Indianapolis. Bielawski expects the 3,000-plus mile journey to take anywhere from 95 to 110 days and include approximately 48,000 swings and 3,200 lost golf balls.
The fundraiser, dubbed "From Tee to Shining Tee," combines Bielawski's passion for helping young people with his love of golf. He considers himself blessed to have been able to attend Cathedral High School in Indianapolis, and he wants to help economically disadvantaged youth to have the same opportunity he had to attend a college preparatory program.
Bielawski is confident he can raise $100,000 to fund 12 scholarships.
He was searching for a way to support Providence Cristo Rey when, watching the movie "Forrest Gump" and seeing the character run across the country, he hit upon the idea of whacking a golf ball from the Pacific Ocean to the Atlantic Ocean. Bielawski has since established his own 501(c)3 nonprofit, Get On The Green, to use golf to raise funds for local, regional and national charities.
"Golf is a beautiful game," Bielawski said.
Last summer he adjusted his hours at his summer job assisting in-house counsel, arriving by 5:30 or 6 a.m., so he could leave in the mid-afternoon and have six hours on the green. When winter came, he began spending his evenings in his garage hitting a few hundred golf balls into a net.
With the arrival of spring, he has moved back outside and practiced for his summer journey by logging a few miles hitting golf balls and walking across cornfields.
Bielawski will tee off in California on May 7. After his final exam ends at 9 p.m. May 3, he will meet his cousin Nick Bielawski in the parking lot on the Indiana University-Purdue University Indianapolis campus and start driving in a donated recreational vehicle to the West Coast. His cousin will accompany him across the country, driving the RV and preparing the meals while he hits the golf ball.
Once Bielawski starts swinging mostly 6 and 7 irons, he will be playing the ball as it lies, hitting through fields, desert and wildness. In addition to raising money for the youngsters and meeting people from different parts of the country, Bielawski said he is looking forward to seeing the wildlife and landscapes of the west, southwest and southeastern United States.
"One of the best parts of the game is the scenery," he said.
He hopes to make his final shot into the Atlantic Ocean on Aug. 5 and then return to Indiana for the start of classes Aug. 25.
The students at Providence Cristo Rey will be able to follow his trek across the lower half of the U.S. through Bielawski's website and blog posts. They have never met the golf enthusiast but several share a common experience of working in the law. As part of the curriculum at the high school, the students participate in a work-study program. Currently 19 students are handling office duties such as filing and data entry at Barnes & Thornburg LLP, Bingham Greenebaum Doll LLP, Doyle Legal Corp., Faegre Baker Daniels LLP, Frost Brown Todd LLC and Ice Miller LLP.
Bielawski's summer plans do not call for a complete break from the study of law. After a day of hitting, Bielawski will sit down at the computer to take a couple of online legal classes in preparation for his final semester in law school and graduation in December.
He is uncertain about what he will do after graduation, but, undoubtedly, when a potential employer asks him if he plays golf, Bielawski will have an amazing story to tell.
More information about Bielawski and "From Tee to Shining Tee" can be found at his website, www.getonthegreen.org.•
Please enable JavaScript to view this content.