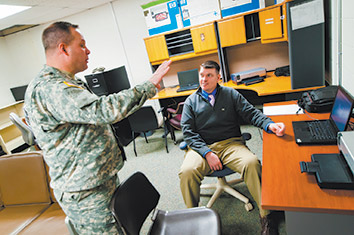 A group of attorneys gave up their weekend to help Hoosier soldiers preparing for deployment.
The Indiana State Bar Association's Military & Veterans Affairs Committee organized free legal assistance to offer to the nearly 500 Indiana National Guard members at the Soldiers Readiness Processing event March 22 through 24 at Camp Atterbury. The attorney volunteers helped the soldiers maneuver through a variety of legal matters.
 
Legal problems for some of the soldiers can be life altering, said Alex Nickloy, attorney at Nickloy Law in Noblesville. Addressing them before deployment can relieve some of the stress while they are serving overseas and avoid having a problem when they return.
Nickloy worked from 8:30 a.m. to 1 p.m. Friday morning at that military installation helping the soldiers and encouraging them to talk to the attorney volunteers. He served in the U.S. Army and National Guard for a little more than 10 years, including a deployment in 2004 and 2005 to Afghanistan.
"There is a need for military veterans to go out of their way to help other military veterans," he said.
This is the second time the committee has had lawyers available at a Soldier Readiness Processing event. In January, the committee sent attorney volunteers to Fort Wayne to provide legal assistance to nearly 600 soldiers preparing for a scheduled deployment to Djibouti, Africa. The soldiers at Camp Atterbury are scheduled to be deployed to Egypt.
The legal problems that soldiers can have cover a broad range of practice areas, said Capt. Kenn Washington. Family law matters, wills and estates, financial issues, employment, consumer protection problems, landlord-tenant issues, and immigration can all be part of the mix.
Concerns about legal issues like divorce, bankruptcy, completing the purchase of property or starting a business have to be addressed before deployment, Washington said. Otherwise, the soldier will be distracted and not focused completely on the mission. Too much distraction could result in the deployment being extended or the mission being a failure.
Washington was pleased with the help provided by the attorney volunteers. He described the two events as, "Service members taking care of service members and enlisting help from civilians who want to show their gratitude."•
– IL Staff
 
Please enable JavaScript to view this content.