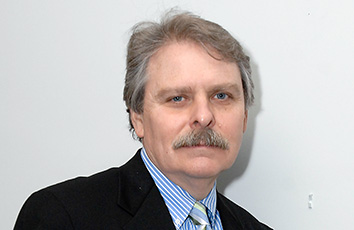 Indiana Court of Appeals Judge L. Mark Bailey has come a long way from his college days when he worked as a courier in a law firm to get exposure to the legal system. His career path has taken him from a small firm and a solo practice to serving as an administrative law judge, state trial judge, and now a jurist on the Court of Appeals. Mark, along with Judges John Baker and Edward Najam, initiated the "Appeals on Wheels" project that brings appellate arguments into community settings. While serving on the bench, he has earned his master's in business administration from Indiana Wesleyan University. He continues to seek out learning opportunities – in 2009, the judge earned a designation as an Advanced Science & Technology Adjudication Resource Center Science and Technology Fellow. Mark's ability to blend legal, social and public policy analysis is admired by his colleagues.
What civic cause is the most important to you?
Meaningful access to justice.
If you could take a sabbatical from the law for a year to work your fantasy job, what job would you choose?
I would return to the family farm.
In life or law, what bugs you?
A sense by some people that life is just a dress rehearsal which allows them to traipse through it without any sense of personal meaning or purpose.
If you could meet and spend a day with one lawyer from history, who would it be and why?
Thurgood Marshall. I can't think of a better person to provide unique insight, understanding and perspective on the role of law in our society.
What class in law school did you find the most difficult?
Every class presented its own unique challenges. The goal for me was to master the unique terminology for each subject and to understand its boundaries, history and purpose in our society.
What do you find scary?
Missing a deadline.
If you could go back in time, "when" would you go to and what would you do?
Follow Stephen Decatur to battle in the Barbary Wars on the open seas of North Africa.
What advice would you give your 25-year-old self?
Read Stephen R. Covey's book, "7 Habits of Highly Effective People" and "prepare to begin!"
If you could have one superpower, what would it be?
Fully understand the reasons for each person's perspective.
If you could pick a theme song to describe your life, what would it be?
"Bright Side of the Road," by Van Morrison. From my perspective, the song reflects a great life with my wife of 29 years and counting.
Would a world without 24/7 technology be a good or bad thing?
It is what it is. Just because it's there doesn't mean it has to be engaged 24/7.
Numerous TV shows center around lawyers and their practices. Are any of them close to realistic?
"The Good Wife." It depicts real issues involving lawyers, their clients and their practices. The resolution of those issues is not so realistic. Most legal issues unfold over a period of time, not in an hour from beginning to end including commercial breaks. Additionally, wouldn't it be nice if we could truly write the script for each client's case.
 
Please enable JavaScript to view this content.