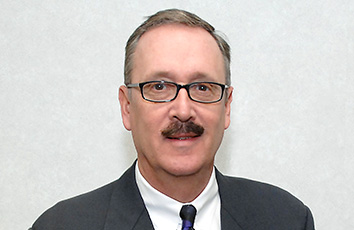 David J. Cutshaw is described by his peers as a tough litigator who aggressively advocates for his clients but also practices a great deal of civility in and out of the courtroom. His clients are often impressed by his approachability and empathy for their situations. In fact, one client who did not receive a favorable outcome in his case sent a letter to David thanking him for his work on the case involving the soldier's wife. The client, a lieutenant colonel in the U.S. Marine Corps, included with the letter a U.S. flag flown in Afghanistan in David's honor. For the last eight years, David has been heavily involved in the hundreds of trials involving Dr. Mark Weinberger of Merrillville, who is being sued for medical malpractice. David has been mentoring young associates at the firm for more than 30 years and is the "go to" guy for those seeking guidance in their practice.
If you could take a sabbatical from the law for a year to work your fantasy job, what job would you choose?
Major League Baseball umpire or do some acting in community theater.
What civic cause is the most important to you?
Take Justice Back: www.takejusticeback.com.
If a drink or sandwich were to be named after you, what would it be called and what would be in it?
I would name a sandwich "The Cut," my nickname, which seems to have developed from my cut through the BS and get to the point persona. It would contain lean cuts of antipasto-type meats and cheeses.
If you could go back in time, "when" would you go to and what would you do?
I would go back to a certain football game in my college career and run a different route so as to not blow up my knee. Arthritic knees suck.
In life or law, what bugs you?
Lawyers and insurance companies delaying the inevitable. Too much time and money is dedicated to defending cases for which there is no defense.
What do you find scary?
The extreme polarization in politics today.
If you could pick a theme song to describe your life, what would it be?
"Breathe" by Pink Floyd, "Dark Side of the Moon." Best line: "Don't be afraid to care."
Would a world without 24/7 technology be a good or bad thing?
That would be a great thing, as lawyers would have to talk to each other and get along without the nasty, immediate emails.
What advice would you give your 25-year-old self?
Stay intense and compassionate about what you do, but quit taking yourself so seriously.
What class in law school did you find the most difficult?
Property. I still have no idea what the Rule Against Perpetuities is.
If you could have one superpower, what would it be?
To read the minds of judges and juries would be fun.
Please enable JavaScript to view this content.