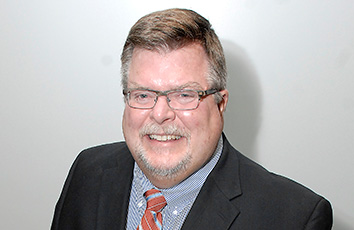 Michael F. Drewry has devoted his legal career to assisting clients involved in all aspects of the construction industry. When he began practicing law, there was very little in the state in the way of organized legal associations devoted to construction law. Mike helped create the Construction & Surety Law Section of the Indiana State Bar Association. He's also active with the American Bar Association, serving on the inaugural committee for the ABA Forum on Construction Industry Trial Academy. He's active with construction trade associations, and he has served on the board for the Indiana Construction Roundtable Diversity Initiative, a mentoring program that pairs experienced contractors with minority contractors.
You are a leader in the area of construction law. Are you handy around the house?
Unfortunately, I am not. I am willing but not capable. My wife is the one with hands-on skills, not me. Luckily, she did not know that until after we were married.
If you could take a sabbatical from the law for a year to work your fantasy job, what job would you choose?
I received my master's degree in European History, so I would enjoy teaching history as a college professor or teaching construction law at a college or law school.
What class in law school did you find the most difficult?
All of the tax classes. I knew right away that I would never be a tax lawyer. I have heeded that self-assessment my entire career.
What civic cause is the most important to you?
I am a big supporter of the Center for Performing Arts next to our Carmel offices. It is nice to see what the arts are trying to bring to the community and to be a part of that.
If you could have one superpower, what would it be?
The power to make all Purdue sports teams successful.
In life or law, what bugs you?
I hope that this does not sound self-righteous, but it would be the lack of integrity in some people. I was always taught that your word is your bond, that you maintain honor and good faith in your dealings. I took that to heart, and it saddens me when I see people that do not seem to value those principles.
If you could go back in time, "when" would you go to and what would you do?
I would like to go back to the mid-'70s so I could spend more time with my dad who died midway through.
If a drink or sandwich were to be named after you, what would it be called and what would be in it?
"Mike's Old Fashion" – a really good, aged single barrel bourbon, bitters, orange liqueur, a splash of water and a cherry. No sugar is needed. Served on the rocks.
Would a world without 24/7 technology be a good or bad thing?
A world without 24/7 technology would be a good thing. Old ways had their benefits – you cannot unwind technological developments today.
What do you find scary?
This one is easy. Spiders, all shapes and types. I guess you would say that I have arachnophobia.
What advice would you give your 25-year-old self?
Live a good life!
Please enable JavaScript to view this content.