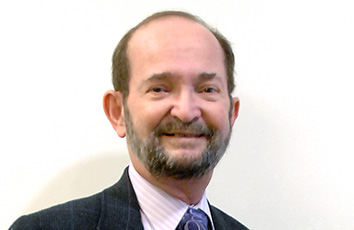 Ronald E. Elberger is one of the engines that drives his firm's litigation, entertainment and sports, and professional responsibility practice areas. Over the years, he has served as attorney for David Letterman, as vice president and general counsel of Emmis Broadcasting Corp., and as counsel for many local television news employees.
His office houses several works of art dedicated to his children Seth and Becca, whose ongoing support, along with that of his wife, he credits as the force that got him where he is today. Ron is very active in the community, including the Indiana School for the Blind and Visually Impaired. He was instrumental in the building of several facilities on the school's campus, including two independent living houses for older students.
What advice would you give your 25-year-old self?
Have fun but work hard and diligently while adhering to the highest standards of honesty and integrity.
You often represent famous people. What famous person would you most like to meet?
"John Doe," as being "famous" does not create any desire to meet with someone merely because he or she bears the label.
If you could pick a theme song to describe your life, what would it be?
The theme from "Rocky."
If you could take a sabbatical from the law for a year to work your fantasy job, what job would you choose?
I thought I have been on such a sabbatical for many years.
What civic cause is the most important to you?
The one that is then unmet. We establish funds and encourage support for specific causes to address issues and problems that have been overlooked.
If you could have one superpower, what would it be?
Healing others.
In life or law, what bugs you?
A liar.
What class in law school did you find the most difficult?
Tax. Need I say more?
If you could meet and spend a day with one lawyer from history, who would it be and why?
Abe Fortas, former associate justice of SCOTUS, to continue our numerous and varied discussions about the law and our society from which I learned much.
If a drink or sandwich were to be named after you, what would it be called and what would be in it?
I don't know, but if such existed, it should be at the Carnegie Deli on 7th Avenue by 54th Street in NYC.
Numerous TV shows center around lawyers and their practices. Are any of them close to realistic?
I tend to avoid the circus of such programming as I don't believe the shows depict reality but, rather, a fanciful writer's embellishment geared toward generating ratings and revenue.
Please enable JavaScript to view this content.