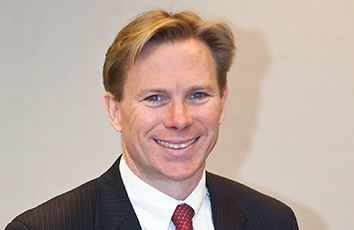 Joseph R. Fullenkamp is an active leader within his firm and devoted to his community, setting the bar for what attorneys everywhere should strive to accomplish. The litigator served on the firm's management committee from 2008 to 2010 and now serves as the litigation department administrator for the South Bend/Elkhart offices. Joe also spends a significant amount of time mentoring associates and other attorneys who seek him out for professional advice and input regarding work/life balance and career advancement. Joe is immediate past-president of the St. Joseph County Bar Association and has served on the bar association's board of governors since 2005. He helped form the SJCBA's Judicial Survey Committee, which polls members anonymously about sitting county judges. He continues to serve as committee chair.
If you could meet and spend a day with one lawyer from history, who would it be and why?
Nelson Mandela. I admire his commitment to and personal sacrifice for social justice in South Africa. After his release from 27 years of imprisonment, he was able to negotiate the end of apartheid and the establishment of multi-racial elections in South Africa with the same government that imprisoned him.
If you could take a sabbatical from the law for a year to work your fantasy job, what job would you choose?
A fishing guide on Leech Lake in Minnesota.
If you could go back in time, "when" would you go to and what would you do?
1804. I'd join the Lewis and Clark Expedition.
What civic cause is the most important to you?
When my local bar term ends, I'd like to get involved in refugee resettlement and asylum.
In life or law, what bugs you?
It seems like we all say that people need to work together and compromise to solve difficult issues – "but only if it doesn't affect me."
What do you find scary?
The thought of our four boys as adults.
Numerous TV shows center around lawyers and their practices. Are any of them close to realistic?
No. However, when I interned with the Linn County (Iowa) Prosecutor's Office, I used a line from "Matlock" to convince a judge to overrule an objection by the defendant's counsel in a suppression hearing.
If you could pick a theme song to describe your life, what would it be?
"In Heaven There is no Beer" reminds me of my Iowa German-Catholic hometown, is played by the Hawkeye Marching Band at football and basketball games, and describes enjoying friends and experiencing life (in moderation).  
Would a world without 24/7 technology be a good or bad thing?
Not being connected 24/7 would be good. Immediate access has some benefits, but we have lost the opportunity to take time to think through an issue before we respond. 
What class in law school did you find the most difficult?
In what was supposed to be an easy final semester at the University of Iowa, after already accepting a position at Barnes & Thornburg in Indiana, I learned that I was 1 hour short of Indiana's 6-hour civil procedure requirement. I had to add Advanced Civil Procedure when the semester was already half over. Now I realize that it was my most helpful class.
Please enable JavaScript to view this content.