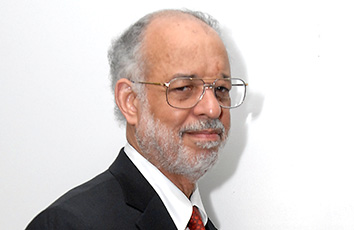 Staying in school is a very important issue to Lake Superior Judge Calvin D. Hawkins, so much so that he created the "It's Cool to Stay in School" program. He raises funds for the program that encourages high school students in northwest Indiana to graduate, and many on his staff serve as volunteers. He's been on the Lake County bench since 2007, and his rulings are often described as even-handed and solidly based in the law. Calvin makes himself available for attorneys to drop in or call for advice on handling legal matters or for counseling in life/work balance. He has been known to keep his courtroom open and work through lunch on matters such as protective orders, and lawyers visiting the courthouse have even encountered him outside picking up trash, leading some to call him "the Grime Fighter." The judge is also an ordained minister.
If you could take a sabbatical from the law for a year to work your fantasy job, what job would you choose?
Teaching on the university level.
If you could meet and spend a day with one lawyer from history, who would it be and why?
Thurgood Marshall. When he handled cases in Southern rural counties, he was a profile in courage.
What civic cause is the most important to you?
Education. I currently head an initiative, IT'S COOL TO STAY IN SCHOOL, which gives two scholarships each year to graduating seniors. We interact with students, teachers, parents and educational administrators.
In life or law, what bugs you?
Political gamesmanship and academic dishonesty.
If a drink or sandwich were to be named after you, what would it be called and what would be in it?
The "HAWKWICH!!" Whole-wheat bread, lite mayo, lettuce, tomato, swiss cheese and Smithfield ham.
If you could have one superpower, what would it be?
The ability to fly.
What is the most challenging thing about being a judge?
Dealing with other judges.
If you could pick a theme song to describe your life, what would it be?
"High & Lifted Up."
What class in law school did you find the most difficult?
All of them. I hated law school. That's why I'm still in school at the University of Nevada working on a MJS degree. Go figure!
What advice would you give your 25-year-old self?
Don't look back!
Would a world without 24/7 technology be a good or bad thing?
Great thing!!!
Numerous TV shows center around court, lawyers and their practices. Are any of them close to realistic?
Very few.
Please enable JavaScript to view this content.