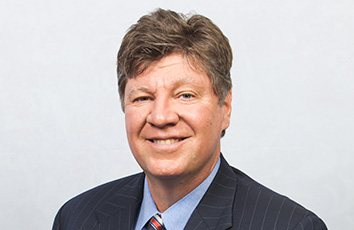 James D. Johnson is an outstanding business partner who has contributed to the firm's success and growth from its four original founding partners to 21 attorneys today. He's established a trusted, reliable reputation in the Evansville legal community and beyond. Jim is an accomplished litigator who has a "take charge" personality yet listens and shows empathy and concern. He is actively involved with the Defense Trial Counsel of Indiana, serving as president elect. He served as DTCI's amicus chair for more than 10 years, filing many cases on behalf of the organization. Jim serves on many nonprofit boards and as a community volunteer, including his regular stint as a Ronald McDonald House front desk host, making new guests feel welcome.
If you could take a sabbatical from the law for a year to work your fantasy job, what job would you choose?
A bartender at a tiki bar in the Caribbean. Pleasant surroundings and meet people when they are relaxed.
If you could meet and spend a day with one lawyer from history, who would it be and why?
Clarence Darrow. His practice covered the gambit of the law for his era, e.g. labor, railroad and individual rights. He would be a good person to have a drink (or two) with.
What civic cause is the most important to you?
Ronald McDonald House. It is there for people when they are at their most vulnerable – a sick child.
What is your best stress reliever?
Exercise. I am one person before I exercise and another person afterward.
In life or law, what bugs you?
People who treat children badly. All it does is create bad behavior in the child. If we could somehow teach kindness to the public, we could stop the cycle of rudeness, ignorance and stupidity.
What advice would you give your 25-year-old self?
I would first encourage him. I would say the dedication and work he is putting in will pay off in ways he couldn't imagine. I would then try to give him some pause and say his profession is important, but it isn't everything.
Would a world without 24/7 technology be a good or bad thing?
A bad thing. The opportunity to know what is going on is a positive. It allows us to work remotely and incorporate more of our lives into our work time. It is up to the individual if he/she wants to stay in constant touch.
What do you find scary?
Not being able to have an impact on the lives of the people I care about.
Numerous TV shows center around lawyers and their practices. Are any of them close to realistic?
No. I haven't seen a show yet that shows a lawyer sitting at his/her desk answering discovery.
What class in law school did you find the most difficult?
Constitution law. It always seemed like a moving target.
If you could have one superpower, what would it be?
The power to transport. So when I am in a boring meeting, I could instantly leave.
Please enable JavaScript to view this content.