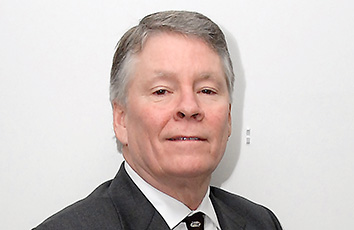 When lawyers need an attorney – for firm management issues, malpractice or professional licensure matters – they often turn to Kevin P. McGoff. Kevin is well known among his peers for his work in the field of legal ethics, which spans 33 years beginning as a law clerk for the Indiana Supreme Court Disciplinary Commission. Kevin gives frequent presentations on legal ethics, and it's important to him that attorneys around Indiana know of ethical issues so that they can avoid similar situations and problems down the road. The former Indianapolis Bar Association president is recognized by fellow attorneys for his kindness, character and outstanding judgment.
If you could take a sabbatical from the law for a year to work your fantasy job, what job would you choose?
Guide Touristique in Provence, spending a few days a week shepherding small groups through villages and local historic sites. They could treat me to a nice lunch at a table in the shade. After an afternoon of more sightseeing, I would head home for a glass of rosé on the terrace.
What is your preferred means of relieving stress?
A brisk, mid-afternoon walk around downtown Indy or along the canal.
What civic cause is the most important to you?
Efforts to make it more difficult to vote or disenfranchise citizens. We should be working to make the process easier and accessible to everyone.
If you could go back in time, "when" would you go to and what would you do?
I would travel with Davy Crockett to Texas and spend a few weeks touring San Antonio, catching up with Davy, Jim Bowie and Col. Travis of an evening. At the end of my visit I'd head north, before Santa Anna arrived in town, and write about the people I met on the trip.
If you could pick a theme song to describe your life, what would it be?
"When Irish Eyes are Smiling."
In life or law, what bugs you? 
Artificial deadlines – imposed for no reason or for the convenience of the proponent – without regard for the schedule, priorities and time commitments of others.
If a drink or sandwich were to be named after you, what would it be called and what would be in it?
"McGuffy's Simple Sandwich" – whole wheat, smoked turkey breast, slice of bacon, provolone, lettuce and tomato. No mayo, no mustard, no dressing and definitely no pickle in the vicinity to soak into the bread, rendering a sandwich inedible. The MSS would be a big hit among sandwich purists.
What do you find scary?
1. Pickle juice on a sandwich.
2. The girl who goes down the basement steps in every scary movie. Why do they keep doing that? There is never a way out of the basement.
What advice would you give your 25-year-old self?
Listen more. Talk less.
Would a world without 24/7 technology be a good or bad thing?
It would be a good thing if it were shut down on Sundays.
Please enable JavaScript to view this content.