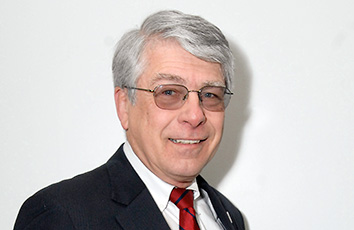 Gary R. Roberts' six-year tenure at the law school has been called transformational, with the most obvious sign the renaming of the Indianapolis school in 2011 after $24-million donor Robert H. McKinney. Gary has also overseen the addition of 15 faculty members and a doubling of the student financial aid budget. The nationally recognized sports law expert teaches several classes at the school, including labor law and, of course, sports law. Despite his demanding schedule, he has immersed himself in the legal community and community-at-large. He often attends Indianapolis Bar Association board meetings, bar retreats and events. He dedicates time to several community organizations, including the International School of Indiana and the Indianapolis Humane Society.
If you could take a sabbatical from the law for a year to work your fantasy job, what job would you choose?
Commissioner of Major League Baseball.
If you could meet and spend a day with one lawyer from history, who would it be and why?
Bill Clinton, because he seems to enjoy life to the fullest every day in every sense of the word.
What class in law school did you find the most difficult?
I really didn't find any class to be that difficult. I loved law school, but perhaps it's just been so many years ago that I can't remember. Like the song says, "What's too painful to remember we simply choose to forget."
What civic cause is the most important to you?
The Indianapolis Humane Society. (I'm on its board.) I truly love animals, especially dogs, and cannot imagine why people are neglectful or cruel to them.
You're a leading expert in sports law. What's your favorite sport to watch?
This is a tough one. I'd like to say curling (at least it's the most amusing), but really it's probably either NFL football or college basketball.
In life or law, what bugs you?
Hands down, stop and go lights. I'd publicly like to tar and feather the fools who time those lights and who leave them operating all hours of the day and night when there is almost no traffic. A close second is the bureaucracy within Indiana University that creates unnecessary hurdles, delays, and paperwork for almost everything one tries to do.
What do you find scary?
Professor Jegen.
Would a world without 24/7 technology be a good or bad thing?
A bad thing. As frustrating (and even scary) as it can be sometimes, technology has made our lives so much richer and allowed us to do and learn so many more things than would be conceivable without it.
Please enable JavaScript to view this content.