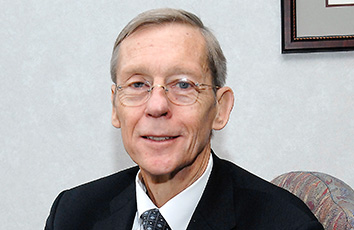 Larry J. Stroble is well known and respected statewide for his Indiana and federal tax expertise and accomplishments. A successful federal tax litigator, Larry argued and won a case before the Supreme Court of the United States that had more than $300 million of taxes at stake nationwide. His knowledge has made him a valuable resource not only within his firm, but for the Indiana and Indianapolis chambers of commerce and many other employer-based organizations. He is a highly regarded mentor to young attorneys, not just those who aspire to practice tax law. Larry also works on a pro bono basis drafting tax legislation, testifying at legislative hearings on the state's tax system, and he has served as a member and chair of the Indiana Tax Court Liaison Committee.
If you could take a sabbatical from the law for a year to work your fantasy job, what job would you choose? 
Investigative reporter. 
If you could meet and spend a day with one lawyer from history, who would it be and why? 
Clarence Darrow, because he would have some interesting tales to tell (Wobblies, Debs, Leopold and Loeb, Scopes, etc.). 
What class in law school did you find the most difficult? 
Antitrust.
Numerous TV shows center around lawyers and their practices. Are any of them close to realistic?
Very rarely. Surprisingly, I thought that "My Cousin Vinny" had a somewhat realistic depiction of certain aspects of trial practice.
What's the most important thing your mentor has taught you? 
Stop and smell the roses. I wish I had listened to him.  
What advice would you give your 25-year-old self?
Party hearty, but be in bed when the rooster crows. 
If you could go back in time, "when" would you go to and what would you do? 
The Roaring '20s might be nice. Maybe I'd visit a speakeasy or two and try to make money in the stock market and get out just before the crash.
If you could have one superpower, what would it be? 
The power to think several steps ahead of everyone else.
In life or law, what bugs you? 
Petty bureaucratic functionaries who use their limited power to try to make other people's lives difficult.
If you could pick a theme song to describe your life, what would it be? 
"Please Don't Let Me Be Misunderstood" by the Animals. 
Would a world without 24/7 technology be a good or bad thing? 
Although civilization got by without it for 9,990 years, I think the technology is a good thing. 
What do you find scary? 
A collision with an asteroid like the one that wiped out the dinosaurs 65 million years ago. It devastated the entire North American continent, leading to the extermination of most of its fauna and flora and unleashing global nuclear winter.
If a drink or sandwich were to be named after you, what would it be called and what would be in it? 
"The Stroblewich" – ham, cheese, and egg without fat, cholesterol or other unhealthy attributes.
Please enable JavaScript to view this content.