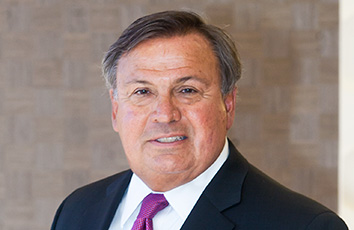 Rhett L. Tauber is admired as not only a skilled school attorney, but also as a leader in his community. There isn't a facet of the town of Highland that Rhett has not influenced. He has served as the town attorney for more than 30 years and has been instrumental in moving it forward. Some consider him "reminiscent of the way lawyers used to be: a strong advocate for his client yet always courteous to the other party's point of view." Rhett is an effective mentor who has an open-door policy, always making time and providing counsel without being overbearing or condescending. In addition to his work for the town of Highland, Rhett practices law with his son Jared Tauber and daughter Tara Tauber.
If you could meet and spend a day with one lawyer from history, who would it be and why?
John Grisham. He's a very well-rounded and successful individual, and he's the perfect example of how your law license can be used in many different ways.
What civic cause is the most important to you?
The development of recreational activities and opportunities for the youth in my hometown of Highland, Indiana.
If you could take a sabbatical from the law for a year to work your fantasy job, what job would you choose?
I would be captain of a boat in the Caribbean.
You practice law with your children. What one piece of advice would you give to those considering working with family members?
Working with family members is very rewarding, but it also has challenges. You should always expect the same level of work ethic, productivity and professionalism from family members as you do from your non-related partners and employees.
What advice would you give your 25-year-old self?
Besides your family, you should cherish your law license more than anything else. To be successful in the practice of law you need to be ethical, hard working, productive and, most importantly, give your best effort in representing clients day in and day out.
If you could pick a theme song to describe your life, what would it be?
"Small Town" by John Mellencamp.
In life or law, what bugs you?
Lack of preparation.
If a drink or sandwich were to be named after you, what would it be called and what would be in it?
"Rhett Butler" club sandwich – turkey, ham, lettuce, cheese, tomato, mayo, bacon, fried egg on toasted wheat bread.
Would a world without 24/7 technology be a good or bad thing?
It would be a bad thing. 24/7 technology has given us greater opportunities in life as well as in business, including the practice of law. It's hard to remember how we were able to easily communicate with people without smart phones and email, although I spent the majority of my career without them.
Numerous TV shows center around lawyers and their practices. Are any of them close to realistic?
Although I enjoy television, watching shows centered around lawyers and their practices, I have not found any of them to be realistic.
Please enable JavaScript to view this content.