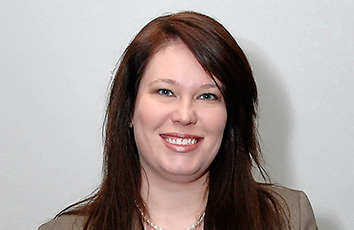 Katherine A. Brown-Henry is known around her office as a bit of a probate guru. In fact, she's overhauled the system by which Cline Farrell Christie & Lee P.C. handles wrongful death estates and guardianships. She's also taught two continuing legal education programs on probating wrongful death estates. Kate has served as a judge for the We the People and Indiana Mock Trial programs. She also manages her firm's law clerk program and initiated a book club where she and the clerks read and discuss legal books the firm has found instructive.
If you could take a sabbatical from the law for a year to work your fantasy job, what job would you choose?
High school college counselor.
Would a world without 24/7 technology be a good or bad thing?
Good thing. Face time should be more than an app on my iPad.
What class in law school did you find the most difficult?
Property, too many archaic words. 
What civic cause is the most important to you?
The We the People program.
What's the most important thing your mentor has taught you?
Don't be afraid to ask for help and give help where you can.
If you could have one superpower, what would it be?
I would want Wonder Woman's Lasso of Truth.
In life or law, what bugs you?
I think it's important to be respectful of a person's time, so being late without calling is my biggest pet peeve.
Working on medical cases, you've probably seen a lot. Is there something that still makes you squeamish?
Autopsy and intraoperative photos.
If you could pick a theme song to describe your life, what would it be?
"Life is Wonderful" by Jason Mraz.
If a drink or sandwich were to be named after you, what would it be called and what would be in it?
"Kate's Tenderloin Sandwich" – grilled pork tenderloin, Indiana tomatoes, lettuce, a little mayo and a whole-wheat roll.
Numerous TV shows center around lawyers and their practices. Are any of them close to realistic?
Not really, but a show without a twist in the fact pattern or an "Ah Ha!" moment wouldn't be very interesting.
If you could go back in time, "when" would you go to and what would you do?
Being a "Downton Abbey" fan, I wouldn't mind being Lady Grantham.
Please enable JavaScript to view this content.