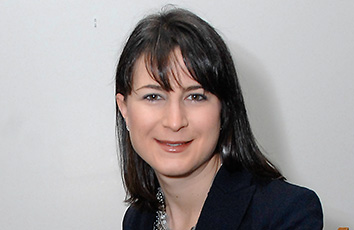 Briana Clark has balanced a demanding career in business litigation with training and racing in cycling, all while serving both the legal and local communities in meaningful ways. She's handled a number of complex business litigation cases and has demonstrated legal and client relations skills beyond the level expected from a relatively new attorney. Briana's dedication to cycling has garnered her several awards and takes her around the country for races.
She's active with the Indianapolis Bar Association and Indianapolis Bar Foundation and has participated in her firm's Street Law program teaching people about law, democracy and human rights.
If you could take a sabbatical from the law for a year to work your fantasy job, what job would you choose?
I should say professional cyclist, but honestly, I would LOVE to do something artistic – marketing, painting, graphic design, music, something that you can lose yourself in all day long.
What civic cause is the most important to you?
I could not be more passionate about all of the amazing things that Riley Children's Hospital provides for our community and families nationwide. Every time I go to Riley, I am astounded by the talent, brilliance, commitment and passion that everyone at the hospital exudes. I am so proud to race for a team that raises money and awareness for such an incredible place.
If you could meet and spend a day with one lawyer from history, who would it be and why?
John Grisham, he makes my career sound so fun that I want to read about it when I'm on vacation!
What class in law school did you find the most difficult?
The second semester of torts, which is hilariously ironic given that that is all I do every day of my legal career. I'm blaming it on an inability to work the blue clickers.
You're an elite cyclist. Where is your favorite place to ride?
Unquestionably Chattanooga, Tenn. We train in Chattanooga three to four times each winter. I am not kidding when I say Motel 6 + Waffle House + nearly 7,000 feet of climbing up three mountains at ridiculous grades in 100 miles followed by terrible Mexican food and karaoke makes for the Best. Day. Ever.
If a drink or sandwich were to be named after you, what would it be called and what would be in it?
"The OCD." The ingredients are irrelevant, but it would be made two weeks in advance with exactly perfect measurements.
What's the most important thing your mentor has taught you?
Don't be afraid to admit what you don't know and reach out to those who do know.
In life or law, what bugs you?
Do I only get to pick one? Anyone with a sense of entitlement. Life doesn't come to you. If you want something, make it happen!
If you could have one superpower, what would it be?
The ability to "pause" life, either to catch up or to enjoy the greatest moments for just one more second.
What do you find scary?
Fish. No really, I'm terrified of fish.
If you could pick a theme song to describe your life, what would it be?
If I did not say Kid Rock's "Cowboy," all of my family and friends would accuse me of lying.
Would a world without 24/7 technology be a good or bad thing?
I can't stand not to be aware of or understand anything, so I Google absolutely EVERYTHING. I'm not sure a world without 24/7 technology is possible.
Please enable JavaScript to view this content.