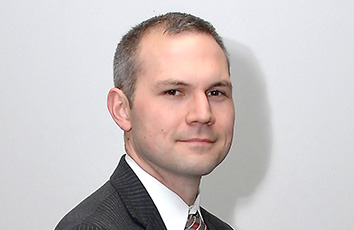 When Daniel P. Cory decided that he wanted to pursue a career in environmental law, he rented an apartment near the Plews Shadley Racher & Braun LLP offices in Indianapolis during a summer break from law school. This allowed him to meet many of the attorneys from the firm and led to PSRB offering him an associate position after graduation. PSRB believes Dan will be an important contributor to the life of the firm for years to come. Not only has he developed expertise in complex areas of the law, but he devotes many hours to community service and pro bono work.
If you could take a sabbatical from the law for a year to work your fantasy job, what job would you choose?
Musician, playing guitar in coffee shops or in larger venues somewhere.
What civic cause is the most important to you?
Education and mentoring. Children have so much potential, and I'm always amazed how much impact even a small amount of positive influence can have on them.
If you could meet and spend a day with one lawyer from history, who would it be and why?
Thomas Jefferson. I think it would be fascinating to talk with him about the changes he saw over his lifetime, moving from the principles set forth in the Declaration of Independence to the practical realities of governing as president and to discuss with him how the political and legal structures he helped create have evolved into the systems we know today.
If you could go back in time, "when" would you go to and what would you do?
I would travel back to when my grandparents were my current age. I never got to know them very well so it would be great to spend time getting to know them and discussing life and our shared family history.
In life or law, what bugs you?
The misuse of the phrase "begs the question" – in life and in law. I inherited this pet peeve from someone else and now I notice it everywhere!
If you could have one superpower, what would it be?
The ability to read minds would certainly make trials and depositions easier.
What do you find scary?
Sharks. I find them terrifying.
If a drink or sandwich were to be named after you, what would it be called and what would be in it?
I once ate a 72 oz. steak dinner at the Big Texan steakhouse in Texas, so my sandwich would have to be called the "Big Dan"and include large amounts of steak.
Please enable JavaScript to view this content.