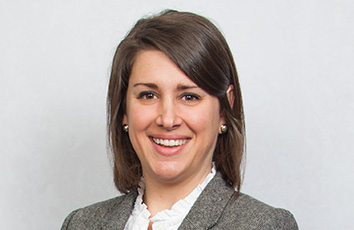 When Sarah B. Dauer relocated to Evansville to work for Shoe Carnival Inc., she immediately contacted the Evansville Bar Association asking to join and how she can be involved. She's become a regular attendee and brought other young attorneys to EBA events. A colleague describes her as one of the finest leaders and young professionals he's yet observed in a legal capacity or otherwise. When Shoe Carnival's senior vice president and in-house counsel was away for six months in 2011, Sarah carried sole responsibility for legal support for the company. Sarah is a former commissioned officer in the U.S. Air Force.
If you could take a sabbatical from the law for a year to work your fantasy job, what job would you choose?  
I have my dream job. I love the law! I could, however, be persuaded to work from a backpack while globe trekking.
What civic cause is the most important to you?  
Respect for life – to end abuse of children, animals, each other, ourselves. To increase our respect for all life and appreciate the necessity of others' well-being to our own.
What's the most important thing your mentor has taught you?  
To "[d]well in Possibility…." (Emily Dickinson).
If a drink or sandwich were to be named after you, what would it be called and what would be in it?
It'd be a bourbon and coke – caffeinated, bubbly and a little rough around the edges.
If you could pick a theme song to describe your life, what would it be? 
"Paradise" by Coldplay.
If you could go back in time, "when" would you go to and what would you do?
I would go back to yesterday and get more rest!
Would a world without 24/7 technology be a good or bad thing?
Both. Work with what you've got!
What class in law school did you find the most difficult?  
Jurisprudence. A background in philosophy was a pre-req for success, and I didn't have one.
Please enable JavaScript to view this content.